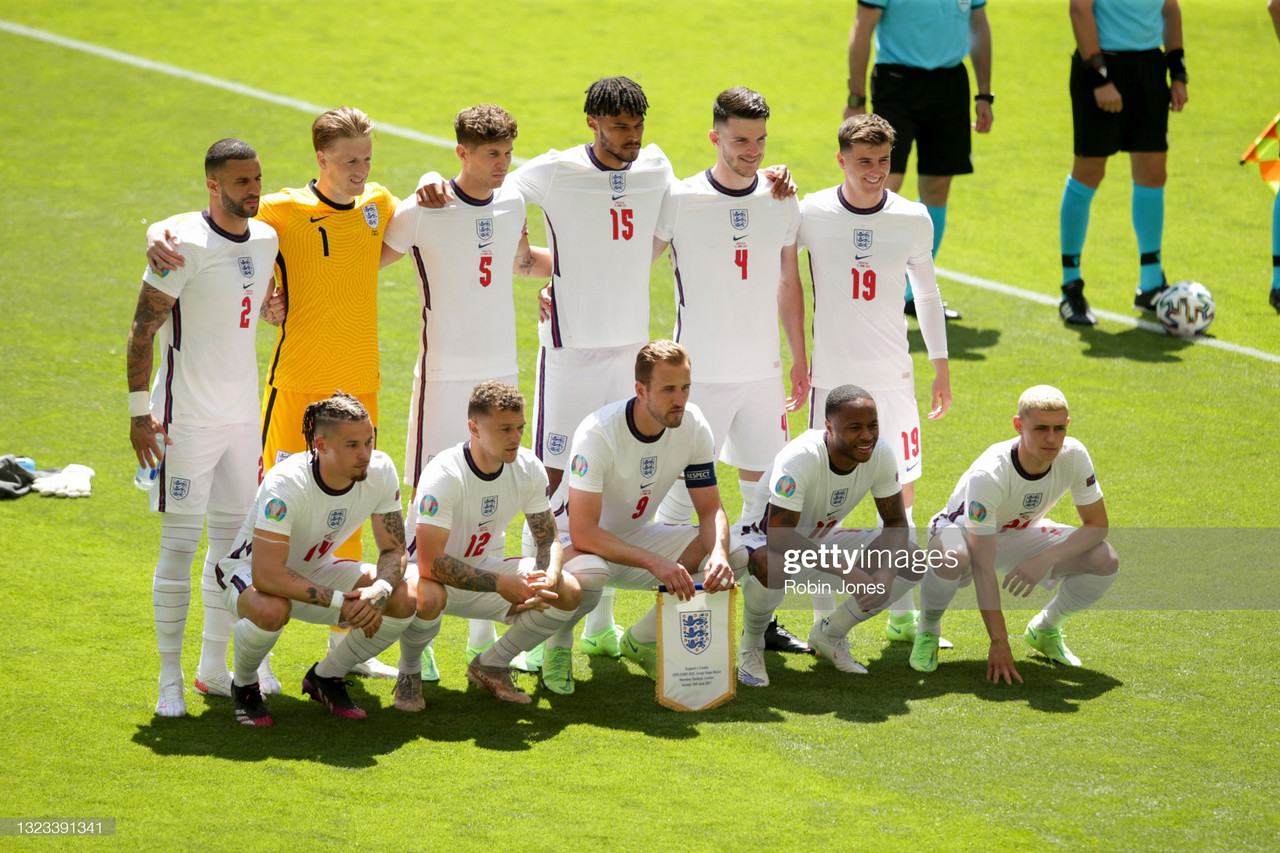 Now that England's group stage is done and dusted and Gareth Southgate's side are through to the knockout stages of Euro 2020, can we deem it a successful campaign so far and what are the repercussions of the final Group D table?
Man of the match: Kalvin Phillips
Southgate's side got off to the perfect start in their Euro 2020 campaign as they defeated Croatia by a goal to nil – the result serving as a sweet dose of revenge after losing to the same opposition in the 2018 world cup semi-final.
The narrow victory also meant that England won their first ever game at a European Championship, and high hopes surrounded the side. Had they turned a corner against world-class opposition?
But Croatia's midfield were lacklustre on the day, offering little-to-no threat going forward. This was partially down to Zlatko Dalić's side being an ageing one, but Southgate's selection also had a huge part to play.
A two-man pivot in Kalvin Phillips and Declan Rice executed their roles to perfection, nullifying Luka Modrić and his apprentices whenever they looked to create.
A surprise inclusion of Kieran Trippier bolstered what proved to be a resolute England defence, as Tyrone Mings put in his best performance in an England shirt by some distance.
So Southgate's defensive selections most certainly gave England the foundations to build something positive from – fortunately, this occurred in the 57th minute as Raheem Sterling scored his first goal at an international major tournament after latching onto Phillips' through-ball.
England's solidity remained ever-present as Croatia went in search of an equaliser, and fans had reason to be pleased as the doubts over their side pre-tournament lay in England's defensive vulnerabilities, as opposed to struggling to create.
And despite the fact that the narrow win over Croatia was a great start to the tournament, the doubts surrounding England were soon to be revolving around an ill-functioning attack.
Man of the match: Jordan Pickford
England's second game in Group D was the oldest fixture in football and expectations were soaring high after the opening day victory.
However, as England faced off against Scotland for the 115th time, it could very easily have been the most drab performance by England in the fixture's history.
A sluggish opening 45 minutes from England saw the hosts create only one chance, with John Stones rattling the post via a header from Mason Mount's corner.
Scotland began to grow into the game and England owed huge thanks to Jordan Pickford after he made an outstanding save from Stephen O'Donnell's fierce strike.
England struggled to create despite their best efforts but almost found themselves a goal down in the second half – luckily for them, Reece James was on hand to clear a Lyndon Dykes effort off the goal-line.
Southgate chose Luke Shaw and James as his full-backs for the game, who in theory were there to help England get forward and sustain attacks. Unfortunately, they were depended on to defend on a much more frequent basis than join in attacks.
From the home side's inability to get the ball into good areas, Harry Kane was starved of good service and the England Captain was ultimately replaced by Marcus Rashford with 16 minutes still to play.
Kane had a looked a shadow of his usual self in the opening two games, but the lack of service most certainly had not helped the established international.
With four points after two games, England were in a great position to progress – but that was not to say that Southgate should have been overly happy with his side's display in the tournament up to this point.
England 1 - 0 Czech Republic
Man of the match: Bukayo Saka
Due to results the night before England's third and final group game, Southgate's side knew that they had already booked their place in the Round of 16 – and although this game held more jeopardy than the first two, both England and Czech Republic were able to finish top of the group.
Both Ben Chilwell and Mason Mount weren't in contention for this match after coming into close contact with club teammate Billy Gilmour after the game against Scotland.
This meant that Southgate was given a little room to tinker, and he did just that. The England boss surprised a few people by playing Saka on the right side of the attacking three, whilst he also gifted a starting place to Jack Grealish as an attacking-midfielder in front of Rice and Phillips.
The changes seemed to boost the team in the opening stages of the match as Sterling raced through on goal in the second minute before his lobbed effort unfortunately bounced back off the post.
England didn't stop there, however, and their attacking play was rewarded less than that ten minutes later. Saka picked up the ball in his own half and showed lightning speed to race forward with the ball before playing a one-two with Phillips.
Saka showed skill and trickery before crossing into the box – the play resulted in Grealish delivering an inch-perfect cross for Sterling to head home his second goal in three games.
England continued to threaten with little reply throughout the first half, but were ultimately unable to double their advantage.
The second half consisted of a lot less energy and thus less chances – it had the feel of a half in which both teams were content in the positions they found themselves in.
Jordan Henderson was given his first 45 minutes of the tournament after a long time on the sidelines – and he almost scored his first ever England goal, only to be denied by the offside flag.
These three results mean that England have now managed to reach the knockout stages of the Euros for their last four consecutive entries, (2004, 2012, 2016, and 2020) and have successfully avoided defeat in their most recent three group stages.
This is only the third time that England have topped their group at a European Championship – the other two times being at Euro 1996 and Euro 2012. England only scored two goals during this group stage, meaning that they are the lowest scoring side to ever top a group in the history of the European Championships.
England have successfully kept 15 clean sheets in their last 19 fixtures, conceding a mere five goals in the process. This is only the third time that England have progressed through a group stage without conceding a single goal – the other two times being at the 1966 World Cup and in the second group phase of the 1982 World Cup.
As a result of Wednesday's results, Germany finished second in Group F, meaning that England's game in the Round of 16 will be against their fierce rivals on Tuesday at Wembley.
England have faced Germany 32 times in official matches, winning 13 of those games, drawing four, and losing 15 of them. Unfortunately for England fans, this tie will bring back memories of the penalty shootout defeat at Wembley in the semi-final.
This will be the first time the teams have met in a tournament since the 2010 World Cup, a game which again brings back bad memories as England lost 4-1 after the infamous Frank Lampard goal that wasn't.