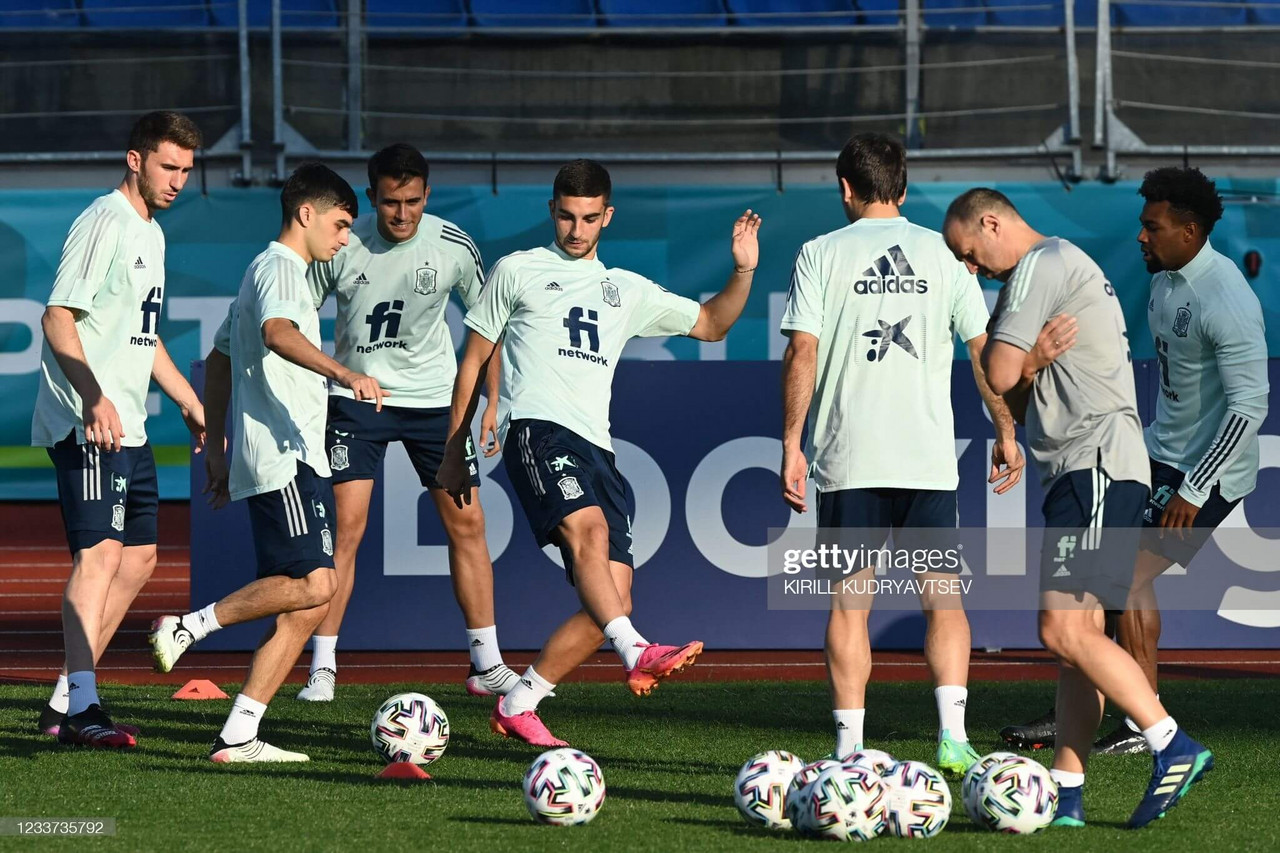 They feared that it might be all over at the group-stages, now they expect to reach the semi-finals and hope to be in the final. Negativity, positivity, optimism and criticism have all formed part of Spain's Euro 2020 campaign so far but on Friday they will play in their first quarter-final in a major tournament since 2012.
Luis Enrique's team were the ones left standing after last Monday's epic 5-3 last-16 tie with Croatia and that thriller of a match encapsulated the chaotic nature of Spain's tournament thus far. They went behind through a goalkeeping error, recovered to lead 3-1 and then collapsed by conceding two late goals, taking the match into extra time. It was then that they pulled away to book a place in the last-eight.
Overcoming such barriers and frustrations have been a frequent occurrence over the past three weeks: the supporters' belief was lacking from the outset, accusing Enrique's squad of being too young and inexperienced; captain Sergio Busquets tested positive for Covid-19, as did Diego Llorente, they went into lockdown as a standby squad was brought together in the case of a wider outbreak; the pitch in Seville was poor and the heat was just as testing too.
Then came the results. A draw against Sweden, which Spain were just as close to losing as winning despite creating more than enough chances to score from. Another draw with Poland, which was worse according to Enrique, had the critics in arms and fearful that an early exit may be on the cards. Despite defeating Slovakia by five goals to progress they had been handed the first two and also missed a penalty - their second in the competition and their fifth in succession.
Therefore, advancing past Croatia - irrespective of how it was achieved - felt like a kick-start to their tournament; a tournament in which they seemed to have experienced everything possible already. Suddenly, they are facing Switzerland rather than tournament favourites France who were knocked out by Vladimir Petkovic's team. What's more, one of Belgium or Italy will be out by Friday night. As are Portugal, the reigning European champions, and Germany. All of a sudden, Spain are right in the mix.
"The reality is Switzerland have got through and nothing else matters," Enrique replied when asked if he was surprised Spain weren't gearing up to face France instead. "The good thing for us is that both teams know each other very well. We competed recently in the Nations League."
'Swiss will be tough to face'
Spain edged a 1-0 win in their first Nations League meeting in Madrid in October and were then held 1-1 the following month in Basel. "They're going to be a very tough team to face and I think for the spectator there might not be some big names, but they're a great group of players," Enrique added. "They're a match for us in terms of the way they press, the way they attack, so it's going to be very difficult for us."
Switzerland are in their first quarter-final since 1954 but will be without Granit Xhaka who is suspended after receiving two yellow cards in the tournament. Like Spain, Switzerland also played extra time in their round-or-16 match but Enrique doesn't believe fatigue will play a part when the teams meet.
"No. It's not going to affect us at all," he said. "If you look at the stats, we have some fantastic people in the backroom staff, and the stats are all impressive. I have full confidence in all 24 players. Physical issues are just as important as mental issues. If something's not going right mentally, you're perhaps not running so well. I think it's more a mental issue than a physical one and physically we're in great shape."
Whether Enrique will shuffle his starting lineup is yet to be decided. "I haven't decided on the team and whether I'll make changes," the Spain manager said. "When I say anyone can start, I mean it. I'll decide tomorrow. There's plenty of time.
"The key to this quarter-final...? Well, I don't know yet. Whichever team achieves the task of beating the other's press, because we'll both play that way, that's important. Whoever is more decisive in the opposition penalty area will have the bigger options. I think it's going to be a lovely game for the fans, an intense quarter-final...with goals."
After only managing one goal in their first two group-games, Spain amassed 10 in their next two. One cannot quite say that Enrique's side are firing on all cylinders just yet but there is no doubt that belief is growing. The hurdles keep being overcome; the next one is Switzerland on Friday.