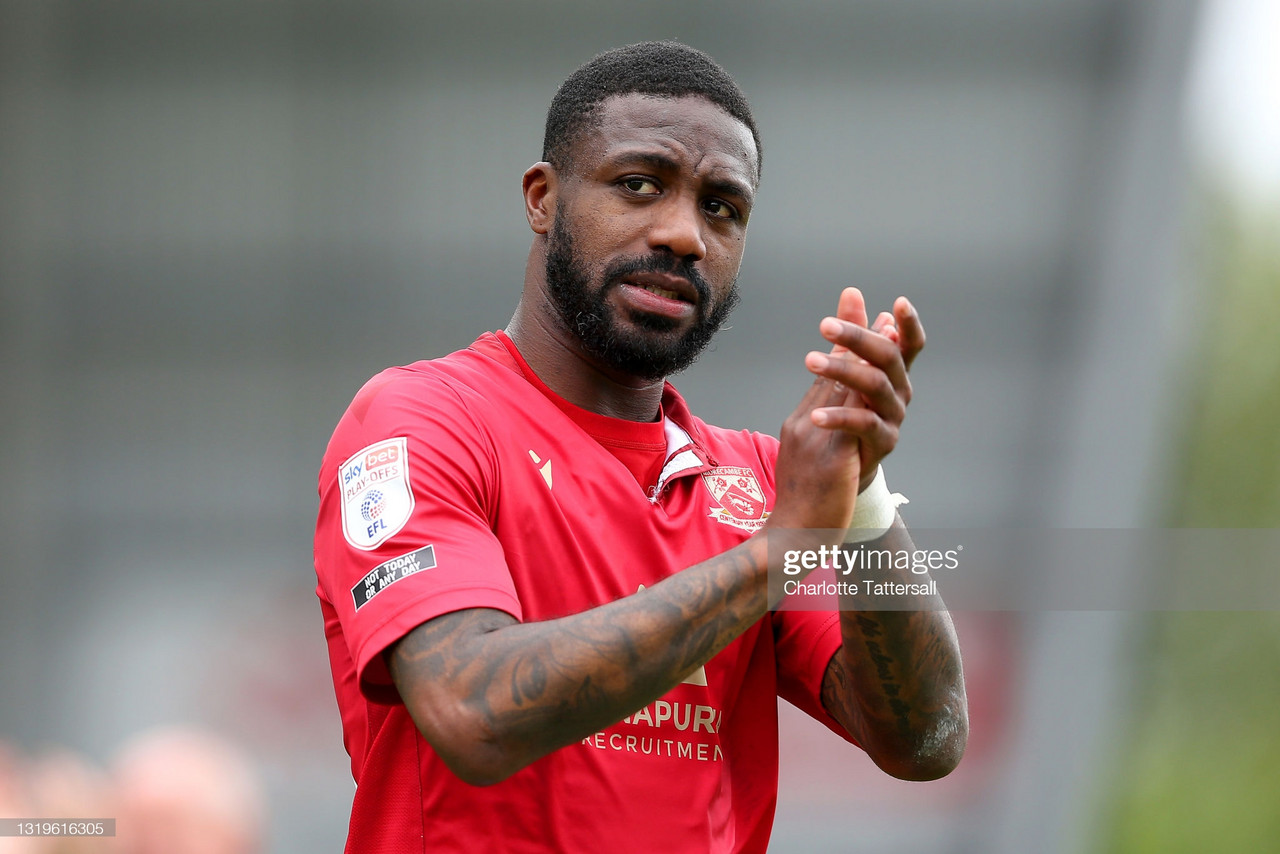 Derek Adams has unveiled his eighth signing since joining Bradford City, with the addition of defensive midfielder Yann Songo'o.
A highly anticipated signing which has been speculated for weeks, the Bantams have finally announced the arrival of Songo'o, who has followed the manager from Morecambe despite their recent promotion to Sky Bet League One.
The 29-year old is a familiar face to Adams, having played under the Scotsman at three of his former clubs, including Ross County, Plymouth Argyle and Morecambe.
A tradesman in a combative midfield role, Songo'o began his career in Spain with Zaragoza B team, before having short spells with Sabadell and Pobla Mafumet. His tenure in Spain came to an end however, as the Frenchman made the switch to America with Sporting Kansas City.
Following a loan spell with Orlando City, Songo'o made the decision to move to England and join Blackburn Rovers, but after a loan spell with Ross County he failed to make a first team appearance for the Rovers, and instead opting to follow Adams to Plymouth, where he made over 120 appearances and gained promotion.
After a season each with both Scunthorpe United and Morecambe, where he played a large role in the Shrimps promotion, Songo'o opted to quit the Mazuma Stadium.
The fact that Songo'o has played under Adams at so many different clubs and has gained promotion with the gaffer shows the strong relationship they hold together.
Adams needs to build a Bradford squad he can wholeheartedly trust, hence why his philosophy of bringing players he's worked with in the past to a football club has been so successful, with Oscar Threlkeld another example. But Songo'o is a player that Adams clearly rates very highly, as he has brought the Frenchman to every club he has managed at, and always played him in a starter role.
Just like Adams, Songo'o is a promotion specialist, and has a key idea of how to escape Sky Bet League Two as he has accomplished this on two separate occasions.
Songo'o managed promotion with Plymouth in 2016, before playing a starring role in the squad in League One. He also achieved promotion with Morecambe last season, despite the Shrimps being tipped for a relegation scrap, but has clearly shown he has the experience and attributes to play in a promotion winning side, something that Adams is building in West Yorkshire.
There's certainly a reason that Adams signs Songo'o everywhere he goes, and he expressed his like for the player in an interview following his signing.
Adams said: "I have a feeling our supporters will enjoy watching Yann put his body on the line for three points over the next two years and beyond. I am delighted to have been able to bring Yann here with us as a player I know so well and have a huge amount of trust in."
Whilst at Morecambe, Adams utilised a 4-1-4-1 formation that heavily prioritised a defensive midfielder, a role which Songo'o mastered. The 29-year old played a combative role in breaking up attacks and bullying any creative spark the opposition may have, whilst also being the outlet from defense to midfield. He can drop between the defenders and form a back five whenever needed.