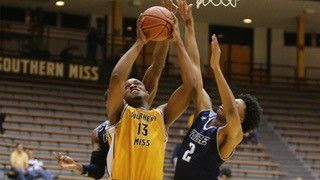 The Glasgow Rocks have announced the addition of centre Boban Jacdonmi as they continue to develop their youthful roster for the 2020/21 season.
The Englishman joins the Rocks for his rookie year after spending the last two years playing for the Southern Mississippi Golden Eagles in the NCAA, where he averaged 7.2 points per game and 3.9 rebounds in his senior year.
Continued development
The six foot nine centre will join up with his new team in the wake of the British Basketball League's announcement that BBL action will return on the 2nd October.
Player-coach Gareth Murray spoke of his excitement at the League's news, and of the prospects of his new centre.
"I am very happy to have signed Boban" Murray told the Rocks' official website.
"He will bring some depth inside and continue to develop his all round game.
"Now we have a prospective start date for the league, hopefully in the next few weeks we can get back to action and start preparing for the season. I am excited to start working with all the young talent we have signed."
Ready for the challenge
The Rocks' recruitment thus far has been centred around youth, and Jacdonmi is another young talent who will be looking to showcase his talents at the Emirates Arena for the coming season, as he looks to make a name for himself in his rookie year.
Jacdonmi told the Rocks:
"I am excited to have signed with the Rocks to start my rookie season! I know this move will help the progression of my game, and I plan to give it all on the floor every night! Can't wait to get started!"
With the welcome news of the BBL's return, clubs will be able to ramp up their preparations as they continue to shape their rosters.
And with Murray taking the reigns of the Rocks in his first season as coach, the development of this Rocks' side will be something to keep an eye on during the season.