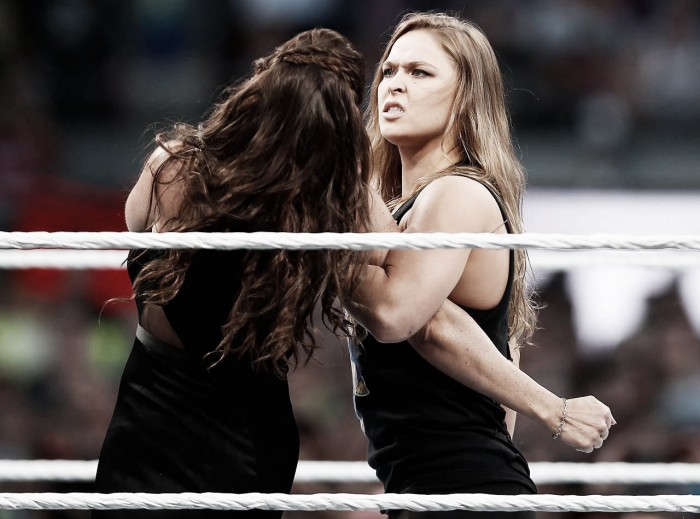 It shouldn't shock anybody to hear that the WWE want Ronda Rousey at WrestleMania 33. They wanted her at WrestleMania 32 in Dallas, Texas but the UFC wouldn't sign off on it.
Since then, Rousey has remained at the top of WWE's list of outside stars they would like to use at one of their events.
While one of the toughest fighters in the world, Rousey is a WWE fan and has appeared at a number of WWE events. She even got into the ring at WrestleMania 31 with The Rock, Triple H and Stephanie McMahon.
Rousey ended up hip tossing Triple H out of the squared circle and eventually standing tall with The Rock.
Her moniker, 'Rowdy' Ronda Rousey comes from WWE Hall of Famer, Rowdy Roddy Piper who attended a number of Rousey's fights before he sadly passed away in 2015.
Besides being a hugely popular mixed martial artist, Rousey is a huge pop icon and brings in fans from all different walks of life.
With the WWE signing off on a return to the UFC for Brock Lesnar, they are hoping this will be enough to persuade the UFC to let Ronda perform in the WWE. If Rousey ever got into a WWE ring, she couldn't lose, she's a legitimate fighter.
Any match would likely be over very quickly, regardless of her opponent.
The only problem is, nobody knows if Ronda wants to get back into the spotlight after she suffered a loss to Holly Holm towards the end of 2015. Rousey has admitted she is considering not returning but is still contracted to do a number of movies.
Not the only UFC women the WWE would like to use
Ronda is not the only UFC women that the WWE would like to use at one of their events. Reports this week suggested the WWE has asked the UFC if they can use Paige VanZant at SummerSlam.
Like Rousey, VanZant is a legitimate fighter and even trained at former WWE superstar Ken Shamrock's gym in Las Vegas, Nevada.
Rousey and VanZant have reportedly had run-ins at UFC events including one where Rousey cursed repeatedly at VanZant for congratulating former UFC Women's Bantamweight Champion Holly Holm on defeating Rousey in Australia at UFC 193.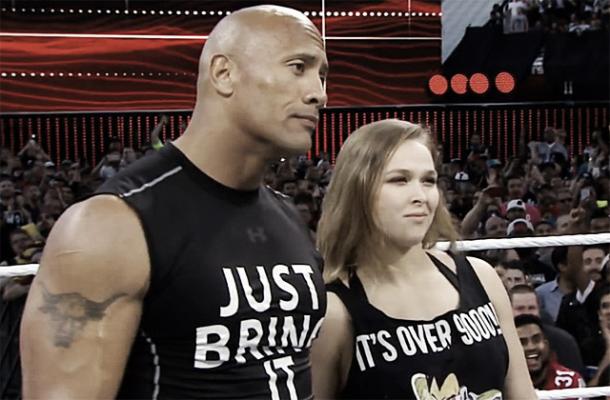 WWE and UFC cross-promotion?
The WWE allowing the UFC to use Brock Lesnar at UFC 200 seems to be a start of some cross promotion between the two brands.
The UFC will be advertising SummerSlam at UFC 202, which is the night before the SummerSlam pay-per-view and is set to be headlined by Conor McGregor, arguably the biggest draw in the UFC, if not the fighting world.
The event is also set to be former WWE Champion, CM Punk's UFC debut, which will likely draw fans from the WWE Universe to the UFC.