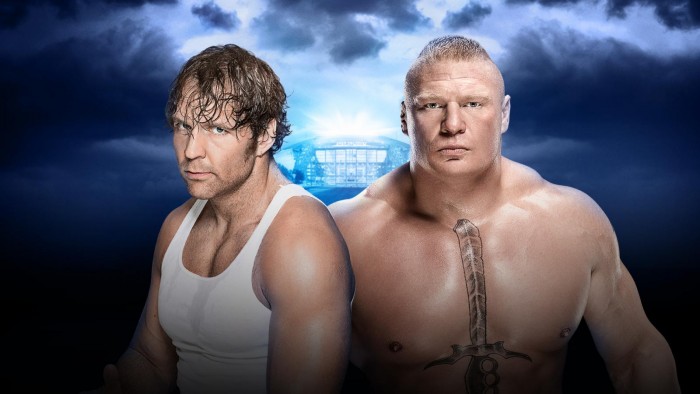 I'm Jameus Mooney from VAVEL USA, THANK YOU and Good Night!
Reigns will leave champion....are we surprised? They're honestly not booing that loud, though.
Steph hands H the sledge hammer....Super Man punch, a second, SPEAR...
1-2-3...Reigns is champion.
High knee from H to counter the spear, drapes his arm over for a near fall.
SUPER MAN PUNCH BY REIGNS....
PEDIGREE, 1-2, KICKOUT. WHAT A MATCH
Steph gets in the ring, arguing with the official. H uses the ref to get up, REIGNS SPEAR STEPH! REIGNS SPEARS STEPH!
SPEAR, STEPHANIE SAVES THE TITLE.
Pedigree, but Reigns launches H over the top....This isn't a bad match, but they're Sami Zayn'ing.
Sitout powerbomb by Roman, kick out. Both slowly come to and H again locks in the cross arm breaker.
Triple H is so good at making it look legit that it isn't even funny. He has to go down as the greatest of all-time.
H counters the Super Man punch, armbar....
Triple H is bleeding pinker than my medium rare steak.....
Reigns spears Triple H through the barricade to no reaction....
H sends him shoulder first into the steps, and H lifts him up and sends him over the announce table. Here's you still got it chants....
H rolls out of the ring, Reigns goes after him, launches off the steps and a clothesline to the Game. There's a small Roman chant.
Triple H misses the high knee, Samoan Drop and a kick out at 2.
Roman's in the ropes, and a knee off of the head, near fall....
Double A spinebuster and H gets a near fall.
BIG CLOTHESLINE BY REIGNS....Savage-like rope guillotine, and Reigns with the drive by and a count of one. Reigns clubbing in the corner. Steph distracts ref and H hits a lowblow.
...and so the brawl begins, and H has the advantage again.
Triple H, focusing on the arm, seems to have the early advantage in this bout. But Reigns takes it away from him at the snap of the fingers, and crotch chops H....
If you hate Reigns so much, walk away. Simple, it's the only way to get them to change things. You want change, that's what you do. Fans don't comprehend that.
It's go time for the Main Event. Reigns seems to be taking the booes with a grain of salt. H looks like he's been tanning at Randy Orton's house.
Those boo's are....loud. You can hear them over the music.
Here comes the Game...to cheers. This isn't good for WWE.
Stephanie is so great at EVERYTHING that she does. Literally perfect in every way imaginable.
Stephanie's UNDER the H mask on the top of the stage in the Queen's thrown with a promo mic. She's the Queen of Queens!
Now we have a video package for our Main Event...at 11:05.
Cena and Rock work on the Wyatt...Rock Bottom to Strowman, and Five Knuckle Shuffle to Rowan, AA....People's Elbow to Wyatt coming up....
JOHN CENA? Cena's back?
Match begins ROCKBOTTOM.. 1-2-3....
IT'S OVER! THE ROCK NEARLY BROKE HIS SURVIVOR SERIES 1998 RECORD OF 4 SECONDS V THE BOSSMAN!
Rock invites the referee into the ring, ROCK IS IN WRESTLING GEAR, Erick Rowan? Erick Rowan v the Rock?
The Rock mentions a WrestleMania match? Intriguing.
Rock cuts a promo and basically makes fun of Wyatt's weight. It feels weird, to be completely honest.
Wyatt cuts a promo...Wyatt claims to have chosen the Rock. Why? Because he represents success and greatness.
Rock announces it's going to get good, HERE COMES THE WYATT'S! HERE COMES THE WYATT'S!
There is zero way they broke 101,000 people....
Is the Rock announcing the attendence? I'm not the guy who complains, but this is stupid.
The Rock picks up a mic and does his "FINALLY" shtick after The Rock soaks in the crowd.
It's a flame thrower and he set his name on fire....and JBL with a stupid pun. Now he's walking through the Cowboy's cheerleaders. Into the ring the Rock goes.
Does the Rock have a T-Shirt cannon? Hm...
...and here comes the Rock!
Why? Nobody but 60 year old Ric Flair wants to see the Dallas Cheerleaders...
BARON CORBIN THROWS OUT KANE! CORBIN WINS! CORBIN WINS! CORBIN IS ON THE MAIN ROSTER!
VICTORY LAP MID MATCH!
Corbin eliminates Tatanka.
Tatanka's in great shape, and he's chopping Adam Rose, off of the second rope, lands the shot.
Konnor eliminates DDP, and Golden Truth throw him out. This is an...odd show.
DIAMOND CUTTER TO VIKTOR, and he's out of there!
All of the superstars thorw out the Big Show and Shaq! Thank God.
Ring clears, Fandango comes in, Big Show throws him out during a Shaq-Show showdown, Shaq throws out Sandow. Shaq gets booed? WWE if that isn't a sign, I don't know what is.
TATANKA'S IN THE MATCH! TATANKA...Kane goes to double chokeslam Shaq and Show and Shaq chokeslams him.
Who's the final entrant? Shaq? Why? This...is...what?
Mark Henry, Kane, all of the favorites enter, but who's the final competitor? BANG! DDP! DDP IS THE NEW FAVORITE IN THE BATTLE ROYAL!
Baron Corbin? CORBIN'S IN THE BATTLE ROYAL!
Shane McMahon's the only man who can be on a stretcher and get a thumbs up while it looking realistic.
Shane is getting stretcher'd out of the building with his kids and mother in the crowd. This is painful to watch.
1..2...3...and Undertaker wins? Interesting.
Taker carries him back into the ring, and gets up, both of them...Taker pats him, and tombstone.
He jumps off, TAKER MOVES! SHANE GOES THROUGH THE ANNOUNCE TABLE!...Holy...Smokes.
He's on top of the cell, Taker's out on the announce table..He's going to jump....
HE'S SCALING THE CELL. SHANE IS SCALING THE CELL...
Shane has a tool box, right off of Taker's face....He does it again.
Shane and Taker on the table, going for the tombstone, Shane counters into the sleeper...Taker's phasing...they fall through the table?...Was that supposed to happen?
UNDERTAKER SLAMS SHANE THROUGH THE CELL. Taker clears off the announce tables.
SHANE GRABS A WIRE CUTTER, WE'RE GOING OUTSIDE THE CELL!
COAST TO COAST ON THE UNDERTAKER, and his face tells you how great of a seller Taker is/was.
Shane grabs the trash can, could it be? Coast to Coast time?...
Shane goes for the cover, 1-2.....TAKER SITS UP IN THE PINFALL, TRIANGLE CHOKE!
CHOKE SLAM ON THE STEPS AND A TWO COUNT.
Shane locks in the triangle choke, though it doesn't lock that great, Taker does the life power bomb spot, Shane kicks him.
Shane tastes the steel first, and Taker sets up the stairs, and Shane goes to work on Taker.
Taker and Shane exchange blows, Taker throws him out of the ring, Shane fights back and Taker throws him back in.
Taker does his signature doorslam, and we are underway! It is electric. Shane uses his speed right out of the gate.
This may actually be Taker's best 'Mania Entrance. The chills it sends up your spine.
LINDA MCMAHON!
The cell is lowering...why isn't this going on last? You're risking Reigns getting booed out of WrestleMania? Really?
That was amazing...and the ending was a letdown. Anywho, Charlotte's the NEW Women's Champion.
BANKS STATEMENT TO BECKY. CHARLOTTE THROWS OUT SASHA, CHARLOTTE WINS, BECKY TAPS.
DISARMER ON CHARLOTTE, SASHA BANKS STATEMENT, FIGURE 8 ON SASHA, SHE SLAP THE KNEES, REVERSES IT.
Charlotte moonsault off of the top onto both on the floor. That was fantastic. Double natural selection, Becky kicks out, Sasha kicks out.
BECKY TAKES OUT FLAIR....to YES! chants.
Knees to Becky's face, Sasha suicide diva smack through Charlotte.
FIGURE 8 ON BECKY LYNCH!...SASHA FROG SPLASH, near fall.
Becky counters the Figure 8 and Sasha takes Charlotte through ropes, and Sasha is slapped against the floor.
All three of these women stand out and bring something else to the table, this is why NXT is the best farmsystem in wrestling.
Nice deep arm drags by Becky to Sasha, irish whip, Sasha gains control, Charlotte trips her up.
Sasha and Charlotte are alone in the ring, Charlotte hits a WCW Eddie hurricanrana, in comes Becky, rollup by Sasha, near fall.
Even though I'm not the biggest fan of triple threat's, but this'll be something else and I'm excited for it. Classic heel move by Charlotte picking her spots.
Sasha is over and I love it...Good for her.
Here comes the champion....
In a Ric Flair robe that he wore in his final match with WWE.
That's a pretty good pop for Sasha, and she's accompanied by SNOOP! and he's singing her theme!
Sasha needs this win more than anyone. If given 20 minutes, this could tear the place down.
We have the HoF and now it's time for the Triple Threat for the Women's Championship...and that feels great to say.
Flair and Ryder just had a woo off in a Snickers commercial....and it was amazing.
F5 onto the chairs, and Lesnar beats Dean Ambrose dominantly. Heyman raises Lesnar's hand.
SUPLEX ONTO THE CHAIRS....
And out comes barbie, and he sticks it in his mouth....
Ambrose throws a dozen chairs in the ring, he overshot the suplex onto the chairs and Dean flies directly over the pile of chairs, and Lesnar stalking him, F5, countered to Dirty Deeds on the chairs, near fall!
Ambrose off of the top and drops the chair on him and gets the first nearfall of this match.
Ambrose makes Lesnar retreat to the corner, attacking him with the chair. DROPKICKS THE CHAIR.
Ambrose hit him with a laptop, and then with a chair.
Ambrose grabs the chainsaw, and Heyman's face tells an entire story, Lesnar counts suplex on the floor! #10....cue the Dillinger chants....
Dean Ambrose low blow right in the Jimmy Johns. Ambrose beats him down with a kendo, suicide like dive taking out Brock Lesnar!....
After suplex #9, Ambrose just lies on the apron and Brock once again grabs a kendo stick.
Ambrose is either having a seizure or being Dean Amrbose. Suplex #7.
Lesnar throws out the kendo stick to use his hands....that's great, especially with the character. He grabs it again, breaks it over his knees and throws it back.
Ambrose beats him down with the kendo stick, breaking it, it doesn't phase Brock, suplex #4 and #5 connect.
Lesnar quickly starts assaulting Ambrose. Suplex #1.....and slowly and methodically picks him up for #2. Brock with the knees, suplex #3.
Paul Heyman is the greatest stick worker of all-time not named Jake "The Snake" Roberts.
NOW what we've all waited for: Brock Lesnar enters the Ambrose Asylum and takes on Dean Ambrose in a Street Fight!
Markout moment, here comes the New Day! New Day, Austin, Michaels, Foley. Everyone dances but SCSA. Austin stares down Xavier. Austin does the worse dance known to man, Stunner to Xavier!
JBL, you're not Jim Ross...
Barratt takes all three!
Here we go, they're taking out the League of Nations! VINTAGE FOLEY KNEE! MR. SOCKO! MUDHOLE! SWEET CHIN MUSIC TO DEL RIO! STUNNER TO RUSEV!
STONE COLD! STONE COLD! STONE COLD! It's PG, Steve, watch the middle finger. HERE WE GO!
MICK FOLEY! SHAWN MICHAELS!
HBK! He's in wrestling gear.
Was that not for the titles...alrighty?
Kofi takes out Rusev, Rollup on Sheamus, nearfall. Bullhammer, Brogue Kick....League of Nations win...? Okay?
Backstabber to Del Rio, Kofi throws him outside, Del Rio attacks Kingston, DOUBLE STOMP TO THE FLOOR. It is now 3 on 1.
Blind tag by Big E, Belly to Belly's all over the place, TRIPLE SPEAR OFF OF THE APRON! OH MY....
Sheamus counters Trouble in Paradise, Rusev with a high kick.
XAVIER TAGS KOFI...
WHAT A KICK TO BIG E FROM RUSEV ON THE FLOOR.
As of this instance, it's Xavier in there with Del Rio and a discus punch. Del Rio connects with a tilt a whirl backbreaker and in comes Big E Langston, Rusev and Sheamus attack Xavier.
This is now a six man tag impromptu, and Xavier is still playing Francesca.
Here come the League of Booty.
XAVIER HAS THE MONKEY TAIL.
GIANT BOOTY'O BOX....THEY JUST CAME OUT OF THE BOX OF BOOTY'S DRESSED UP LIKE THEY'RE FROM DRAGON BALL Z....XAVIER'S BEJITA!
Zack Ryder's got a lot of passion. Good for him, he deserves it. He wants to take a picture with Razor Ramon.
Two surprises and a Zack Ryder interview.
450 splash...Jericho kicks out, and this time Styles face tells the story. Styles jumps off of the top...CODEBREAKER...1-2-3...
JERICHO...JERICHO....JERICHO.....
STYLES CLASH! STYLES CLASH! 1-2 JERICHO KICKS OUT....he no sold it?....
Jericho goes for the Styles Clash, Styles counters, 1-2, near fall.
CODEBREAKER! CODEBREAKER! CODEBREAKER! 1-2...HE KICKED OUT, and Jericho's facial expression shows the entire story.
The Walls are back in, and now Styles counters to the calf-killer.
WALLS OF JERICHO! Smack-dead center of the ring. Styles has absolutely nowhere to go, and he drags himself to the ropes. Backflip off of the top and his version of the Scorpion Death Drop.
Second rope neckbreaker gives Jericho the upperhand, this should be amazing.
They switch positions on the apron, and Styles gives Jericho a taste of his own medicine.
Fabulous deep arm drags by both Jericho and Styles, Styles and Jericho exchange chops and Jericho gains the upper hand.
If given twenty minutes (which they have time to do) this should be something, and they lock up. AJ breaks when Jericho's in the corner. Jericho sent into the ropes, takes down Styles with a shoulder tackle and taunts the crowd. Styles with a hurricanrana and takes Jericho out of the ring who starts tossing stuff.
It's time for our show stealer, Chris Jericho v AJ Styles in Styles 'Mania debut. His red pops out so much that it hurts my eyes.
Now it's time..."The Phenomenal" AJ Styles takes on Chris Jericho....NEXT.
Ryder's Dad enters the ring, and they hug! Ryder is champion! This is your time kid. You didn't need an Internet Championship to make yourself famous this time.
RYDER PULLS DOWN THE TITLE! RYDER IS IC CHAMPION!
Zayn pulls him off, suplex on a ladder, climbing up, Miz stops him.
KOs got it, up comes Sami Zayn, they're throwing fists, Owens applies the claw, Zayn falls!
Stardust broke the ladder in half....that's it he's dead.
Ryder and Ziggler at the top of the ladder, facebuster off of the top, Ziggler got his knee. Ziggler got his knee. Either he's selling or this is injury curse is a worse curse than the Curse of the Bambino.
KO THREW OUT THE TRIBUTE LADDER...and this is why Owens is the best heel in the industry.
Skull-crushing finale on the ladder? Interesting....
STARDUST HAS A POLKA DOT LADDER!
Ziggler sets up the ladder. Anyone but Ziggler or the Miz need to lose, nobody can win the title and be less relevent. Superkick (most overused move in wrestling) to Ryder.
OH MY! Sin Cara springboards off of the ladder off of the ropes!
Here comes the stupid hope on everybody spot....but with a twist, going THROUGH the ladder with a plancha, and TORPEDO DDT to KO.
Stardust is in Polka Dots..and it's the greatest thing ever.
We already go with Zayn and Owens who are tearing each other apart.
FUNAKI SAID THE #1 ANNOUNCER! KO clears the ring.
It's time for KOMania and Dallas erupts and here we go!
Here we go, with the Intercontinental Championship Ladder Match!
Kevin Owens (c) v Dolph Ziggler v Sin Cara v Zack Ryder v The Miz v Sami Zayn!
Welcome everybody to WrestleMania! Fifth Harmony? They hate the Dallas crowd...
Ladies and Gentlemen, we are 7 minutes away from the Showcase of the Immortals.....tweet us at VAVEL WRESTLING!
The Usos steal it, and the Dudleyz get the tables, Double Superkick from the Usos, both Dudleyz are on the tables....DOBULE SPLASH THOUGH THE TABLES.
Bubba Ray gives a tribute to the Usos father, Rikishi like the amazing heel that he truly is.
We start off the matchup with the Dudleyz dominating aggressively right out of the gate, with a near fall for D-Von.
Next up, the Usos take on the Dudley Boyz.
THE WOMEN'S CHAMPIONSHIP IS BACK AND WILL BE AWARDED TO THE WINNER OF THE CHAMPIONSHIP MATCH TONIGHT!
Lita is in the ring with a mic and pedestal. She brings up the heritage of the Women's championship?
Brie Bella submits Naomi for some reason and Team Total Diva picks up the win, and out comes Nikki!
Eva Marie does an actual fantastic Stratusfaction, though nothing like the original, everybody does their finisher spot comes up. Lana throws Bella off of the top.
Don't do the stupid suplex spot....
Thank God. Either way, Paige goes flying on B.A.D. and Blonde, getting no air due to not having enough endurance.
In comes Tamina Snuka, who is one of the more dangerous divas that plays her role well. She's not there to be the best wrestler, because she doesn't have to be.
Emma's THE best wrestler for a diva on the planet.
Good for Nattie and Naomi. Two of the best divas on the planet get a spot on 'Mania, alongside Emma and Paige.
Did Eva Marie just not botch a real wrestling move. Emma's the perfect person to carry her.
Two minutes in and we already have the ten diva spot.
Summer Rae and Alicia Fox kick things off, Sumemr Rae gets a near fall. HOpefully Summer Ray can show how good she truly is
Kalisto retains the US title in a pretty unnoatable match against Ryback after the Solida Del Sol! Now we have Team Total Divas v B.A.D and Blonde.
What will the Rock, Austin and HBK do? Who will leave WWE World Champion? Is the Authority out of power, I'll reveal these results as the happen LIVE!
Prediction: Shane McMahon
In what Taker claims is his yard (though Hell in a Cell record says otherwise), he'll take on Shane O'Mac in a rather confusing storyline, but is destined to be great. Possibly a Cena heel turn as mentioned in the predictions articles, screws Taker costing him the match setting up 'Mania 33, before AA'ing Shane. If that happens or not, expect Shane to somehow win.
Shane McMahon v The Undertaker: 'Mania Career v Ownership of Raw, Hell in a Cell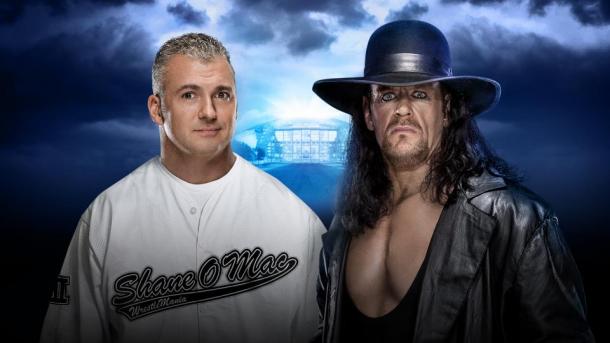 Prediction: Dean Ambrose
In what will be the best caliber match of the night, Dean Ambrose takes on the Beast Incarnate Brock Lesnar in a street fight. In a match that was made official the night after WrestleMania, Dean Ambrose has recently been recieving weapons from legends like Mick Foley and Terry Funk. This should be the best match of the night.
Dean Ambrose v Brock Lesnar, Street Fight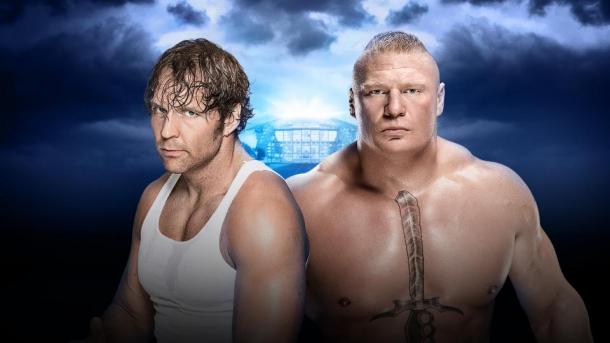 Prediction: Roman Reigns
With the WWE Championship up for grabs, Triple H takes on Roman Reigns in what will be a great match ruined by the crowd. The crowd is very anit-Reigns and always will be. That's the thing, does WWE risk the chance of being booed out of their biggest show and put it on last or have Shane and Taker close the show? Suddenly a No DQ should make this brutal.
Triple H (c) v Roman Reigns for the WWE World Heavyweight Championship, No Disqualification Match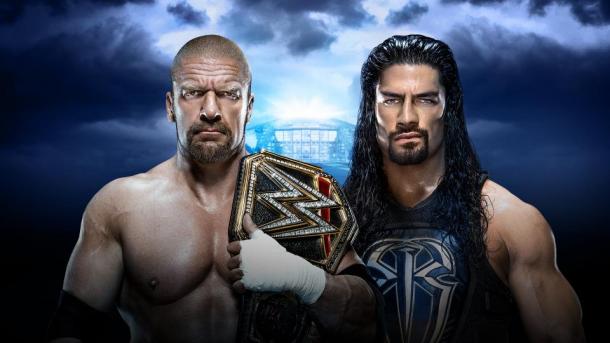 Prediction: AJ Styles
After a clinic with the New Day, and two other classics between AJ Styles and Chris Jericho, this odd story comes (or at least attempts to) halt at The Grandaddy of Them All. Jericho has played a pivotal role in getting AJ over with the common viewers, and can tear the house down in a phenomenal (no pun intended) mesh of Styles (pun intended). This is your show stealer.
AJ Styles v Chris Jericho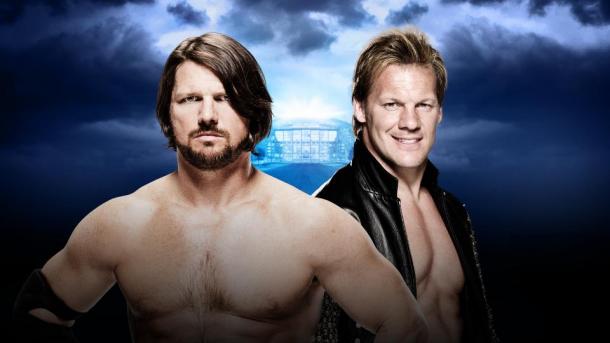 Prediction: The New Day
In a rather lackluster match, they have the most popular tag team act in Pro Wrestling facing the League of Booty's? I'm not a pessimist. but this is absolutely stupid. Anywho, the New Day is set to defend the championships and will probably do so successfully. With the rumors of wanting to do something huge for the entrance, we can only dream and wait.
The New Day (c) v The League of Nations for the WWE Tag Team Championships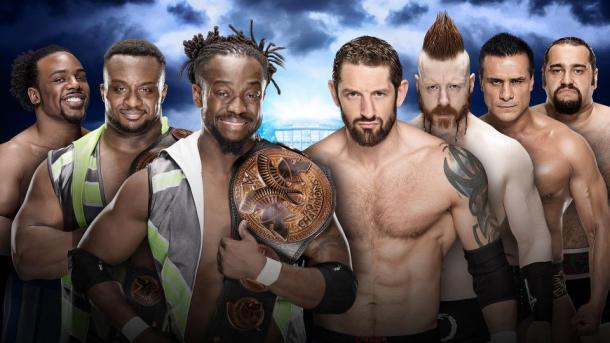 Prediction: Team Total Divas
This match is scheduled to open the pre-show and it's something that you can potentially skip. More of a way to get divas on the card, this should be the worst match of the night. With Brie leaving, I'm confident Team Total Divas take the cake.
Team Total Divas v Team B.A.D. and Blonde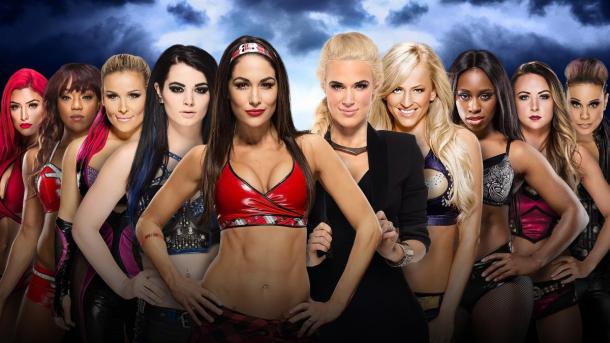 Prediction: Sami Zaym
Pardon me going in and out through the Main Show and Pre-Show, but in a match that should've been Zayn v Owens quickly turned into a seven man ladder match for some unknown reason, however it is possibly because Zayn is coming off of injury and just tore the house down with Shinsuke Nakamura, the King of Strong Style and didn't want to be overworked. In a match that shouldn't disappoint (for any reason at all) Sami Zayn is projected to take the Intercontinental Championship, however the match should be amazing. Almost as good, if not better than last year's ladder match, this could steal the show.
Kevin Owens (c) v Sami Zayn v Sin Cara v Zack Ryder v The Miz v Dolph Ziggler v Stardust for the WWE Intercontinental Championship, Ladder Match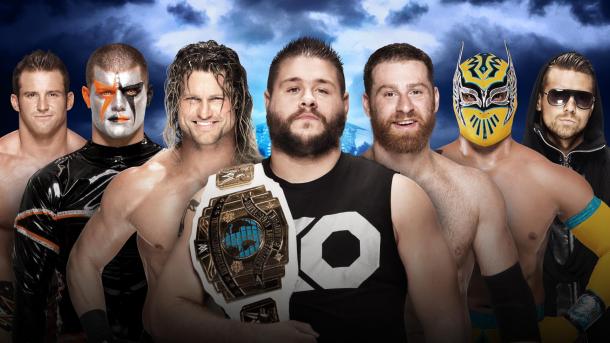 Prediction: The Dudley Boyz
Yet another match demoted to the pre-show (for some idiotic reason I can't really comprehend nor explain), Jimmy and Jey, the Uso Brothers take on another team of brothers (kayfabe-half brothers), in D-Von and Bubba Ray, The Dudley Boyz. Expect this to be more of a classic style tag match, though given a lot less time than it really should have. Though I may be the only person interested, this isn't going to be a bad match. It won't be of the same caliber of The Revival/Mechanics v The American Alpha at NXT Takeover: Dallas, but it won't be bad, whatsoever. The Usos and Dudley's will steal the Pre-Show (which frankly won't be hard to do), and put on a match that should be worth the watch. Dudleyz win via heel tactics.
The Usos v The Dudley Boyz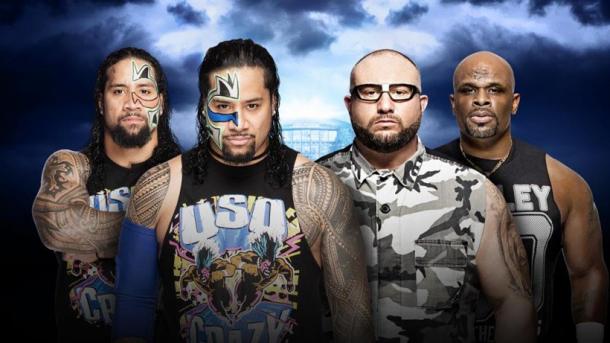 Prediction: Kalisto
Probably the most lackluster match on the 'Mania card, Kalisto defends his United States Championship against "The Big Guy" Ryback on the WrestleMania kick-off show. A match with minimal build for the actual match itself, it seems to be like the story here is Ryback is sick of small guys going big in a big man's world. It's apparant to Ryback that Kalisto is the smallest fish in the biggest pond. Kalisto is set to defend against Ryback, and is projected to win because I don't think it'd make much, allow me to reiterrate, any sense whatsoever for him to do the job to Ryback. Absolutely zero sense, especially when they want to elevate The United States Championship the way the dirtsheets (though you can take those with a grain of salt) claim, then Ryback is obviously not the answer to that specific question. Expect this to be a rather snappy match with a quickly rushed story from these two.
Ryback v Kalisto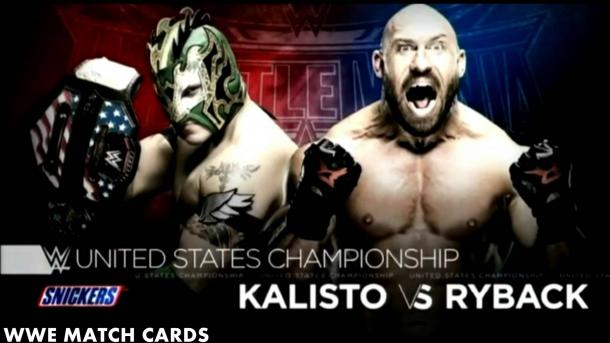 Prediction: John Cena
This is a rather a harder match to predict because we have yet to actually receive the full list of participants in this battle royal, but it must be noted that this is rumored to be bumped to the Main Show with a huge surprise. Therefore it makes you think something big is going to happen. With teases both kayfabe and not kayfabe, John Cena is expected to make an appearance but maybe possibly a match? The Battle Royal is perfect because he doesn't quite have to do all that much.
Andre the Giant Memorial Battle Royal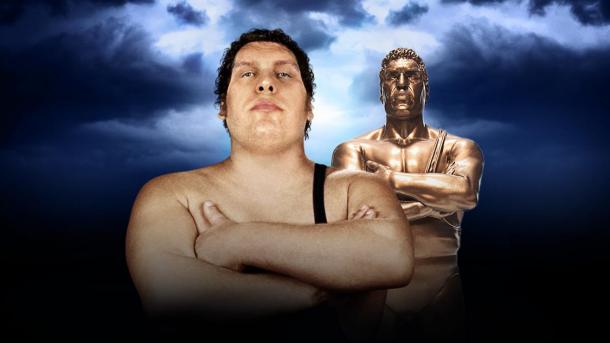 Prediction: Sasha Banks
We kick off our predictions and preview with the Divas Championship! Charlotte defends her title in a triple threat match against two of her biggest influences in her career and fellow Four Horse Women, Sasha Banks and Becky Lynch. These three women were once in one of the biggest female stables of all-time alongside Bayley, before Sasha Banks took Charlotte's NXT Women's Championship. Since being called up, all three have been red hot and even Sasha, who's unpinned and unsubmitted on the Main Roster. Becky's there to take the fall, Sasha wins the title.
Charlotte (c) v Sasha Banks v Becky Lynch-WWE Divas Championship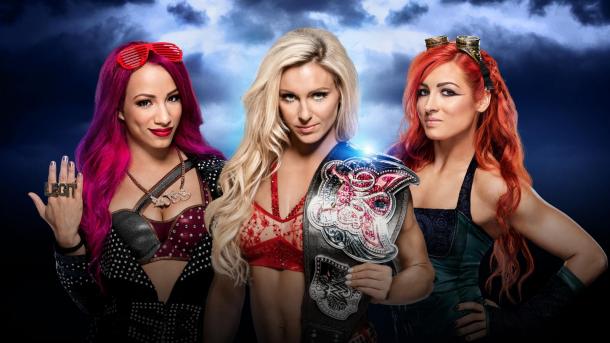 Welcome everybody to VAVEL USA's live coverage of WrestleMania 32 from AT&T Stadium in Arlington, Texas, presented to you via VAVEL USA writer Jameus Mooney!