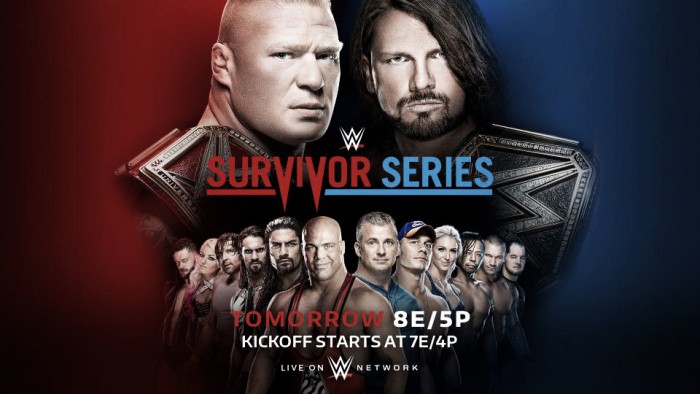 WWE's final "Big Four" pay-per-view of the year takes place this Sunday, as Houston hosts the 31st annual Survivor Series. Much like last year, WWE built the event around the "RAW vs. SmackDown" concept, with all but one match being inter-promotional. Which show will establish itself as the superior brand? Let's take a look at the eight-match card and find out.
Enzo Amore (c) vs. Kalisto, WWE Cruiserweight Championship Match (Pre-Show)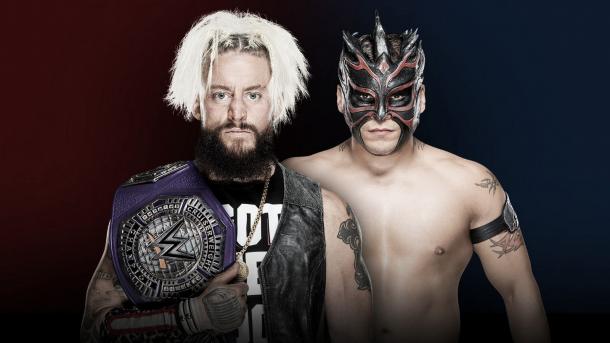 Kalisto received this title shot after he beat Enzo via DQ in their rematch from TLC. Honestly, this is the least interesting match on the show. Amore has played the pest heel role well enough, but Kalisto has no momentum going into this championship bout. That is as much of an indictment of the lackluster 205 Live booking as anything else. All of the cruiserweights are immensely talented, but creative constantly undermines their skills with goofy storylines, defining them down as jokes that nobody cares about. This match should be okay, but nothing that will grab fans' attention. There is no reason to put the belt back on Kalisto, so I assume Enzo uses underhanded tactics to keep the gold.
Prediction: Enzo Amore pins Kalisto after an eyepoke and a JawdonZo.
WWE Intercontinental Champion The Miz (w/Bo Dallas and Curtis Axel) vs. WWE United States Champion Baron Corbin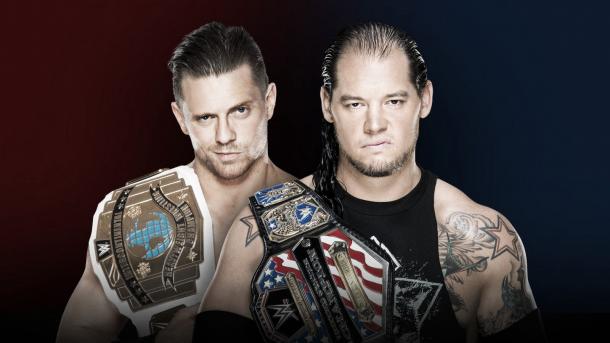 Now we get to the important matches. RAW GM Kurt Angle announced this match the night after TLC. In the weeks following, Miz and Corbin traded barbs on social media to build up the match, as the IC champion spent his TV time running from Braun Strowman and fighting The Shield while Corbin entered a mini-feud with Sin Cara. Although this match is heel vs. heel, I expect Miz to get the warmer reception, since his cuts better promos and he has a slightly better track record in the ring (not much though if those Daniel Bryan kicks are any indication). If WWE plans to go with a clean finish in this match, then Corbin will probably score the fall, which is what I think they will do. Miz doesn't have much in-ring credibility and he can easily regain his heat on the microphone. The company still has high hopes for Corbin despite him spending time in their doghouse earlier this year, so a win here keeps him on track.
Prediction: Baron Corbin pins The Miz after hitting End of Days
RAW Women's Champion Alexa Bliss vs. SmackDown Women's Champion Charlotte Flair
WWE changed this match from their original Bliss vs. Natalya after Charlotte won the Women's Title in her hometown (shocking) on the go-home edition of SmackDown Live, giving this match a bit more intrigue. Natalya is a tremendous worker and deserved much better than booking she has gotten over her career, but she was not a compelling champion; she was positioned as a crazy cat lady. This is another match that I think the SmackDown side takes. Charlotte is someone that the company can build their women's division around for the next several years, so she shouldn't lose a ton of matches before they cash in on potential dream bouts with Asuka and Ronda Rousey. Like Miz, Bliss is a pest heel with little credibility between the ropes (no matter how many times she wins clean). She can also get her heat back quickly with a good promo.
Prediction: Charlotte forces Alexa Bliss to submit using the Figure Eight
RAW Tag Team Champions Sheamus and Cesaro vs. SmackDown Tag Team Champions The Usos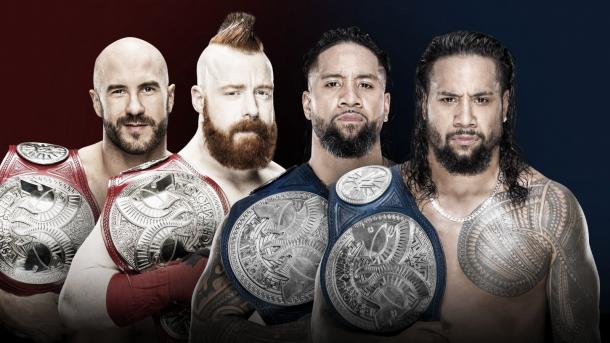 These four could steal the show provided they get enough time (which shouldn't be a problem on a four-hour show). The build for this match was basically non-existent except for some promos over the last two weeks of television. This match is another toss-up, but I think "The Bar" gets the win in a competitive match. RAW and SmackDown will likely exchange victories throughout the night, and Sheamus and Cesaro need this win a little more than the Usos do. Depending on the match quality and the finish, these four could leave the fans anticipating a rematch in the future.
Prediction: Sheamus pins Jey Uso after a combo attack and a Brogue Kick
WWE Universal Champion Brock Lesnar (w/Paul Heyman) vs. WWE World Champion A.J. Styles
This should be the best match of the night, perhaps even a darkhorse Match of the Year candidate (it probably falls short of the Omega/Okada trilogy), a stark contrast to the originally scheduled Lesnar vs. Jinder Mahal match. Styles is easily the best wrestler in the company, while Lesnar has proven to be more than capable of carrying his end of a great match. Whether WWE books a clean finish or not, I think Lesnar goes over here. Vince McMahon wants to headline next years WrestleMania with Lesnar and Roman Reigns, so he probably plans on keeping his Universal Champion strong. "The Phenomenal One" need the win more considering his clean loss to Baron Corbin several weeks ago, but that's probably a secondary concern for McMan and the creative team. He might protect Styles with a phantom pinfall or some Mahal interference, but Lesnar scores the fall in the end.
Prediction: Brock Lesnar pins A.J. Styles following an F-5
The Shield vs. The New Day- Inter-promotional Six-Man Tag Team Match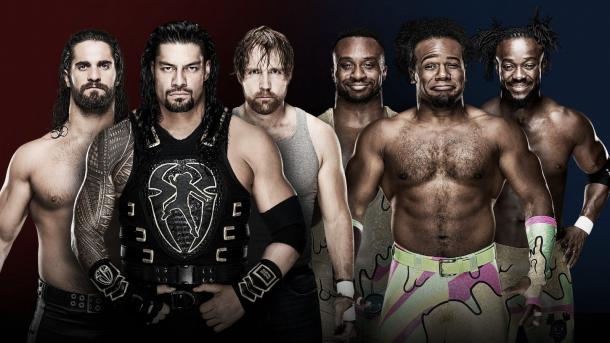 Another show-stealer nominee, and a match I thought could take place at this show when WWE reunited The Shield. WWE set this match up by having New Day invade RAW a couple of weeks ago and cost Dean Ambrose and Seth Rollins the tag team titles. I am curious to hear the reaction Roman Reigns receives from the crowd working against the babyface trio of Kofi Kingston, Xavier Woods, and Big E. I also wonder what type of reaction New Day gets working opposite the very popular Shield. I predict a Shield victory here. They need the win much more than New Day does and it helps even out the RAW vs. SmackDown score. I also think that the perceived stronger bond New Day spoke of last Tuesday could foreshadow some possible dissension. The match should be plenty of fun, but New Day's night probably ends with one of the members looking up at the lights.
Prediction: Roman Reigns pins Xavier Woods following a Triple Powerbomb
Alicia Fox (captain), Bayley, Sasha Banks, Nia Jax, and Asuka vs. Becky Lynch (captain), Carmella, Naomi, Natalya, and Tamina (w/Lana)- RAW vs. SmackDown 5-on-5 Survivor Series Elimination Match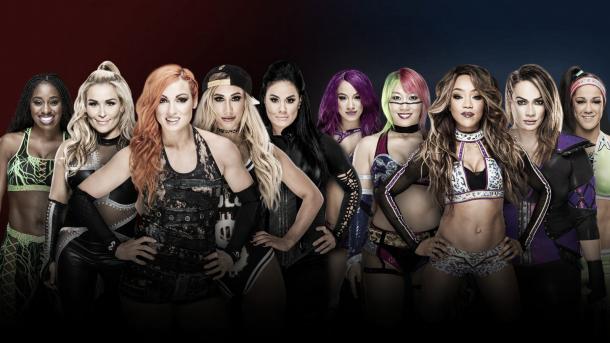 WWE failed to give fans a discernable reason to care about this match. They even snuffed out the smallest smidgen of mystery when they named Natalya as the final member of the SmackDown team. Much like last year, I think that the RAW women take this one. They have more stars on their side and I can't envision Asuka or Jax losing clean (though they might eliminate Jax via DQ or countout). Outside of Lynch and Carmella, the SmackDown women's division is rudderless. Natalya is a crazy cat lady. Naomi lost momentum and screen time after losing the title. Tamina is part of some weird pairing with Lana that makes no sense. Plus, these women don't get significant storylines to sink their teeth into. RAW hasn't treated their ladies much better, but they have better-pushed stars, which is why they will probably win.
Prediction: RAW Women win (Sole Survivors: Sasha Banks and Asuka)
Kurt Angle (captain), Triple H, Samoa Joe, Finn Balor, and Braun Strowman vs. Shane McMahon (captain), Bobby Roode, Randy Orton, Shinsuke Nakamura, and John Cena- RAW vs SmackDown 5-on-5 Survivor Series Elimination Match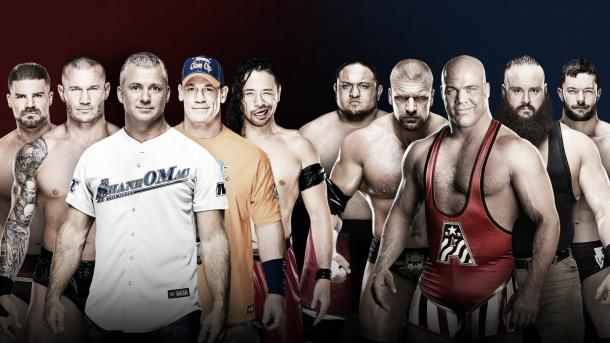 Plenty of subplots surround this match, which means the bulk of the PPV time could go here. Helmsley replaces Angle's "son" Jason Jordan after Pedigreeing him into next year on the go-home edition of RAW (while Angle oddly watched without lifting a finger to help his "kin"). Jordan could potentially turn on his "dad" and cost Team RAW the match, especially since fans' reaction to him has been lukewarm at best since his storyline with Angle began. On the other side, Kevin Owens and Sami Zayn could also run in and cost SmackDown, continuing their feud with McMahon. WWE loaded this match up with a lot of star power, making this a tough one to pick. Unfortunately, I think that Roode, Joe and Balor might be the sacrificial lambs to the older stars, even though the bookers should use this match to help build their star power. Since I have RAW winning the women's elimination match, I'll pick the SmackDown men to pick up the W here. WWE can enact both scenarios I mentioned earlier without causing one team an outright loss. Owens and Zayn can screw Shane without the team losing, and Jordan's interference could ultimately force RAW to lose. I don't see Stephanie McMahon firing Angle for the loss like she said she would, but I think whatever happens starts the build to Angle vs. Triple H at WrestleMania
Prediction: Smackdown Men win (Sole Survivors: Shinsuke Nakamura, Randy Orton and John Cena)