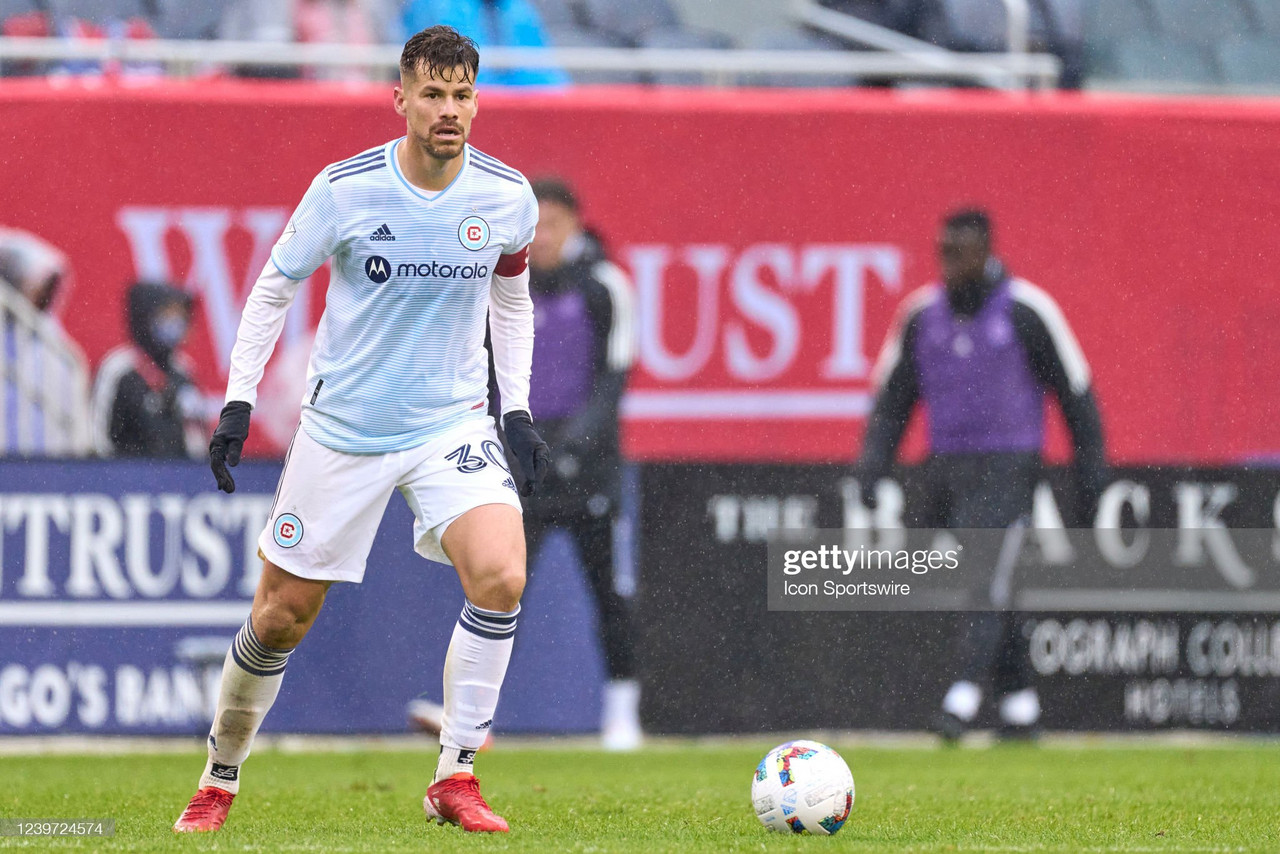 The injury bug has not bitten the Chicago Fire too badly this season, but a few unfortunately timed bites has put the team in a tricky situation.
In Chicago's most recent game away to the Philadelphia Union, Designated Player Gastón Giménez was forced off midway through the second half with what seemed like a nasty injury. He was gesturing toward his hamstring, he was in immense pain, and he couldn't even walk off the field under his own power, so he was stretchered off.
In usual circumstances that injury would be bad enough for the Fire, but at least they'd know they could just replace him with Mauricio Pineda. That's not really an option right now, though, as he's been forced to play at center back due to the absences of Wyatt Omsberg and Carlos Terán.
So, head coach Ezra Hendrickson now has a dilemma on his hands.
Who in the world is going to replace Giménez?
Here are some ideas:
Fabian Herbers
"Safe and sound, feet on the ground."
This is the safest option, and it's the most likely one as well.
Fabian Herbers is the ultimate MLS utility man. He's able to do a little bit of everything all of the time, whether that's in terms of his role in the squad or his position on the field. He can be a starter every week, he can be an impactful option off the bench, or he can just be a nice presence to have in the locker room.
When the German does play, he can play wherever he's needed. He's been mainly used as a winger for Chicago as of late, but he's also got experience in the middle, either leading the line himself, supporting the striker, or playing even deeper. Hell, he could probably slot in anywhere along the backline if absolutely necessary.
His time as a center midfielder came while he was with the Fire. Back in the 2020 season, Raphaël Wicky decided to play Herbers there to mixed results. The player himself did alright, and he scored a number of goals as a late runner into the box. However, the problem at the time was that he was being used ahead of more natural number 8's, like Djordje Mihailovic and Brandt Bronico.
That won't be the case this time around since there aren't many options left. The 28-year-old certainly has the qualities to make it work, as he's good technically on the ball, and he's smart enough to find spaces in dangerous areas. He's got lungs like a horse as well, which allows him to get up and down and back up the pitch at any time. Then there's the aforementioned goal threat, and that could add a real dynamic to this side in the final third.
It's easy to trust Herbers, and that's probably exactly what Hendrickson will do.
Percent chance of happening: 70%
Javier Casas Jr
"The kids could be alright."
The next best bet would be Hendrickson turning to the youth, namely Javier Casas Jr.
Chicago fans haven't seen too much of Casas recently, as he's only played a combined 23 minutes in MLS this season, plus the entirety of the side's US Open Cup loss on penalties to Union Omaha. He featured a lot more for the MLS Next Pro affiliate side, the Chicago Fire II, at the beginning of the campaign, starting their first three games. He's not featured consistently for them anymore, though, as he's mostly been stuck on the first team bench.
There is some hope for the midfielder. If Hendrickson has enough faith to have him on the bench, then he should have enough faith to play him if need be. He did have a strong showing last month in a Fire II game, grabbing a goal and an assist against FC Cincinnati II.
Does that mean he's ready for the big time? Well, he has made one proper appearance in MLS, coming on at half-time in a game against D.C. United in May of 2021, replacing Gastón Giménez. In that showing Casas looked pretty good, and there was some hope from the fanbase that he would be showcased more in the following weeks.
That didn't happen, though, and his development has slowed as a result. The 19-year-old struggled in the aforementioned Open Cup game against Omaha, who are a lower league outfit, and his poor performance played a part in the Fire's loss on the night. His frame was what really hurt him, as he was bullied on the pitch by those who were older, bigger, and stronger than he was. In some spots on the field you can get away with being a bit slender, but not right in the middle of the park.
Still, there's a potentially quality player there. Tidy on the ball, Casas is able to receive a pass in midfield and either dribble into space himself or move the ball on to a teammate. He doesn't shy away from a challenge either despite his build, and the fact that he picked up a yellow card during a six-minute cameo against FC Dallas is proof of that.
It would be a real trial by fire to throw him in at this stage of the season, but pressure makes diamonds after all. Chicago wants to become a team that's known for utilizing its academy, and what better way to do so then by trusting a homegrown in a big game?
Percent chance of happening: 15%
Mauricio Pineda
"By God, is that Mauricio Pineda's music?!?"
Look, I know I said earlier that Mauricio Pineda won't be able to fill in at center mid since he's already playing at center back, but just hear me out.
What if Pineda didn't have to play center back?
The man that makes this solution a possibility is Jonathan Bornstein. Mainly viewed as a locker room leader who helps the team off the pitch, the experienced defender has actually been one of the Fire's most consistent performers. He's not been called upon often, but when he is turned to he usually puts in a very solid shift. The American helped the backline secure two clean sheets in the span of four days last month, and he recently filled in for the absent Rafael Czichos away to Charlotte FC in one of Chicago's biggest wins of the season.
He might be turning 38 in a few months time, but that doesn't mean he's got nothing left in the tank. What he lacks in speed and raw strength he more than makes up for in defensive intelligence. He knows what the opposition is going to try, and he knows how to stop it.
So, if Bornstein slots in at center back, then Pineda is free'd up to play in the middle of the park. That might be for the best, as there's an argument to be made that the latter is actually better in midfield than in defense. Either way, it would be a clever way for Hendrickson to get the most cover for his side at the back, especially since the Fire will be up against some dangerous attacking teams in the next few weeks.
Percent chance of happening: 10%
(I know my opinion really doesn't matter here, but this is what I would do if I was Hendrickson.)
No one
"Just send it, brah."
Who says the Fire actually has to replace Giménez with someone in the same position?
For the entire season, the team has pretty much been forced into playing a 4-2-3-1 formation. That's because of the roster they've assembled and where they've spent their money. Fitting the likes of Giménez and Xherdan Shaqiri in the same team, while keeping the latter in a central position, has made it difficult for Hendrickson to change the formation at all. It's somewhat worked, to be fair, but there's a chance that fans could finally see a new formation utilized.
A move to a back three doesn't make much sense due the club's aforementioned injury issues at that position, but it is an option at least. With Czichos, Pineda, and Bornstein in the middle and Boris Sekulić and Miguel Navarro as wingbacks outside of them, that provides enough cover for Jairo Torres to play alongside Federico Navarro in the center of midfield. Chris Mueller and Shaqiri would play either side of whoever is up top, and that could lead to some quick counter attacking play for Chicago.
They could also turn to the diamond. Fede Navarro would be the anchor in the middle of the park, but he'd have two center midfielders alongside him instead of the usual one. More players would be better suited for that sort of role instead of the more defensive-minded one Giménez usually operates in, like Torres, Herbers, and even Sergio Oregel. Shaqiri would fill in at the number #10 spot, and Mueller would play alongside the center forward further up the pitch.
Then there's the nuclear option, which would be the most fun, but also the most dangerous. Hendrickson could swap a defensive midfielder with a striker, turning the 4-2-3-1 into a 4-1-3-2. Federico Navarro would be the lone DM, and the usual trio ahead of him would stay the same. Instead of a lone forward, though, there would be a front two. That would really help the side going forward since there would be another body in the final third, and there's an argument to be made that Kacper Przybyłko and Jhon Durán are more suited to having a strike partner than being on their own. The downside would be that the defense would be held together by Fede Navarro and hope, though.
All in all, each idea is a bit out there, but they're possibilities nonetheless.
Percent chance of happening: 4.9%
Logan Pause
"Guess who's back? Back again. Logan Pause is back. Tell a frie- wait seriously Logan Pause is back?!?"
Here me out.
Ok please stop laughing and just hear me out.
Logan Pause may not have been the greatest player the Fire has ever seen, but he's someone most the fanbase still holds a soft spot for in their respective hearts. A constant fixture in the lineup for nearly a decade, the number #12 was a solid defensive midfielder throughout his time with the club. Unspectacular? Sure, but solid nonetheless.
He's currently only 40-years-old, and many players have been able to play into their 40's nowadays thanks to the marvel that is modern day sports medicine. The former captain is a bit busy at the moment, coaching Chicago FC United in USL League Two while also working a non-soccer job (cheers Guillermo Rivera), but why not have him put on the Fire kit one last time and return to the midfield at his former team's time of need? One more sideways pass, please, just for ol' times sake.
Percent chance of happening: 0.1%