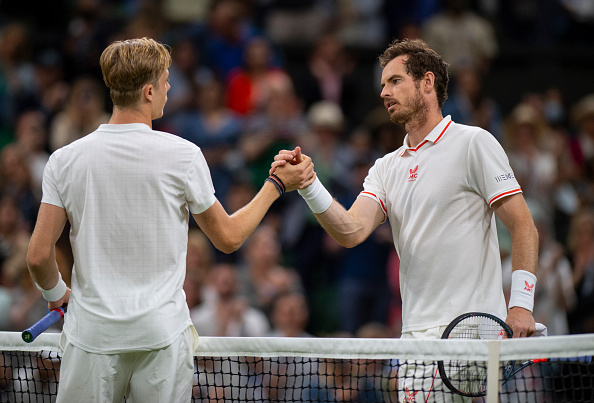 Following his third-round loss to Denis Shapovalov, Andy Murray has thrown fresh doubt on his future.
The Dunblane native went down in straight sets losing 6-4, 6-2, 6-2 and showed his frustration after the match.
"There is a part of me that feels a bit like: I have put in so much work the last three months and ultimately didn't play how I would want and expect, and it's like is it worth it?" said Murray.
Settle in - it's another night in with @Andy_Murray on Centre Court...#Wimbledon pic.twitter.com/VzaPAEbA41

— Wimbledon (@Wimbledon) July 2, 2021
"Unless me and my team can find a way of keeping me on the court for a consistent period of time and allow me to practice the way that I need to compete with these guys, then the discussions about what I do next will come in," he said.
Fatigue
Murray seemed zapped of energy following his epic five-set comeback victory over Germany's Oscar Otte in round two.
It just had to be...

A trademark @andy_murray lob seals his passage into the third round at #Wimbledon pic.twitter.com/CKwUaS5nMi

— Wimbledon (@Wimbledon) June 30, 2021
The world number 151 shockingly led by two sets to one, before a trademark fightback from the Brit sealed a 6-3, 4-6, 4-6, 6-4, 6-2 triumph under the lights of Centre Court.
The two-time Wimbledon champion also used up crucial energy in his first-round win over Georgia's Nicoloz Basilashvili.
"I can still play at the highest level"

There's no doubt about that, @andy_murray 👊#Wimbledon pic.twitter.com/KxPOB6xDC9

— Wimbledon (@Wimbledon) June 28, 2021
Murray played some vintage grass-court tennis to lead by two sets to love and was 5-0 up in the third, before nerves got the better of the former British number one.
24th seed Basilashvili fought back to win seven successive games to take the third set 7-5.
However, Murray regrouped to clinch the fourth set and win 6-4, 6-3, 5-7, 6-3.
Heart. Determination. Murray.@andy_murray seals a battling victory on his return to singles action at #Wimbledon, overcoming Basilashvili 6-4, 6-3, 5-7, 6-3 pic.twitter.com/Z2OjYYyrjy

— Wimbledon (@Wimbledon) June 28, 2021
Perhaps, had the Brit had more match practice he might have been able to see off Basilashvili without the match being extended by nearly an hour.
Vital physical and mental energy could also have been saved against Otte, had Murray won in straight sets against the lower ranked opponent.
Pure class from Denis Shapovalov after seeing off Andy Murray in straight-sets. What a top bloke.

It's been great to see @andy_murray back at #Wimbledon.

I want Denis to win now.

— Dan Walker (@mrdanwalker) July 2, 2021
Ultimately, that freshness would have helped Murray take advantage of partisan home support, and he could have perhaps beaten Shapovalov on another day.
Super Shapovalov ✨

The Canadian proves a step too far for Andy Murray and moves on to the second week at The Championships 🇨🇦#Wimbledon pic.twitter.com/P93HEZSuwc

— Wimbledon (@Wimbledon) July 2, 2021
His future
But the big questions are: should Murray retire? And if he decides to carry on, how can he get the best out of his body?
In answer to the first, it must be a resolute NO. Murray himself has said repeatedly how much he enjoys playing. Perhaps his latest comments came more in frustration that he wasn't able to give Shapovalov more of a match.
"I keep getting asked if this is going to be my last Wimbledon. No, I want to keep playing"

That's what we like to hear @andy_murray 💪@Wimbledon #Wimbledon pic.twitter.com/XbIyaqDpYE

— Tennis TV (@TennisTV) June 28, 2021
But you could see from his own emotions how much it meant to him beating both Basilashvili and Otte.
Wimbledon has been the first meaningful competitive action Murray has experienced on a tennis court this year after a series of groin issues.
🔥❤️ pic.twitter.com/Aj8cp6EKzY

— Andy Murray (@andy_murray) June 30, 2021
Meanwhile, the 34-year-old's large legion of fans will just be thrilled to finally see him back on the court and winning matches.
His long-term goals are surely to continue with the sport he so desperately loves. That then moves us into the second key area of interest.
Unreal atmosphere out there tonight… thanks so much to everyone that was in there watching and supporting.. you carried me over the line 👏 life in the old dog yet eh!🐕

— Andy Murray (@andy_murray) June 30, 2021
Fitness management
20-time Grand Slam champion, Roger Federer, is 39-years-old and still going strong. The Swiss has made it to the quarter-finals of his most successful Grand Slam, once again.
If Murray can find a way to play for another five years, he would do very well. Especially with a mental hip!
Fellow 20-time Grand Slam champion, Rafael Nadal, is 35-years-old, has experienced a glut of knee, back and abdominal issues, yet somehow, he is still going strong. Access to the best sport's medicine in the world has no doubt helped him to stay at the top of the game.
Winning four French Open's and two US Open's in the last four years shows that winning majors in your thirties is possible. Although the Spaniard is a very special player but the concept of his injury pain can be related to Murray nonetheless.
19-time Grand Slam champion, Novak Djokovic, is also 34, having been born only a week after Murray. The Serb has experienced elbow issues in the past yet still looks as sharp as ever.
On this evidence, Murray could emulate the longevity of the 'big three' if he manages his body correctly this season and the upcoming seasons.
Anyone else watching the #AndyMurray match and just grateful he's still playing after nearly retiring 2 and half years ago. Come on Andy! @Wimbledon @andy_murray @the_LTA #Wimbledon #Wimbledon2021 pic.twitter.com/drslpudJZ1

— James Spencer (@jspencer28) June 30, 2021
Picking and choosing
He will need to prioritise which are his favourite tournaments. Wimbledon and Queens on grass will be his top priority. The Australian and US Open's on hard courts as well should not provide too much strain on his body.
This means the best of three format such as Indian Wells, Miami Masters, Cincinnati Masters, Shanghai and Paris Masters should also suit him.
Then if he were to enter Dubai or Acapulco at the beginning of the year, possibly Vienna this should complement his schedule well.
There is little point of Murray playing the ATP Challenger Tour again as he knows exactly what he is capable of. His recent Wimbledon run should be enough to propel him back into the top 100.
Favourable draws
Improving his ranking means more favourable draws, making it easier to go deeper into a slam or a Masters 1000. When the big seeds tumble, anything can happen, giving Murray a chance to shine.
So, getting into the top 50 should be his next goal. A more ambitious target after this would be the second week of a Grand Slam, such as September's US Open.
If he can get to the quarter-final stage or beyond at the Tokyo Olympics, his next tournament he has entered for, this would also be another key stepping stone for Murray's fitness.
Missing the clay
This would mean omitting next year's clay-court events and of course the French Open. This should preserve his hips, body and give him a vital two-month pause next season which should prepare him nicely for the next grass-court season.
Post hip success
The idea of Murray playing some doubles with friend Feliciano Lopez could be a good one. It would give him more match practice and time on court. He of course has fond memories of winning the 2019 doubles at Queens with Feli, a mere six months after his metal hip operation.
At the end of 2019 before the pandemic struck, Murray won his 46th ATP title winning in Antwerp as he battled back from a set down to defeat fellow three-time Grand Slam champion, Stan Wawrinka.
So, Murray certainly has good tennis left in his locker. He just needs matches and the confidence that comes with it.
Legend in his corner
In terms of game-play, Murray could take a leaf out of Tim Henman's book. If he introduces a lot more serve and volleys, and of course his fine repertoire on drop shots and lobs, he is a dangerous player on any given day.
The final element of the jigsaw puzzle for Murray could be to bring a former player, a legend on-board just another voice to guide him in this stage of his career.
Hope #Murray can get Tim Henman on board to join his entourage. Could do with that extra voice to get him back to the top of the game 🎾💪🏼 That's ultimately where he wants to be. Anything is possible given more matches & the return of fans @andy_murray #Wimbledon #Wimbledon2021 https://t.co/bqs6TKMgpU

— James Spencer (@jspencer28) June 30, 2021
A 90s tennis legend like German Michael Stitch, Austria's Thomas Muster or a more contemporary option like Indian Wells Tournament director and former player Tommy Haas. Perhaps even former US Open champion Andy Roddick who knows all about the modern vigour's of the tour and injuries.
Such figures could provide Murray with inspiration and a fresh insight of how they managed their injury lay-offs, and how to approach matches when struggling with momentum.
Gradual progress
Of course, building momentum will be Murray's key focus between now and the end of the season. However, one thing is certain, that given time, the Brit will look back on his two Wimbledon wins under the roof, and it may perhaps give him the hunger to make those vital stepping stones on his way back to top level tennis.
Let's not forget, at a time when Djokovic is dominating the sport, Murray is one of the few men on the tour to have beaten his friend and rival in two Grand Slam finals, and the ATP Finals.
With that in mind, if Murray can rekindle some of his greatest memories on the court, he can yet be a major force in tennis again.