The wait for the highly-anticipated derby clash between Jose Mourinho's Manchester United and Pep Guardiola's Manchester City is almost over.
The two sides will face each other on Saturday afternoon at Old Trafford, as both managers will put their meticulous preparations into practice in the hope of getting a good result.
United can target City's full-backs
Mourinho, as well as Guardiola, will have been looking at his opponents weaknesses and one area the Portuguese may try to exploit is City's full-backs. Whilst the Citizens had a highly successful transfer window – with John Stones and Nolito amongst the new recruits – they, like United, didn't address all of the problems within their side.
The most glaring of those issues for City is at full-back. Whilst they possess decent players on either side of defence in Bacary Sagna and Alexsander Kolarov – perhaps the two most likely to start in these roles – Guardiola's tactics might not be the most beneficial for them in this game.
Sagna and Kolarov are perhaps of a lower standard than many of City's other players anyway, meaning United's wide men, such as Anthony Martial on the left and potentially Juan Mata on the opposite flank – might have fancied their chances against these opponents regardless.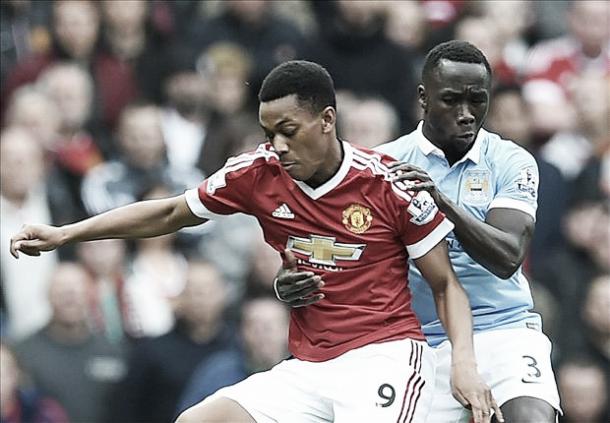 However, Guardiola's desire to encourage his full-backs to play narrowly and come into midfield should allow United's wide players more space on the flanks, which could then allow the home side to cause City more defensive problems.
Red Devils can hit City during transition phase
That problem will be even further complicated for City when United can regain possession. The Blues' full-backs will retreat to their wide defensive positions when they don't have the ball, but whilst their players are getting back into that defensive set-up, Mourinho's men could cause significant damage if they can attack their opponents at speed.
United will need quick and intelligent players to make the most of this potential area of encouragement, though. If he is fit, it could be the perfect time to hand Henrikh Mkhitaryan his first start for the Red Devils. The Armenian excelled at Borussia Dortmund last season, often playing in a counter-attacking style, and landed over 30 assists in all competitions.
Guardiola's team also pack the midfield, and if they dominate possession as the Spanish coach will expect, United's frontman – probably Zlatan Ibrahimovic – could become isolated. It is important, therefore, that the home side aren't afraid of playing in a more direct style if required, as some long passes towards the Swedish striker could prevent several City players in midfield from getting back and defending effectively.
Test Bravo and his centre-backs
City's new goalkeeper Claudio Bravo – a £17 million signing from Barcelona, is expected to make his debut in this game. Although probably an upgrade on Joe Hart, the Chilean doesn't have any prior Premier League experience, and coming from La Liga – as United 'keeper David de Gea did in 2011 – he might encounter some difficulties with the physical aspect of the English game. For that reason, United need to test Bravo with both shots from range and crosses into the box, and that could potentially allow them to take advantage of any frailties within the shot stopper's game.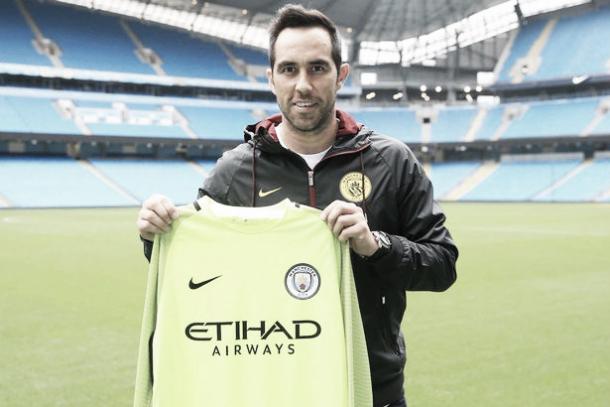 Bravo appears to have been recruited by Guardiola because of his passing qualities, and this will complement the Spaniard's preference for his centre-backs to position themselves wider than usual to receive a pass from the goalkeeper. That's sure to be on show on Saturday, so United should press their opponents high up the pitch to see if they can cope with having possession so close to their own goal.
City certainly didn't look comfortable in that kind of scenario last season, and although Stones' arrival from Everton has helped, the potential vulnerability remains. United will provide the Blues with their first real test of the new season, and may be more capable of causing a problem there than City's previous opponents.
Nicolas Otamendi, who could partner Stones, doesn't always look quite as assured with the ball at his feet, so if the Red Devils can put some pressure on him, they might be able to force him into making an error which could lead to a chance.
Whatever it is that Mourinho decides to do during Saturday's clash against City, there's no doubt he will have been preparing his game plan for some time