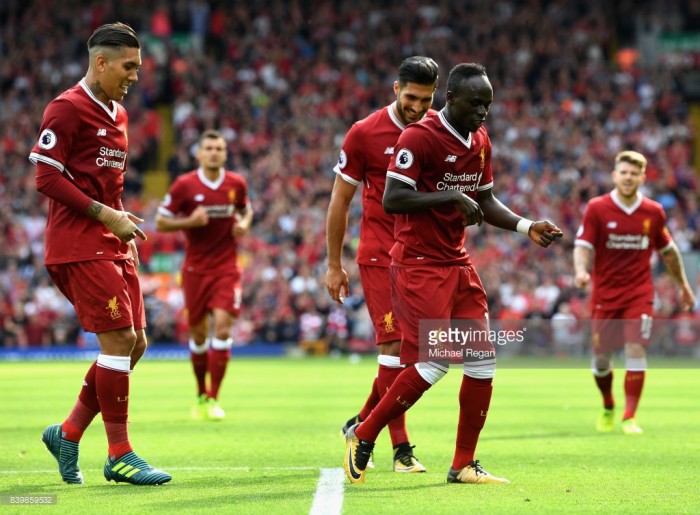 On the pitch, August was almost perfect for Liverpool.
Their Premier League campaign has begun brightly with seven points out of nine, with poor defending and controversial goals denying the Reds a perfect start in their 3-3 draw against Watford. However, Liverpool's destructive 4-0 win over a desperately dreadful Arsenal emphasised the attacking strength that Jürgen Klopp has at his disposal.
If Liverpool are going to push for the title, then it will be in a similar vein to the 2013/14 season, with a focus on outscoring teams to compensate for their fragile defence. For Liverpool, under both Brendan Rodgers and Klopp, attack is the best form of defence.
In the Champions League, Liverpool ensured last season's efforts did not go to waste, as the Reds ultimately sailed past Hoffenheim, who are no pushovers as the fourth best team in Germany. Yet Liverpool became the first team to win at Hoffenheim in over a year, before blitzing the Bundesliga side in the opening twenty-five minutes at Anfield to go four goals clear on aggregate, effectively ending the tie.
Now, after drawing Sevilla, Spartak Moscow and Maribor in the group stages, Liverpool can not only look forward to a return to Europe's elite, but also fancy their prospects of at least reaching the knockout stages.
Can off-field issues be eroded?
Off the pitch, there were issues. Barcelona's interest in Philippe Coutinho became a messy and bitter transfer saga, but Liverpool remained resolute against both the Spanish giants and Coutinho's representatives. The player himself is reportedly heartbroken to have missed out on his dream move and it will be a challenge for Klopp to bring the Brazilian back to his best at Anfield.
However, in a World Cup year, Coutinho will hopefully knuckle down and perform in a Liverpool shirt, as sulking for a season could damage both his prospects with Brazil and a future move to Barcelona. Coutinho's best route is to emulate Luis Suárez and produce an extraordinary year for Liverpool. A decision can then be made next summer.
For now, Klopp will want to have a fit and in-form Coutinho to add to Liverpool's already fearsome firepower.
Liverpool also experienced mixed success in the transfer market, with the final week of August a microcosm of the club's fortunes.
Signing Naby Keïta from RB Leipzig for next season looks a shrewd move, given the German club were never going to allow the 22-year-old Guinean to leave in this window.
Moreover, the Reds landed Alex Oxlade-Chamberlain from reluctant rivals Arsenal in a £35m move. Oxlade-Chamberlain was reportedly one of Klopp's top targets, having chased the 24-year-old England international all summer.
Oxlade-Chamberlain's speed, talent and versatility will be a major asset for the Liverpool squad, even if he is unlikely to immediately achieve his goal of automatic first-team football at Anfield.
Yet Liverpool's greatest target, Virgil van Dijk, was not signed before the window closed, as Southampton held firm.
When the initial fiasco involving Liverpool and van Dijk occurred in June, Klopp could have signed an alternative centre-back, but remained unequivocal in his desire to sign only the 26-year-old Dutchman.
Enough defensive strength?
Liverpool's manager may have long-term success in mind, but the short-term might have to take a hit unless Dejan Lovren can suddenly find an extra gear, or several.
However, Joe Gomez and Ragnar Klavan will surely be targeting Lovren's place alongside Joël Matip, therefore competition for places may result in a higher level from those three centre-backs – at least until January anyway, when Liverpool will surely go back in for van Dijk once again.
Finally, Thomas Lemar of Monaco was another frustrating transfer, but given the 21-year-old appeared a potential Coutinho replacement, retaining the latter meant missing out on Lemar was far less crucial than the van Dijk failure.
Overall however, Liverpool are in good health going forward for this season, having made a strong start in both the Premier League and Champions League. Their attack can compete with any club in world football, and they possess good depth throughout the squad, with centre-back being the only exception.
Coutinho and Adam Lallana are still to return to Liverpool's attack, while there are more than two quality players per position in midfield, full-back and in goal.
One game at a time
A title challenge may be too much to ask, given the strength of the Manchester clubs, but all the Reds can do is focus on the old cliché of one game at a time, starting with a trip to Manchester City next weekend.
Meanwhile, as players go their separate ways for the international break, club managers become terrified of losing their stars to injury, while fatigue can also be an issue with matches taking place across all corners of the globe. Manchester City, Chelsea and Liverpool all even use the same jet to bring their South American contingent back as soon as possible.
Yet the international break can inspire other players to find their best form. For instance, Ben Woodburn will return to Liverpool on cloud nine after his winner for Wales against Austria on his international debut.
In addition, Coutinho has now had some time away from Merseyside to reflect on his future and accept his position for the season ahead.
He appears in good form too, judging by his performance against Ecuador for Brazil, so Klopp should have no issues with Coutinho's current level ahead of the Manchester City game. Coutinho's mentality will be the only concern when he returns to Liverpool.
The international break allows both Liverpool fans and the club itself to realise the good and bad aspects of the season so far, but in truth there should be little negativity. Anxiety about the heart of Liverpool's defence is understandable, but the Reds secured Champions League football with that backline, which has seen some strengthening with the arrival of left-back Andrew Robertson from Hull City.
With added ammunition going forward, and youngsters beginning to step up, Liverpool can, and should, have a successful season.