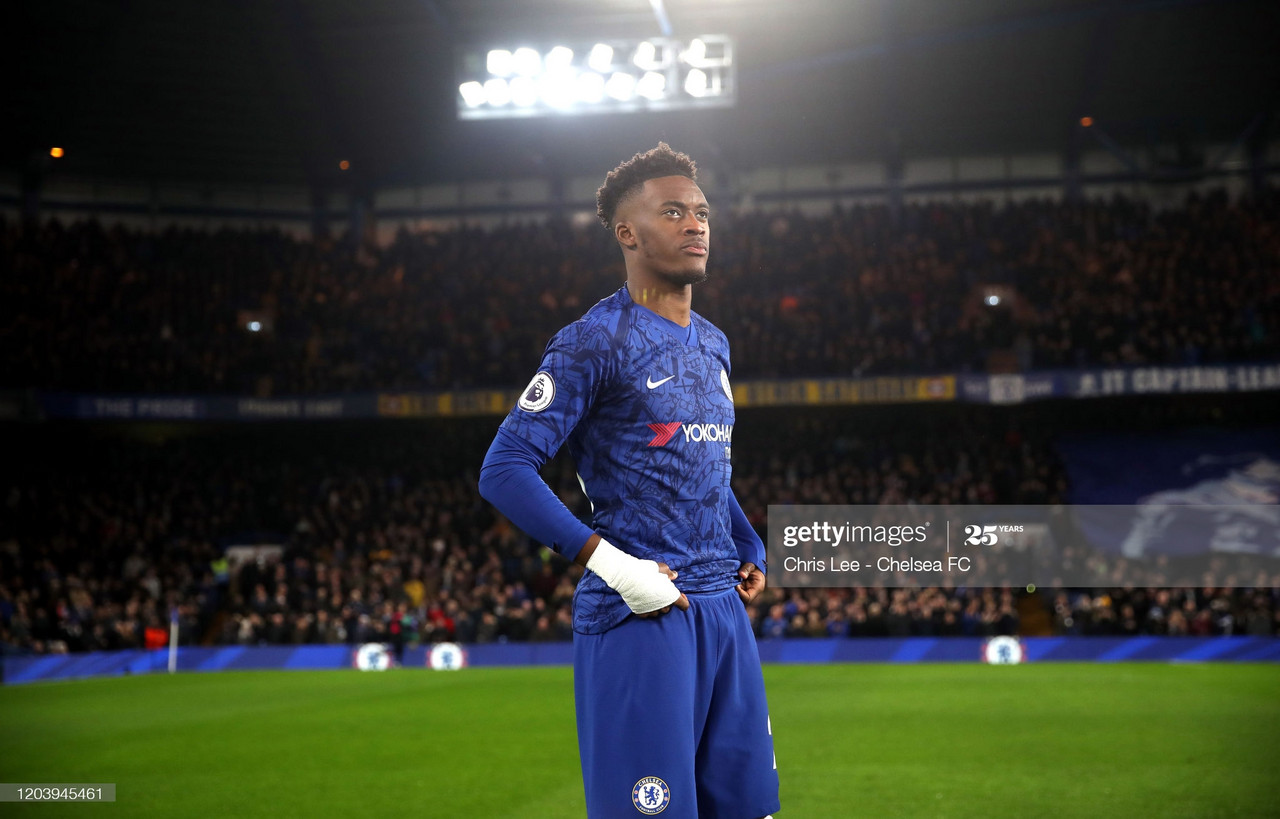 Following the injuries suffered by first choice winger Christian Pulisic and new signing from Ajax, Hakim Ziyech, many expected 19-year-old Callum Hudson-Odoi to fill the void in the Chelsea team.
Given limited chances in the Premier League last campaign, with just seven starts to his name, the England international was thought to be given his chance at the start of the season to shine alongside new signings Timo Werner and Kai Havertz in a new look Chelsea attack.
It was a chance to stake his claim for a regular place, even once Pulisic and Ziyech return.
Lack of opportunity
However, in spite of being the only natural winger at the club, Hudson-Odoi was named on the bench for the both the trip to Brighton and Hove Albion and Sunday's home match against Liverpool, picking up just ten minutes of game time as a late substitute for Havertz in the victory at Brighton.
This has produced a lot of question marks surrounding his role at the club, as manager Frank Lampard has chosen to select Mason Mount, Havertz and Werner out of position across the two games over the youngster.
While Lampard denied any 'favouritism' towards specific players in his press conference last Friday, it is becoming increasingly clear that he does not trust Hudson-Odoi to put in the necessary work rate that is demanded at Premier League level.
These comments by Lampard have proven to be controversial, as it has been interpreted by some fans that he is lying, even when there is not particularly any need for him to do so.
As a manager of a football team, there is not a problem with preferring one player to another. In fact, teams with more consistent line-ups tend to do better than ones that are constantly altered, as evidenced at Chelsea by the contrast in success of Antonio Conte's first and second season as manager of the club. However, there is one thing having favourites and another thing is doing what is the best for the team.
Callum or Mason?
In Mason Mount, Lampard has found his own personal project, and has given him more appearances in the Premier League than any other player since he took over, missing just the 1-0 victory against Norwich City last season.
In this time, Mount has played various positions: central midfield, attacking midfield, right winger, left winger, and even as a striker in the second half on Sunday.
It is clear that he has talent, but he is not a natural winger like Hudson-Odoi. To leave out Hudson-Odoi in favour of starting Mount out of position has proven not to particularly benefit anyone: it doesn't help Mount as he is not developing the core elements to his game; it doesn't help the team, which is reliant to pace and creativity in the wing positions (as evidenced by Christian Pulisic's fine run of form at the end of last season); and it certainly doesn't help Hudson-Odoi, as he isn't being allowed game time to prove his worth to Lampard, even when his normal direct competition for his place in the team are unavailable.
It is impossible to not feel for Hudson-Odoi in this situation, as he was touted as the club's most exciting prospect from this current crop of academy graduates, especially during his breakout season in 2018/19.
Tough crowd to please
Chelsea manager that season, Maurizio Sarri, was given a lot of criticism by the media and fans alike for not starting the youngster more regularly during that season, in spite of him giving Hudson-Odoi more minutes than any player under 18 in the Premier League.
Sarri also tended three senior wingers, all on much higher wages, in Willian, Pedro and Eden Hazard, who were all available to him throughout the season. Hudson-Odoi eventually broke through into the starting XI towards the end of that season before an ACL injury against Burnley ruled him out until September. On Hudson-Odoi, Sarri told Stephen Darwin of Goal following reports of the England international's transfer request in January 2019:
"I am not frustrated [with Hudson-Odoi]. On the pitch, he's doing well: very well in training, very well in matches. So I'm really very happy with him. I'm not happy with the situation, of course, but I know very well that every big team here in England has the same problem. It's not easy to keep these young players. He is, of course, one of the best 18-year-olds in Europe, so it's very difficult." - Quoted by Rory Marsden, Bleacher Report, 29/01/19.
During that window, it was Bayern Munich who were very interested in signing Hudson-Odoi for around £35million. With the club about to sell Eden Hazard to Real Madrid that summer and an impending transfer ban, Chelsea refused Bayern's offer and Hudson-Odoi's transfer request, and the youngster signed a new deal at Chelsea to put his wages on a similar figure to that of the more senior players at the club.
Mixed messages
With also glowing praise from the likes of Cesc Fabregas and Rob Green for his performances and attitude in training, it is increasingly difficult to accept that it is purely down to how Hudson-Odoi performs in training as to why he isn't being picked, particularly since the competition of Willian, Pedro and Eden Hazard are all no longer at the club.
This has also been seen with centre back Fikayo Tomori, who was frozen out the Chelsea squad for six months in favour of other players, despite performing well when he was in team.
The defence was arguably getting worse after his exclusion from a regular place in the team. He is another player who Lampard has repeatedly said in press conferences about him needing to work harder in training to gain a place in the starting lineup. This is something that the account Chessy Hour articulated in a thread on Sunday:
"Lampard early last season, we won a few of our games but were conceding a lot of goals. Lampard said that he's looking forward to having our best defender in [Antonio] Rudiger back from injury. It will help tighten things up. He already had in his mind that he was going to start Rudiger. He made that decision because he believed that Rudiger was our best CB. This is [an example of] Pre-determined winners. Regardless of circumstances or performances, certain players will always play and be trusted to play themselves 'back into form'. Instead. You've got Lampard telling the media that Tomori needs to do better in training like he's suddenly stopped training well from the days he was playing? Are you not seeing the optics? You then have fans and pundits saying that Tomori isn't training well. This is why it's problematic. When you try and give off the notion that you are meritocratic, you often start to develop hypocrisies." - Chessy Hour via Twitter, 20/09/20.
A move on the cards
If this is the perspective that Lampard has of Hudson-Odoi, it could be a sign, for the short term at least, that he should be looking to play his football elsewhere.
This is, after all, a manager championed for his trust in players that have come through the academy. As we saw last January with Tariq Lamptey's move to Brighton, there is always a place for these young players, especially ones with as much talent as this current crop (Lamptey's development has seen him been named in the most recent England Under 21 squad and named man of the match in Brighton's past two Premier League games).
If the latest reports coming from The Athletic are to be believed, there are a lot of clubs interested in Hudson-Odoi, including one 'big club', as well as there being loan offers on the table for him.
With his first start of the season on the horizon against Barnsley in the Carabao Cup, all eyes will be on him to see whether he'll work his way back into contention, as some have argued that his lack of output, particularly in the goal-scoring department (with just three goals last season), could also be a factor in his lack of game time.
Most Chelsea fans would agree that the player undoubtedly has talent, and want nothing more than him playing and performing for the blues on a weekly basis.
However, with Lampard not letting him have much of a look in even when there isn't any other players in his natural position available, would you blame him if his head gets turned and moved elsewhere?