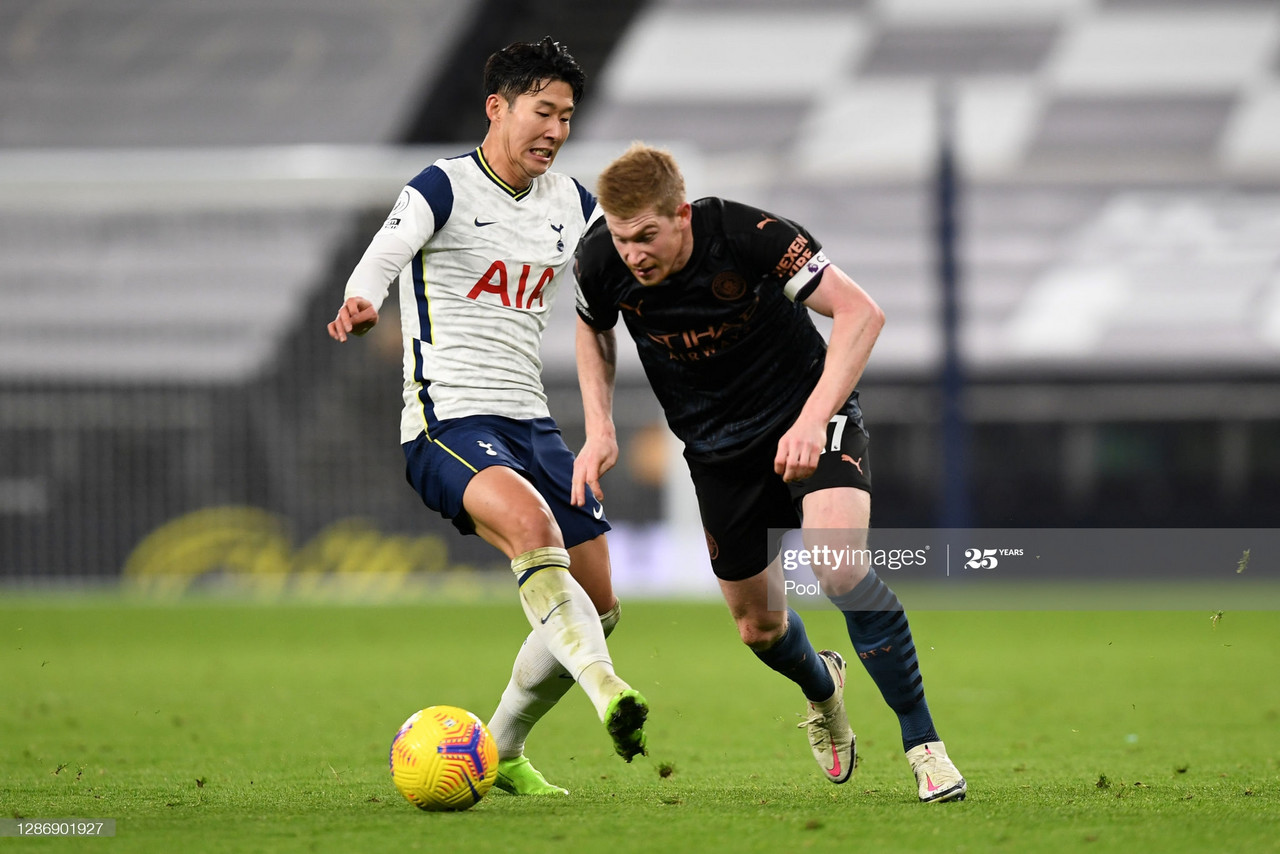 It was more misery for Manchester City at the Tottenham Hotspur Stadium as goals from Son Heung-Min and Giovanni Lo Celso earnt Spurs a second successive two-nil win against Pep Guardiola's City.
Every game Manchester City lose seem to be a similar story, dominant on the ball, creating several chances, but at the end undone by individual defensive errors and counter-attacks.
The first, a quickly taken free-kick to Tanguay Ndombele who picked out a beautiful pass to Spurs' man of the moment Son. Rushing out of his goal as he typically does to good effect but not on this occasion, Ederson was caught out by Son who had a simple task of sliding the ball through the keeper's legs and into an empty net after just five minutes.
It was a brilliant pass from Ndombele as well as control and finish from Son, but from City's point of view, easily avoidable. with Harry Kane dropping deep, Aymeric Laporte felt the need to push up to deny the Spurs captain a chance to influence the game from deep.
However, it proved to be a foolish and unnecessary move from the usually reliable Frenchman. With Laporte pushing up, Son was able to penetrate the space he left which eventually led to the opener. Some of the blame should also be put on Joao Cancelo who failed to react in time to deny Son the chance.
Undoubtedly it was a poor start for City, but in typical fashion, they reacted positively and were unfortunate not to equalise just five minutes later.
Gabriel Jesus did extremely well to dribble his way through the Spurs defence, despite having his shot blocked, the ball fell kindly to Kevin De Bruyne whose strike was blocked by Jesus laying down in an offside position when the effort may well have led to a goal.
City continued to probe for an equalizer as Rodri had his header comfortably saved by Hugo Lloris a few moments later.
With 35 minutes on the clock it looked as though Manchester City had found the equaliser that there pressure warranted, Riyad Mahrez started the attack on the right and laid the ball back to Rodri, his cross was controlled expertly by Jesus who subsequently passed the ball to Laporte to smash in City's leveller.
This fixture has had a history of VAR controversy and today's game continued the episode. On occasions in the past City may have felt hard done by, but in accordance to today's rules, this goal was correctly ruled out with the ball hitting Jesus' hand in the build-up to Laporte's goal.
As the first half ended and the second resumed, City still probed for the equaliser but were unable to penetrate a stubborn and resolute Spurs defence.
Just as City's day could not become any harder it inevitably did thanks to super-sub Lo Celso. Kane, driving from central midfield had several options right and left, he chose the latter and the perfect option with a lovely slide pass through to the Argentinian, who like Son, cooly slotted the shot through Ederson's legs and into the bottom right corner of the goal.
Pep tried to get City back into it immediately by bringing on Phil Foden and Raheem Sterling but they were unable to influence the game as City were left with more disappointment from the Tottenham Hotspur Stadium.
A very happy anniversary for Jose Mourinho

It's been a year since Jose took over from Mauricio Pochettino and at long last he is finally achieving consistency for Spurs. Solid at the back and in midfield thanks to excellent performances from the likes of Eric Dier and Tanguay Ndombele as well as from the new signings in Pierre Emile-Hojberg and Sergio Reguillon.
Going forward, Spurs were always a threat, but under Jose it seems they have elevated to another level and with the exceptional performances from Kane, Son and others who knows where the future lies for Tottenham both in this season, perhaps the most open campaign ever and in the future.
Similar failings for Pep Guardiola and Manchester City
It well and truly is a case of same old, same old for Pep. There is no question about it, City are in need of a big rebuild due to the losses they have suffered on the pitch with the likes of top players Leroy Sane and David Silva leaving last summer, and leaders off the pitch departing such as Vincent Kompany and Yaya Toure.
If last season was a one-off as City finished 18 points behind Premier League champions Liverpool then this season isn't a fluke. City, make no mistake about it, will be back and with Guardiola at the helm for the next three seasons, it will only be a matter of time before they are back to their old selves.