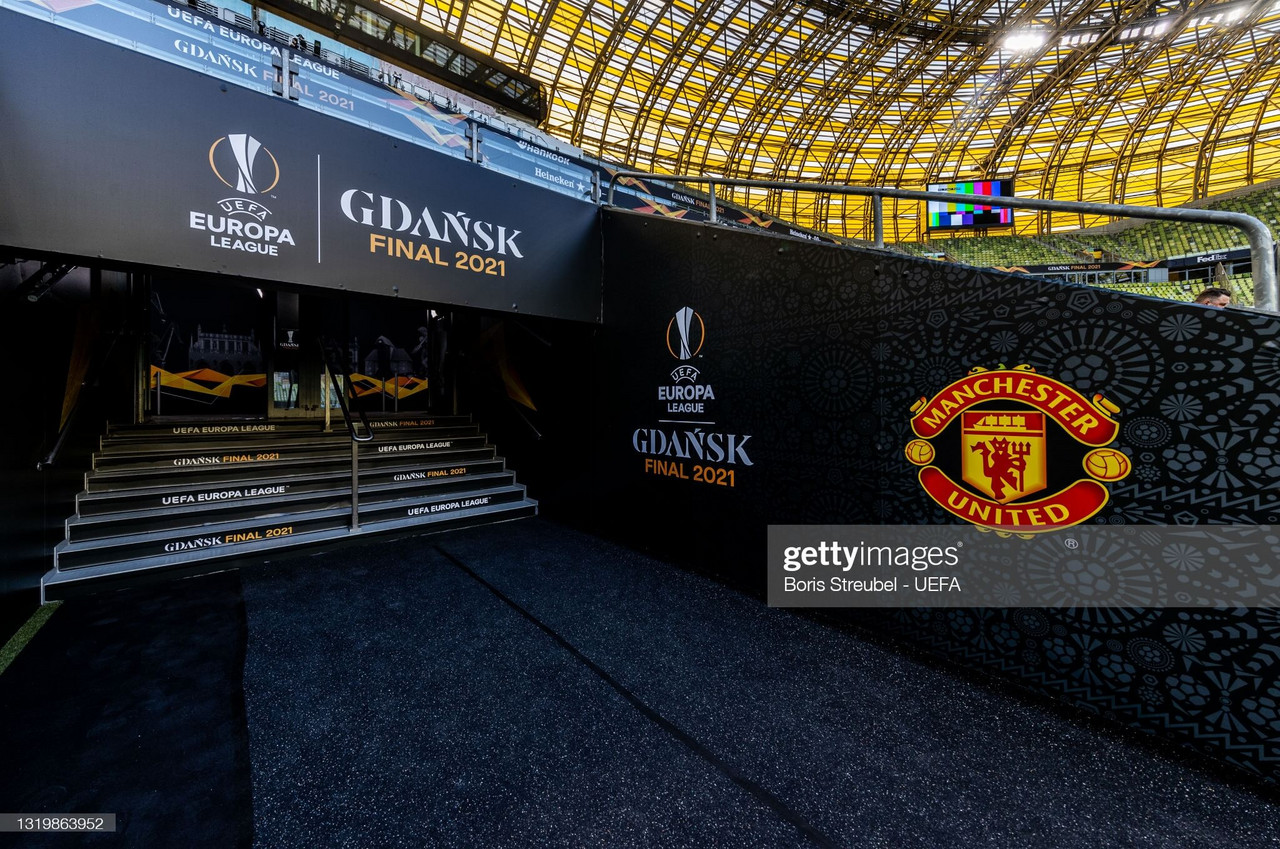 With just 24 hours until Ole Gunnar Solskjaer's biggest game of his short managerial career kicks off, many questions still remain unanswered about the team he's likely to put out.
With frequent injuries and inconsistencies this season, it has been hard for Solskjaer to nail down his best starting XI until very late in the campaign.
With the final against Villarreal fast approaching, here's our prediction on Manchester United's Europa League final lineup.
GK – David De Gea
It is rumoured that this one fixture will inadvertently decide the future number one of Manchester United, with both Dean Henderson and David De Gea threatening to leave if they don't start, according to the papers.
However, with this report being unconfirmed, the likelihood is that Solskjaer will stick with his Europa League regular in David De Gea.
While Dean Henderson may have overtaken De Gea as United's new number one domestically, De Gea has remained a mainstay for the majority of the Europa League fixtures.
Factor in the chance that this could be David De Gea's final game for United, what better way to thanks the Spaniard for his service than by sending him on his way with a European trophy in hand.
RB – Aaron Wan-Bissaka
The fact that this pick is so heavily undoubtable speak volumes to the consistency and ability of Aaron Wan Bissaka.
The young fullback has put doubts over his attacking prowess behind him, adding a tidy collection of assists to his already impressive ball-winning abilities to become one of the best right-backs in the world this season.
CB – Victor Lindelof
With Harry Maguire assumed unavailable for the final, the opportunity for his partner, Victor Lindelof, to step up and truly prove his worth has never been greater.
With rumours of United looking for a new centre back, and Eric Bailly signing a new contract, doubts have been cast over the Swede's future at the club.
Wednesday's final offers a huge opportunity for Lindelof to rediscover the form which earned him the nickname 'Ice Man' in the season prior to Maguire's arrival.
CB – Eric Bailly
Fan favourite Eric Bailly is erratic, unpredictable and often infuriating to watch on a football pitch, but his raw and unhinged ability as a defender could be the difference between United lifting the trophy, or not, on Wednesday night.
Having signed a new contract recently despite his mammoth injury record, Wednesday provides a chance for Bailly to repay the faith showed in him by the club, as well as bat off some very heavy pressure from Axel Tuanzebe for a spot in the starting XI.
LB – Luke Shaw
Luke Shaw has been nothing short of a revelation this season after years of struggle and adversity.
United's newly crowned 'Player's player of the year' has been integral to everything United do this season at both ends of the pitch and deserves to lift this trophy above his head more than anyone in the squad, especially after missing out on the 2017 final through injury.
CM – Scott McTominay
'Mr. Big Game Player' Scott McTominay has quickly become Solskjaer's go-to guy for the biggest occasions.
The Scot's defensive discipline, intense work rate and goalscoring ability make him a constant threat whenever he takes to the field as he quietly goes about becoming one of United's most important players.
CM – Fred
McTominay's partner in crime, Fred is almost always paired with the Scotsman to form a solid base in front of the defence for United in the big games.
His energy and tenacity will be crucial for United on Wednesday as United look to battle an energetic Villarreal side.
While he, like McTominay, has his limitations, there's no doubt Fred will have a big role to play if United are to be successful in Gdansk.
LW – Paul Pogba
Whether you dislike his dancing, his hairstyles or even the way he plays football, there's no denying that Paul Pogba has proved himself to be arguably United's most important player this season.
Despite being hampered by injuries yet again, Pogba has proven his importance to this team with a collection of quality goals, most of which turning out to be winners.
With United's title charge derailing following his injury in late January, United will need their mercurial Frenchman to be firing if they want to bring that trophy home.
AM – Bruno Fernandes
'Penalty Merchant' Bruno Fernandes has amassed a staggering 45 goal contributions in his first full season at Manchester United.
Proving the doubters wrong was easy for the 'Portuguese Magnifico' as he fired United from mediocrity to 2nd place in just 18 months, with his final challenge of winning a trophy now well within his reach.
Manchester United will need yet another show-stopping performance from Fernandes in Gdansk, but there's little doubt we'll get one.
RW – Marcus Rashford
Fitting both Marcus Rashford and Pogba in this team will be a priority for Solskjaer on Wednesday.
Undoubtedly more effective from the left, Rashford's explosive power and attacking finesse will make him a tricky customer whichever side he's on.
Expect big things from a player well versed in the art of performing in the biggest of games.
ST – Edinson Cavani
An instant cult hero, Edinson Cavani will go down as one of United's best value for money transfers of all time.
The experienced striker has added leadership, composure and a touch of class to a raw, youthful frontline to provide a balance that has seen United have such a strong season.
With four goals in the semifinals, big things are expected from Cavani as he looks to improve on his already impressive form.