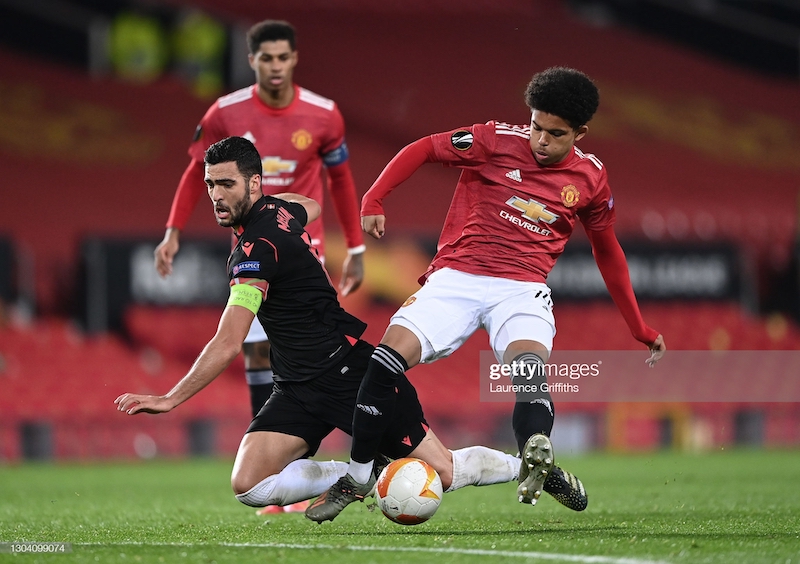 Manchester United did little more than get the job done on Thursday night, holding Real Sociedad at bay and seeing out a stalemate at Old Trafford. With that, they progress into the Europa League's Round of 16.
No rest for the injury-hit
Solskjaer's strong starting line-up surprised fans but his options were few. Bruno Fernandes captained United due to injuries to Donny van de Beek and Juan Mata. Edinson Cavani, Scott McTominay and Paul Pogba were also unavailable, leaving Matic and Fred to start for a second consecutive game.
Fernandes and that midfield paid may be required on Sunday as United travel to Chelsea. It's the nature of the season. United have been relatively fortunate with injuries this season thus far, and so this is a test for Solskjaer.
The Norwegian was able to bring Fernandes off at half-time, giving Fred and Wan-Bissaka some rest too, but Rashford had to come on. Interestingly, Matic played the full game, indicating that Scott McTominay could be fit in time for Chelsea on Sunday.
Defensive musings
Is Lindelof better without Maguire, and vice versa? Quite possibly. The Bailly-Lindelof partnership looked decent against La Real, as it has done in the past. Bailly's pace is much appreciated and Lindelof can drive forward more frequently. Missing, though, was Maguire's quality in possession. With Pogba absent in midfield, too, that was all the more evident.
Solskjaer has much to ponder about his defence. He has three decent defenders with different qualities but is yet to find the ideal partnership. Bailly is injury and mistake-prone; Lindelof can be too passive and weak, especially aerially; Maguire can commit too early and is slow. Who suits each other best?
Vocal and proactive Dean Henderson
Henderson began the night with a throaty "come on boys" and after 20 minutes was yelling "f*cking liven up boys". He's a vocal presence for Manchester United and a similar philosophy exists in the confines of his penalty area. Henderson is a 'keeper who has a decent command of his area. He's proactive in claiming balls and quick to begin counter-attacks. It was another good performance from United's second-choice goalkeeper who many believe deserves a chance as the number one. This performance will only reinforce that belief.
Patient introduction of youth
Solskjaer has got his management of Mason Greenwood's development spot on. He's employing similar patient tactics with Amad Diallo. Fans may demand more chances for United's January signing but it's about patience and controlling expectations.
Greenwood's first four appearances for United were all off the substitutes bench. The first two saw him play a combined total of just seven minutes. Only after that did he get the chance to play a full match.
The short cameos for Amad and Shola Shoretire are about breaking down the barrier to the first team, normalising the experience and providing motivation.