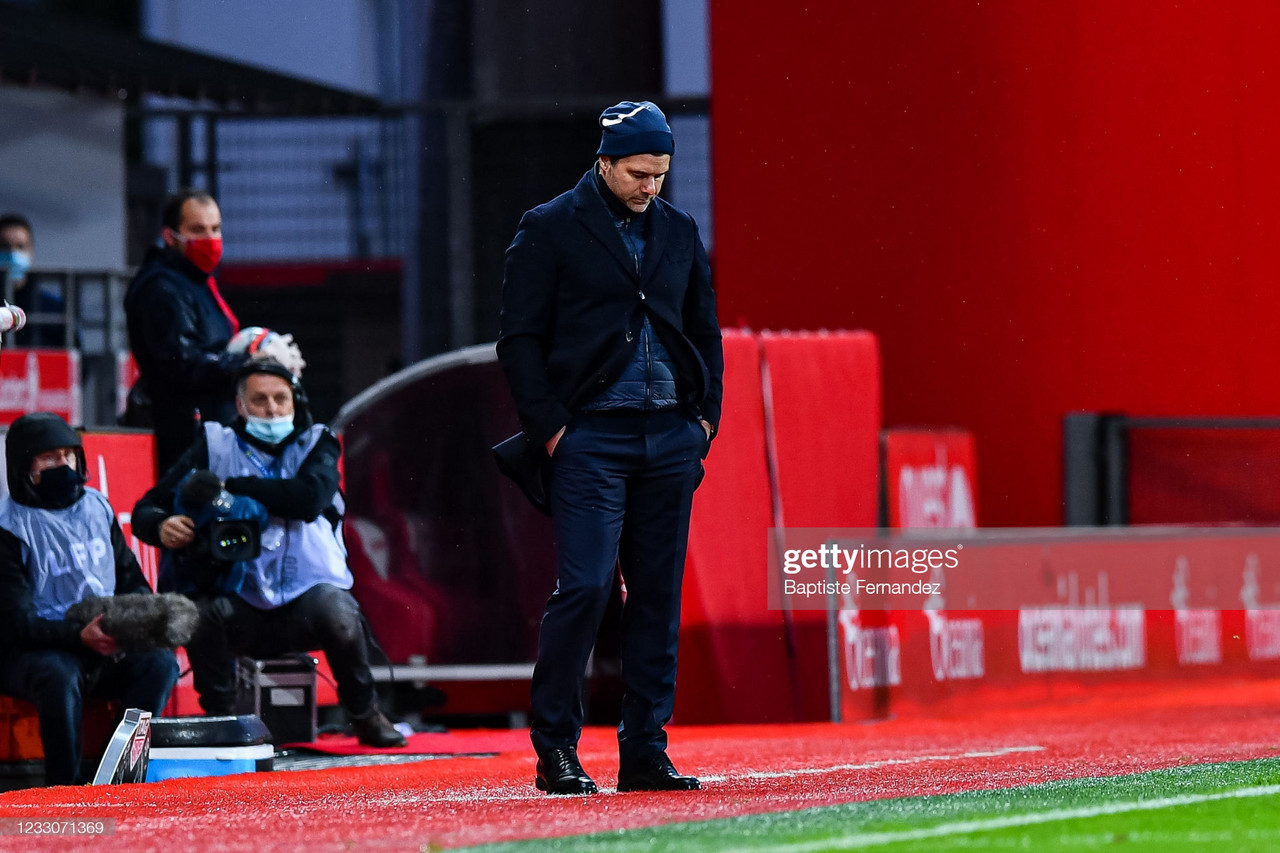 Having only been in charge of French giants Paris-Saint-Germain for six months, Mauricio Pochettino is reportedly eying up a sensational return to his former club Tottenham Hotspur.
The news broke earlier in the day when it was disclosed by Sky Sports News that the Argentine had been in talks with Spurs in recent days following the conclusion of the domestic season.
Pochettino signed an 18-month contract with PSG and only took over in January of this year. This was following a year-long absence from management after he was sacked by Spurs in November of 2019.
The 49-year-old has won both the Trophee des Champions and the Coupe de France in the second half of the 2020/21 season, breaking his duck after spending five years without a trophy in north London.
Reports suggest that Pochettino is unhappy with life in Paris, and feels as if he is managing with 'one hand tied behind his back'.
With his family still living in London, it could be the perfect timing for the beloved Mauricio to re-ignite an old flame.
Pochettino had previously stated that he had 'unifinished business' with the club and that he would one day return to manage Spurs again. Reports further suggest that Pochettino would be open to a return to N17 this summer, should he get the backing he insisted on during his first spell at the club.
Pochettino guided the two-time Uefa Cup winners to a Champions League final two years ago, but ultimately fell short. The emotion and tiredness that echoed around the entire squad in the following months send Spurs into a downwards spiral, that has since seen them finish outside of the top four for two consecutive seasons.
Not only this, but Spurs this season have failed to finish inside the top six for the first time in 12 years.
It is yet to be seen as to whether the move will materialise but all the talk has got fans excited at the prospect of seeing their former boss return.
What would Pochettino returning mean for Spurs?
As per the Independent, the prospect of having Pochettino back at Hotspur Way has reportedly excited the players, who played a hand in getting him sacked in the first place.
Pochettino is renowned for his rigorous fitness regimes and gameplans that require constant pressing high up the pitch. This is an area that has been missing from Spurs' game over the last two seasons, due to former coach Jose Mourinho's defensive tactics.
Should Pochettino complete his sensational comeback, then the squad would require a complete overhaul. In an interview with Gary Lineker and the BBC in the months leading up to his sacking, Pochettino stated that:
"We are close, but the last step is always the most difficult - and the biggest step. We need to rebuild and it's going to be painful. I think we need to rebuild.
"When people talk about Tottenham they say 'you have an amazing house but you need to put the furniture in. Maybe you need better furniture'. It depends on your budget but that is the reality."
There is little doubt that Pochettino would only return should he have the full support of the board and the ability to rebuild the squad as he originally intended to.
Having said that, without a Director of Football present at the club, the job would be much harder to complete, especially as Levy is known for his keen interests in transfer dealings. Should anything materialise, there is a long chat to be had between the two.
Furthermore, Pochettino could have a huge role in convincing Harry Kane to stay at the club. The England captain has expressed his desire to leave Spurs in the last few weeks, as he searches for his first major piece of silverware, and has been heavily linked with a switch to Manchester City.
However, it is well known that Pochettino and Kane had an extremely close relationship, and this could be a huge factor in convincing the talisman to stay at Spurs next season.
How realistic is his appointment?
The former Southampton manager still has one year left on his contract at PSG. Should he want out, he would have to come to an agreement with the owners, who are reportedly not keen to let him leave.
As well as this, the departure of Zinedine Zidane from Real Madrid could throw a spanner in the works. Pochettino has previously expressed his desire to manage 'Los Blancos'. Reports have emerged that Florentino Perez has made the former Espanyol player one of his top targets to take the reigns of the European giants.
Journalist Guillem Balague has stated that PSG would not be willing to let Pochettino leave this summer and that the Argentine has already met with the board to plan for next season.
On Pochettino. PSG have got no intention to let him go and are surprised by the amount of coverage about something they are not contemplating.

His relationship with Levy has improved and, as they are looking for a profile like him, why not consider him? So they asked.

— Guillem Balague (@GuillemBalague) May 27, 2021
Should the move not materialise, Spurs will still have to find their replacement head coach. Erik Ten Hag is still a leading contender for the job despite having a one-year extension triggered as part of his Ajax contract.
Continuously, Antonio Conte is another manager that Spurs are considering. With his shock exit from Inter Milan a few days ago, the Telegraph has reported that the Italian would be interested in the job at Spurs.
Conte won the Premier League in his first season at Chelsea and is fresh off the back of another title in Italy.
Should he fulfill the Spurs role, Daniel Levy would be getting a world-class manager.
Whatever happens over the course of the next few days, Spurs fans are certainly in for a rollercoaster of a ride as things heat up. One thing is for certain, Levy must get his appointment right, or it could well be game over for the chairman, who is skating on thin ice amongst the Spurs faithful.