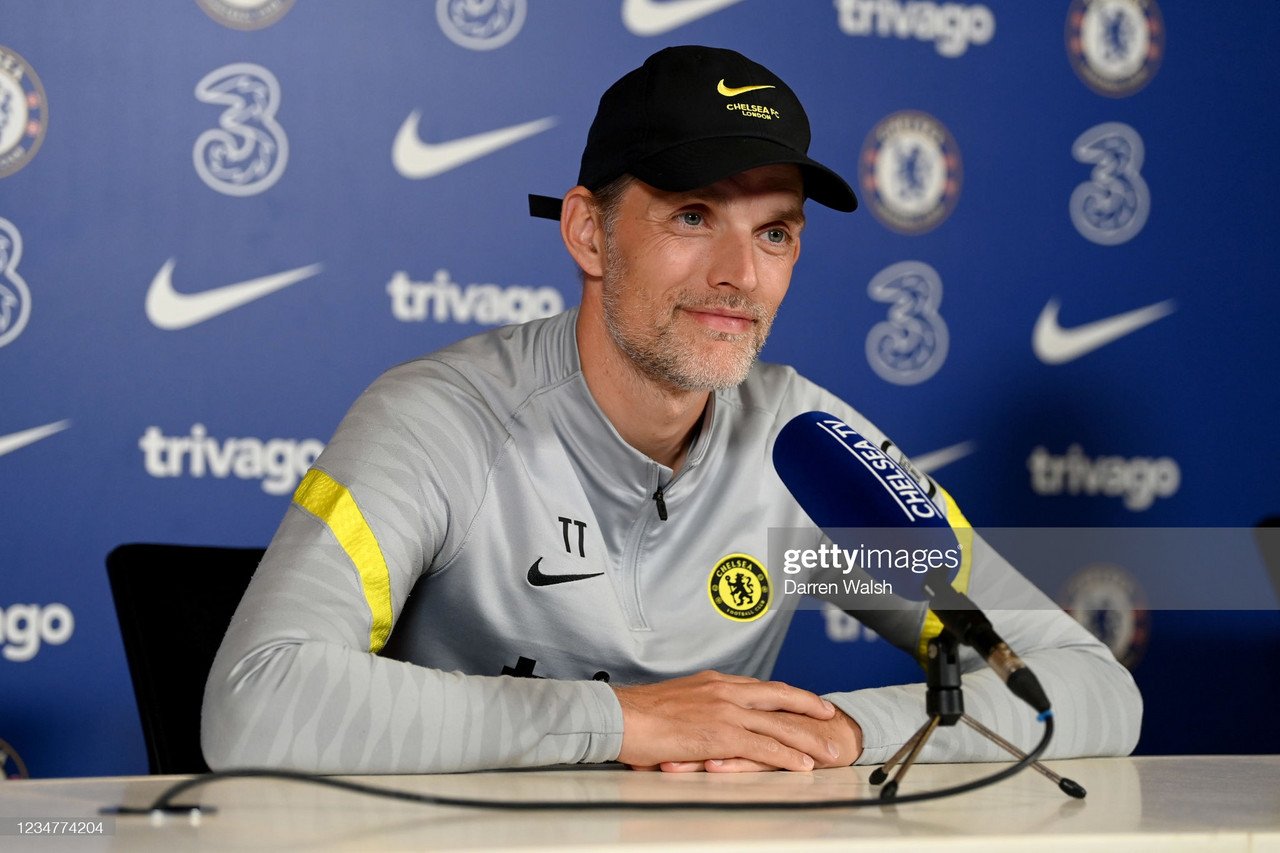 Chelsea boss Thomas Tuchel spoke to reporters about his squad's build-up and preparation for their Premier League clash against Jurgen Klopp's Liverpool.
He provided his thoughts on the upcoming opposition, his opinion on the Cristiano Ronaldo transfer saga and also spoke about potential arrivals and outgoings.
These are the five key things that the coach said in his press conference today...
Cristiano Ronaldo Transfer
'I don't know if it's good if he plays for any of our rivals! But if he will end up in the Premier League it's good for the Premier League and shows how competitive and how difficult this league is. At the same time, it will make life harder for us.'
Tuchel's cautious positivity about a potentially monumental transfer was clear to see, as the German coach, while pleased for the improvement of the already huge integrity of the league, feared for his side's chances against rivals with him in the side.
That said, with twists and turns aplenty in this ongoing saga, while it seems clear the Portuguese winger will arrive in Manchester, which club he goes to remains to be seen.
Thoughts on Liverpool
'Any time you play at Anfield, with spectators against Liverpool, it's one of the toughest challenges that you can face in European football.'
'Liverpool had a good start and we had a good start. Tomorrow we will fight from the first minute to get a good result, but it will be a huge challenge and no result will be a decision for the season.'
Last time we visited Anfield for #LIVCHE. 😁@masonmount_10 ✌️ pic.twitter.com/pHRBG1nZ4k

— Chelsea FC (@ChelseaFC) August 24, 2021
With this being the first time a Liverpool vs Chelsea fixture has had fans since March 2020, Tuchel is evidently aware of the difference supporters make in the context of the game.
However, he is clearly keen to emphasise the fact that, whatever the result, this will not decide the campaign in its entirety, even if it is a game that Blues' fans would love to see their team win.
Potential New Arrivals and Outgoings
'There are negotiations between West Ham and Chelsea for Kurt [Zouma]. There are negotiations but I don't know where it will lead. We have to wait, both things can happen that he stays or leaves.'
BREAKING: Kurt Zouma is undergoing a medical ahead of a move from Chelsea to West Ham

— Sky Sports News (@SkySportsNews) August 26, 2021
'We still have some ideas and we are trying [to make more signings] and not all decisions are taken regarding also to our squad. So there are some negotiations going on and we are aware of all the situations.'
With rumours of Kurt Zouma's imminent departure to West Ham hotting up recently, Tuchel was honest in his assessment of the current situation, with the outcome now almost a certainty.
Also, he confirmed that further incomings were indeed possible, and this will please those who have been hoping that the suggestions of Jules Kounde arriving have some truth to them.
Romelu Lukaku vs Virgil van Dijk
'I'm looking forward to it, and I think many fans of football are looking forward to that battle. But it's not only Lukaku vs Van Dijk, it's Liverpool against Chelsea.'
'Of course for Romelu it's a big challenge. But when we signed him we knew we were getting a very experienced player, in terms of playing big matches. He loves these kinds of stages and that's why I expect the best we can see from him right now.'
One key battle which has been talked about in the buildup to this game is that of club-record striker Romelu Lukaku and recently returned from injury Virgil Van Dijk.
The two will go head to head in an almighty tussle, but Tuchel appears relaxed about it and seemingly has full confidence in his player to come out on top in the end.
Describing his team as a musical term
'It is very hard to describe which style we play but, of course we want to play a certain style and it is a good comparison to draw to an orchestra but it has to be possible that someone has to play a solo on his own and others can adapt to it.'
'Not everything is planned and because we rely on creativity, courage, and intelligence to feel moments in the game where it is good to break out of the rhythm to do something unexpected and brave.'
On a slightly lighter note to end the press conference, Tuchel still managed to give a relatively eloquent answer to something of a comical question.
The comparison to an orchestra working in tune does genuinely provide some insight into his coaching style, even if part of his answer may have been in jest!