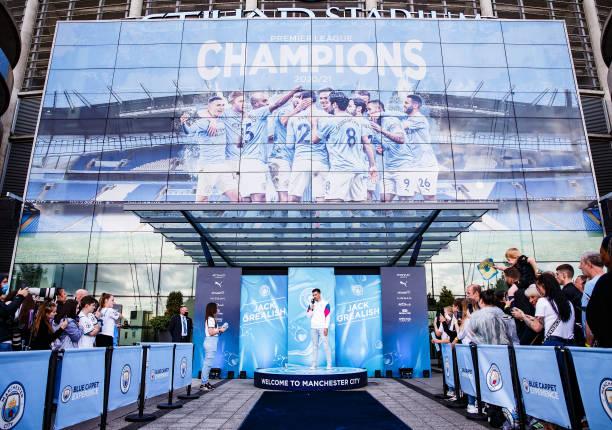 Done deals
£100million - the biggest transfer cost for a British player in football history. That is what it took to tear the Aston Villa man from the grips of his boyhood club.
Grealish lit up Euro 2020, despite only starting one of the games and being used as a super-sub in four others.
Months later, and after a lot of speculation, Grealish was a Citizen. The hype, the vision, the excitement; it was all through the roof.
Manchester City fans will have five exciting years of the creative genius that is Grealish, alongside the assist king Kevin De Bruyne.
Ivan Ilić
Following a season-long loan away at Hellas Verona in the Serie A, Ilić has returned to the club for a reported £6.3million.
The midfielder signed for Man City from Red Star Belgrade in 2017 and was unable to make an appearance in a sky blue shirt, going out on loan every season.
However, it seems that Ilić's passion and talent have caught the eye of Pep Guardiola, with it being rumoured that City have retained a buy-back clause in case he is a player for the future.
Rumours
Reports have suggested that Bernardo has been unsettled at City, with his lack of game time meaning the winger wants a move away from the Etihad.
Arsenal have been the first club to make an advancement for the player, with Mikel Arteta having worked with the player at City, but Bernardo has said he has his eyes set on a team playing Champions League football.
A move away to La Liga is looking more and more likely, with Atletico Madrid interested in the player, if they are able to offload Saúl Ñíguez.
Juventus are reportedly in the running, too. Bernardo is believed to be valued at £60million.
Laporte has played a lack of minutes, with the rise of John Stones and the ever-present Ruben Dias keeping the Frenchman out of the side.
He only made 16 Premier League appearances last season and was kept on the bench for the final three games.
Therefore, it is understandable as to why Laporte could be frustrated with his life at City as he watches on from the bench.
It is rumoured that Laporte may have been offered to (or could be used) Tottenham Hotspur as part of a player-plus-cash deal to tempt the club into selling superstar Harry Kane to City.
Juventus are said to be interested in Laporte, but only a loan move. Multiple Spanish clubs are also interested and could take Laporte away from Manchester and back to where he began his career.
Yangel Herrera
Herrera has attracted interest from the likes of West Ham United and Leeds United, with his time at City seemingly nearing a close, despite his contract running out in 2024.
Just like Ilić, Herrera signed in 2017 but failed to make an appearance for City, being loaned out to New York City, SD Huesca and Granada FC.
In his time at Granada, the Venezuelan made 82 appearances, clocking up over 6,000 minutes and recording 10 goals and five assists from central midfield.
To further add to the rumours, Leeds manager Marcelo Bielsa was spotted outside the Etihad on Tuesday afternoon, sending Twitter into a frenzy.
Herrera's value is estimated to be around the region of £20million.
There has been a lot of speculation around where Delap, son of Rory Delap, would be playing his football in the 2021/22 season.
A whole host of Championship sides are in a race to get Delap's signature and bring the young talent to their club. Preston North End are interested, with Derby County, Stoke City, West Bromwich Albion and Middlesbrough also with an eye on the 18-year-old.
After powering through the Derby youth system, Delap joined City and has been on fire in the Premier League 2 ever since.
22 appearances. 24 goals. 6 assists. And only 18 years old.
Going out to a lower division could be the vital experience that the young striker needs to develop into City's future star.
Stipe Biuk
City have joined the race to sign teenage sensation Biuk from Hajduk Split, having monitored the Croat for a while now.
The young talent hit the headlines last season as he broke into Hajduk's first-team and racked up three goals and three assists in 11 appearances.
Not only that, Biuk impressed in the Under 21 European Championship, helping Croatia out of a difficult group stage, only to be knocked out by a strong Spain side in the quarterfinal.
It was in the loss to Spain, however, that the star caused heads to turn by driving into the box and winning a penalty, which was converted to send the game to extra time.
Biuk is valued at around £3.3million.
Ko Itakura
It appears that Celtic are interested in City centre-back and have opened talks to sign the Japanese international.
The player was not considered by Guardiola for the City squad. A deal, therefore, seems ideal for both parties. However, this transfer is only at the first stage.
Yan Couto
Celtic are also interested in City full-back Couto. The Brazilian would spend a season-long loan at the Scottish Premier League giants to gain experience at the age of 19.
The player is highly rated by his fellow teammates and Guardiola, who could keep the youngster in his plans if the loan is to go well and give the Couto enough playing time.