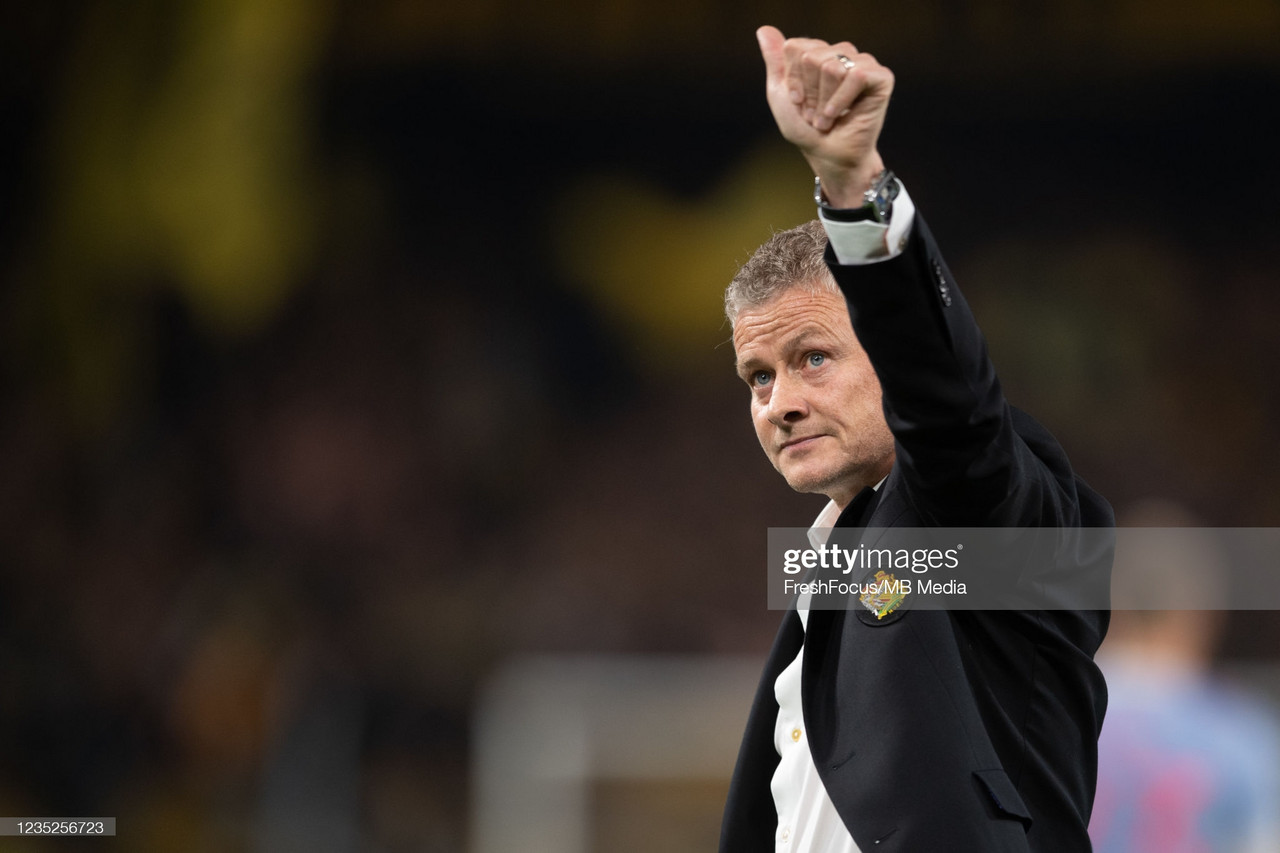 As Manchester United prepare to return to Premier League action against Aston Villa, Ole Gunnar Solskjaer faced the press to preview Saturday's clash.
The home side have picked up 13 points out of a possible 15 so far this campaign, with Solskjaer's side sitting in a great position, yet Saturday's clash could be the real indicator of whether they can be considered as serious challengers this season.
Dean Smith, the Villa boss, has assembled a strong side during his time at Villa, signing the likes of Danny Ings, Leon Bailey and Emiliano Buendia after losing club-captain Jack Grealish.
Many would suggest that this is the strongest team Solskjaer will have faced so far during the 2020/21 season, so a good result would not only continue the club's great start in the league, but would also make rival clubs realise that United may now mean business.
Villa are in great form themselves after easily beating Everton 3-0 last weekend, so the visitors will fancy their chances against a United side that has has shown that they have their downsides despite picking up good results.
Here's what the United boss had to say ahead of Saturday's game:
United have laid the foundations:
Solskjaer has recognised that his side have had a great start to the season after only dropping a mere two points from their first five games.
However, it is a very long season and what we have seen so far is a tiny percentage of the entire campaign – yet United have started as they mean to go on:
"It is early doors but it's important the first two months ahead of the international break to get a head start. So far, 13 points, that's a decent return. We've scored quite a few goals.
Still things to work on and there will be bigger challenges ahead but we've laid the foundation to build the momentum. That's' what we hope to do against Aston Villa. Their first game was a defeat, of course, but since then they've hit form and they deserve more point than what they have got," he added.
Ronaldo's sensational start:
The United boss has known Cristiano Ronaldo ever since he was a teenager, and although the Norwegian would've seen the talent that he had from an early age, it would have been hard to see what he would go on to achieve.
The Portuguese is now back at Old Trafford working under Solskjaer, and the manager is loving what he has seen so far:
"We knew he was going to have a great impact on and off the pitch. He's still so professional, the discipline he's shown through his career to make the most of his career, is going to rub off on his team-mates, and scoring goals will only help that impact.
"He's a different man now compared to when I played with him, of course. He's been absolutely top, his work rate, his attitude in games.
He knows he's not going to be able to play every game but that's a good chat for him to have with me when he feels he won't be ready."
Solskjaer was then asked about Edinson Cavani – and it looks like the manager thinks the two of them could link up well:
"It's exciting to see them two together. I'm sure that'll be a good partnership as well, [two players] wanting to be on the end of things.
"We've seen some teams dropping deeper against us, not giving us as much space in behind and that's definitely two boys you'd like to have around the goal when that's the scenario. I can see them two working well together," Solskjaer said.
David de Gea's resurgence:
Last season, the media and some sections of the fanbase were beginning to question whether David de Gea should remain Old Trafford's number one.
And after a difficult summer, the Spaniard has returned in scintillating form – reminiscent of the man who deservedly won United's player of the season four times across a five year period.
Solskjaer has been impressed with how de Gea has started the season:
"He called me this summer to end his summer holiday earlier to come back and start his pre-season before [the squad returned]. He wanted to be ready, he wanted to be the best possible version of himself. Of course, last season was a challenging one for David.
"David has really worked, he's been so focused. Physically he's better, mentally he's better. It gives you motivation and inspiration. He plays behind a strong back four and to play in front of David when he's in this form, it's also good for them."