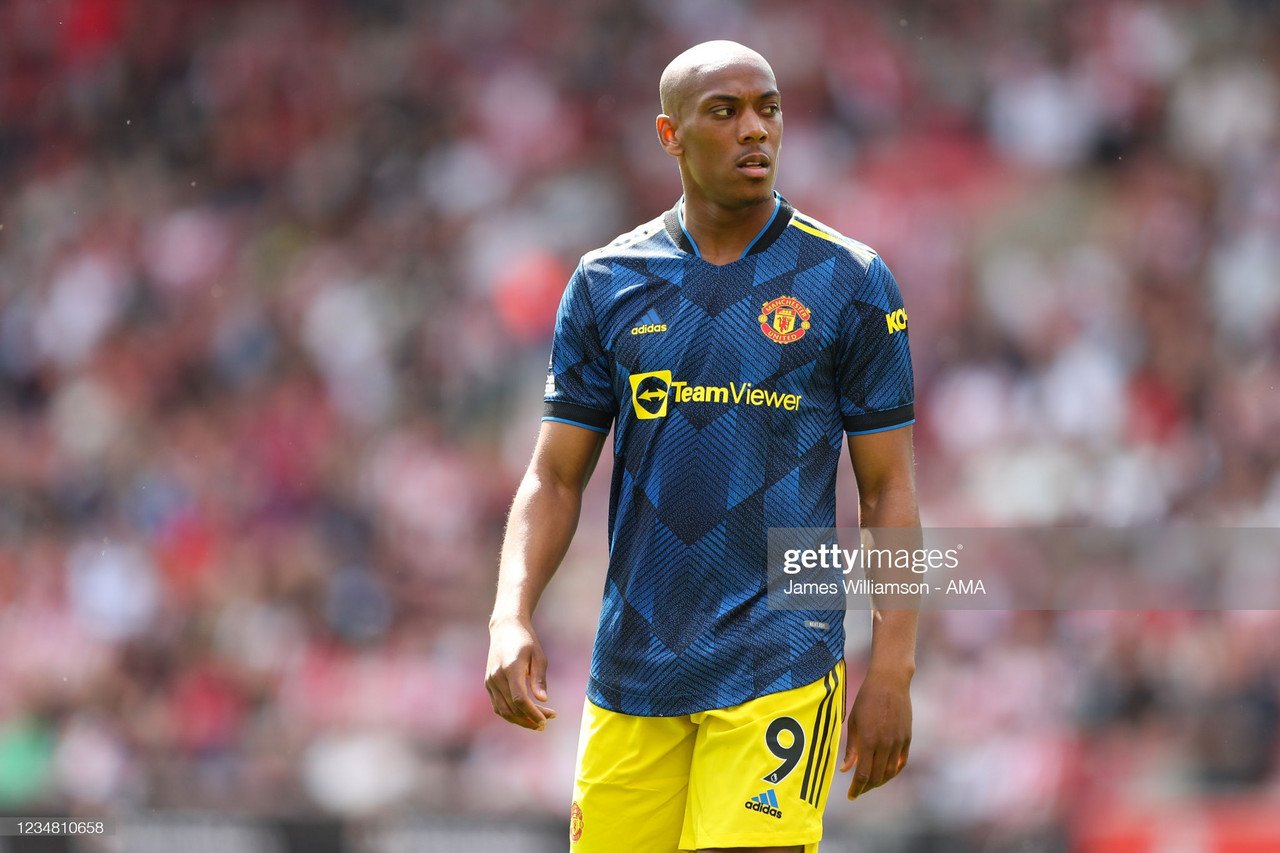 In 2012, Manchester United found themselves, not unlike this weekend's meeting, behind against Southampton at the half-time interval. It was the resilience and sheer ruthless thirst for goals that United went on to win that game – and indeed, the title, come May 2013.
The striker that netted a superb hat-trick that afternoon was the newly-acquired Robin van Persie – showing just how necessary world-class ability up-front is to win championships.
The Reds' most recent meeting with Southampton saw United unable to challenge the rigid defence of Ralph Hasenhuttl's creation – the lone striker Anthony Martial was unable to get going all day.
A draw on the south coast was definitive proof that United are in desperate need of a striker with that same ruthlessness that was shared by Van Persie nearly a decade ago.
Martial has the ability, but his time has been and gone
It is a shame how far the Frenchman has fallen. It is also a shame how Martial peaked so quickly in a red shirt, with the forward unlikely to ever have a moment that matches his incredible debut goal against Liverpool in 2015.
Five years ago today, Anthony Martial scored this beauty against Liverpool on his Man United debut 👏

(via @ManUtd)pic.twitter.com/eqNidmBFa5

— ESPN FC (@ESPNFC) September 12, 2020
But it's time to face facts with the attacker – he just will not ever be good enough to lead a title-winning side in England.
Supporters have spent much of the Ole Gunnar Solskjaer era questioning whether a striker should be recruited to help the resurgent project at Old Trafford – but over the last few months, a simple test has been developed to assess whether Martial is the right man to lead the club from the front.
Would you bet your house on him scoring a one-on-one opportunity?
The answer is probably not – an out-of-form Martial is dreadful to watch, as he is void of confidence and completely lost on the pitch, drifting across the front-line and meandering down blind alleys. An in-form Martial is a good finisher, but not the level that is required at United.
Strikers that have graced Old Trafford in the last thirty years or so; the likes of Dwight Yorke, Eric Cantona, Ruud van Nistelrooy or Wayne Rooney would be surer bets than the Frenchman – and frankly, you would sooner bet on Bruno Fernandes or Mason Greenwood than Martial.
Excuses have come in a few ways: he was overshadowed by Zlatan Ibrahimovic and Romelu Lukaku under Jose Mourinho, he didn't suit the Portuguese manager's style of play, he couldn't fit as a left-sided inside forward, he needed to play as a central striker, and the style that Solskjaer employs is too restrictive of Martial's abilities.
It's time to face facts – his work rate and strength (or lack thereof) just doesn't suit the English game.
Do United have internal candidates to lead the line?
While the ability of Edinson Cavani has long been known for the Reds, his contract expires after the 2021-22 season and the fact he will be thirty-five by the season's end means that he cannot be a long-term option for Solskjaer's side.
Cavani's re-signing was a tremendous achievement for Solskjaer, his talent going forward means that United's need for a striker is delayed by a year but when he isn't included in the squad, United run into difficulties – such as against Southampton.
The same thing happened in the same fixture last term, where Cavani's assistance was required from the bench to overturn a half-time deficit.
⚽️ @B_Fernandes8 60'
⚽️ @ECavaniOfficial 74'
⚽️ @ECavaniOfficial 90+2'

Three second-half goals completed an incredible comeback last time out at St Mary's! 😎#MUFC | #SOUMUN pic.twitter.com/LtQ5USqiLx

— Manchester United (@ManUtd) August 22, 2021
Mason Greenwood's quality is evident, but the attacker still needs time to develop if he is to become an out-and-out striker; another year drifting in from the right would do the England international the world of good, as he would play as a rotational striker with Cavani's advancing age.
Martial will of course receive more chances, but it feels more and more like his goalscoring campaign in 2019-20 was an anomaly rather than his turning of a corner.
Is recruitment the way forward?
With the pursuit of Harry Kane by Manchester City paused due to the imminent transfer deadline, it could stand to reason that United's long-standing interest in Erling Haaland could mean a challenge is made by the blue half of Manchester.
But Haaland's intriguing style of play may not adapt well to the system of Pep Guardiola meaning they re-enter the market for Kane next summer.
Haaland is a striker who would reinvigorate United's attack, and a partnership reunited with Jadon Sancho would cause plenty of headaches for defences the Reds oppose.
DORTMUND ARE ROLLING!

Erling Haaland gets his second of game after a perfect Jadon Sancho pass
🤩 pic.twitter.com/VlWOS6CDGC

— ESPN (@espn) September 19, 2020
The only issue with a pursuit of Haaland is United's reluctance to deal with agent Mino Raiola; his stringent negotiating techniques have frustrated the Reds in the past especially with Paul Pogba – but for extraordinary talents like the Norwegian forward, exceptions can and should be made.
United have also kept an eye on the situation with Kylian Mbappe, with a great deal of interest being shown to the Paris Saint-Germain forward. However, Mbappe is reportedly focused on a transfer to Real Madrid, with a move to Old Trafford highly unlikely.
If Madrid and PSG fail to come to an agreement this summer, however, the World Cup winner would be available on a free transfer and as such would likely go to the highest bidder, and the Red Devils have certainly remained stoic with finances during the pandemic compared to their Spanish rivals.
The situation with Mbappe remains to be seen but should be seen as an outside chance due to the pursuit by Los Blancos.
United most likely will not pursue a striker with only a few days remaining in the transfer window; their recruitment should be tailored towards a holding midfielder before a number nine – but this is a debate that is best had now.
For too long United's transfer policy has been reactionary rather than proactive – they need to set the tone in the window rather than play catch-up, and while this has been seen somewhat this summer with the arrivals of Sancho and Raphael Varane, they need to plan for next summer.
Because while United's window of opportunity is opening, they are not the only ones with title ambitions.