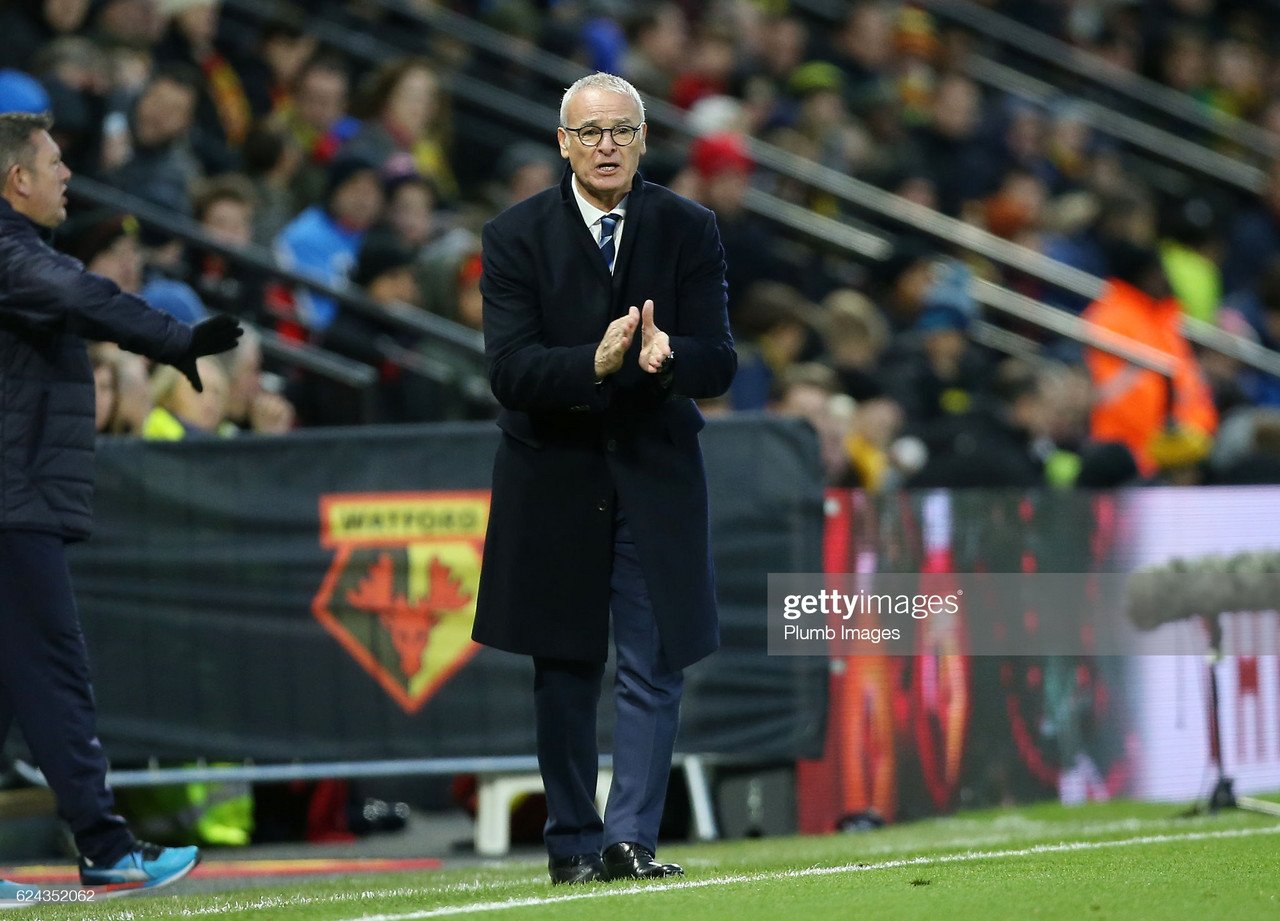 Claudio Ranieri made his return to the press room in the English Premier League, two and a half years after he was sacked by Fulham, this time answering questions in the yellow of Watford.
Watford sacked previous manager Xisco Munoz after several poor performances, climaxing in a 1-0 defeat to Leeds United at Elland Road, leaving the Hornets just three places above the relegation zone ahead of a tough run of fixtures starting with Jurgen Klopp's Liverpool.
Liverpool sit second in the Premier League as they hope to chase another title come the end of the year. Last time out, the Reds picked up a point against fellow contenders Manchester City.
Here are the key quotes noted from Ranieri's press conference.
Why Watford for Ranieri?
After leaving Sampdoria at the end of last season, Ranieri evidently had options available - as one of the more distinguished names in football.
So why did he choose Watford. "Why not Watford? They're a Premier League team...I have known the Pozzo family for a long time."
Ranieri said he was "very close" with current Hornets chairman Gino Pozzo's father, although "never got to manage Udinese."
Part of the reason for his move appears to be an evident love for the Premier League.
"I am very happy to come back to the Premier League. It's one of the best leagues in the world." He also said that it abides by his tough and physical football philosophy.
The goal in Hertfordshire
For Ranieri, the main objective this season is survival. "I am an ambitious man, and I want to make Watford safe at the end of the season and to improve and create for the next season."
"We have to be safe. And then slowly go up."
The Italian, who gave Leicester City a fairytale top flight title in the 2015-16 season, has a mixed track record in helping teams survive relegation. He succeeded with Sampdoria, guiding them up from the bottom of Serie A to 15th and finishing 9th in the following season.
Yet at fellow English club Fulham he lasted a meagre 106 days, failing to help them maintain their top flight status.
"Sometimes you go up, sometimes you go down. But I never give up. I am still young...why are you laughing!" he exclaimed to the media.
On the goal at Watford, he harked back to his constant repetition of forty points in his season at Leicester.
"Forty points we are to achieve. After the next season, we can see if we can do 41. And after, 42. And after, 43." A clear pattern of incremental progress, then, for the sixty-nine year-old.
Watford's revolving door
It is commonly known that the Hornets do not hold on to manager's for the longest periods of time. Yet that is not to say it does not work.
Ranieri sees managerial change as "normal" in Italy. "Even in England it is changing." He was not fazed by the Pozzo family's ruthless nature, saying only that he has "to do [his] best for Watford".
For Klopp, however, the revolving door is something he sees as "really harsh."
"How can you be surprised that Watford makes a change? I don't understand it to be honest. I don't like it.
"I have no problem with Claudio - actually, the opposite - but I don't know how many managers I've faced already in the Watford dugout."
It means that Liverpool will "have to focus on [them]selves, even more so this time as we don't know a lot about our opponent."
For Klopp, he suggested he had spent more time looking at Ranieri's Sampdoria side than the current Watford outfit, even if it is evident for him that Ranieri will "start [out] with stability".
Only time will tell what system the new Watford manager intends to play tomorrow but Claudio Ranieri will hope to get off to an ideal start at Vicarage Road with the Hornets daring to dream of a brighter future.