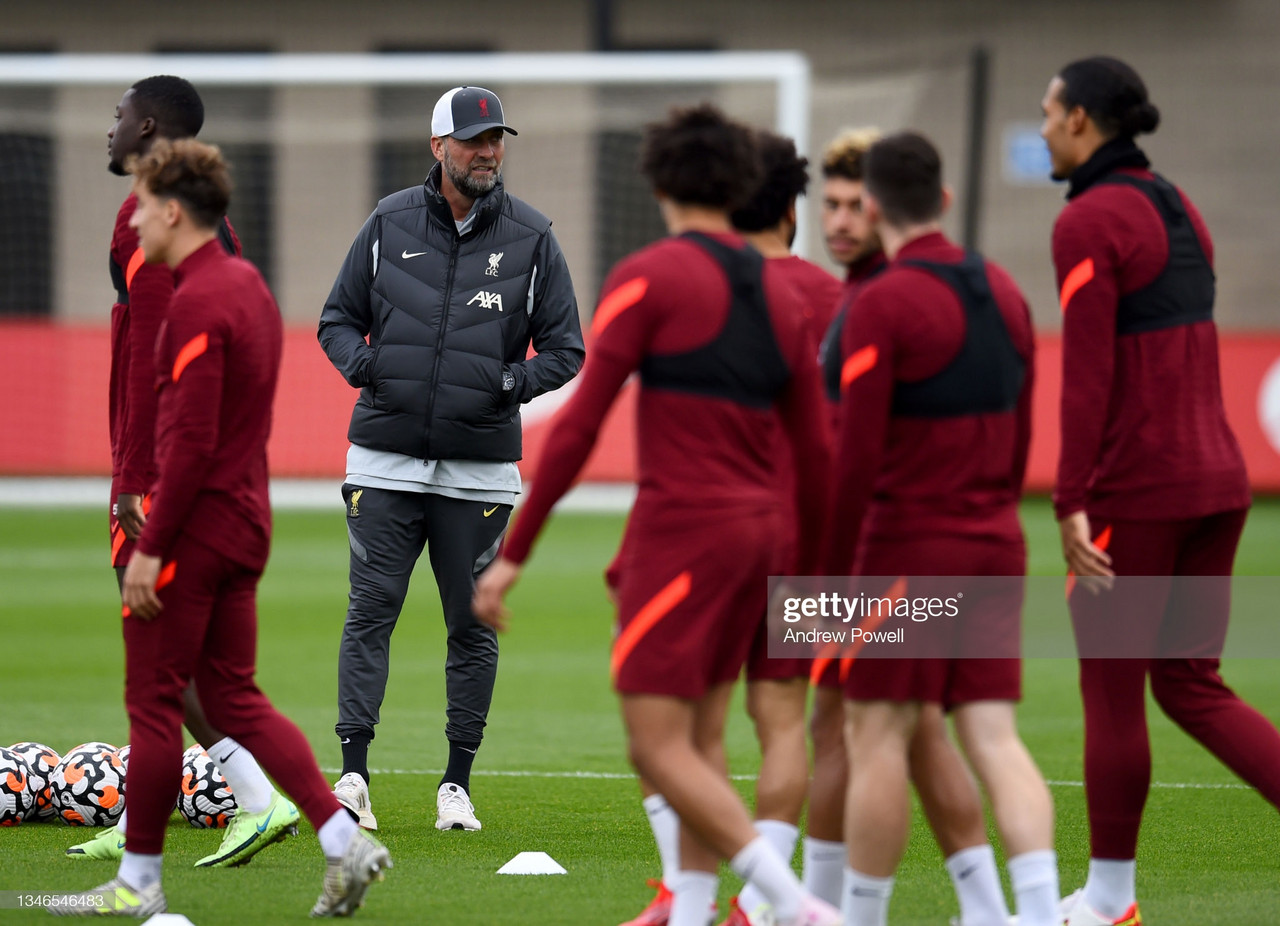 Liverpool have the chance to leapfrog Chelsea and return to the Premier League summit when they face Watford in the weekend's early kick off.
Just one point separates the top two, with Manchester City, Manchester United, Everton and Brighton and Hove Albion all a point behind the reds, on 14.
Jürgen Klopp spoke to the media ahead the match at Vicarage Road, which kicks off at 12:30 BST on Saturday afternoon.
Liverpool's Brazilian pair's availability for not only the Watford game but the UEFA Champions League match against Atlético Madrid next week, too, has been the topic of much speculation. Klopp gave us a solid answer: they won't feature tomorrow, but will in Spain.
"I'm not frustrated - somebody decided to give Brazil the opportunity to play last night, then somebody made a decision for us to play at 12:30. It is out of our hands. We can't control it.
"We've known it for a while. The boys will not be here, they will go directly to Madrid. It's 10 days after Thursday. These are the rules.
"They could have flown into England and quarantined, but Ali[sson] has three kids. 12 days away with the national team then 10 days isolation. We need solutions for that and it still isn't there."
Atlético's weekend game rescheduled
Bizarrely, the Spanish club's match against Granada, initially scheduled for Sunday, has been moved to a later date due to players' involvement in the South American World Cup Qualifiers. The same goes for Real Madrid's fixture with Athletic Bilbao. Klopp was sharp and short with his beliefs.
"Atlético don't play this weekend, that'd never happen here! No chance.
"We asked to push kick off back a few hours so we could try to bring them in. Obviously Watford and the Premier League didn't go for it. I know people ask why footballers should be treated differently. I don't remember players being unavailable because of federation reasons."
Team fitness: Jota, Trent, Jones & Thiago
After an injury-ravaged 2020/21 campaign, Klopp was hoping for a much smoother time of it this season, but players being sidelined remains a common theme. The boss gave an update on three key players.
"Trent [Alexander-Arnold] and Diogo [Jota] are available. Thiago [Alcantara], I don't know. It takes time. It's disappointing, but we've known for a few days now. We have to wait.
"Curtis Jones came back from the England U21s injured, which is not good. It's hard to get in touch with England. They played Andorra, great, it is important he played there, but he came back injured and he is not available for tomorrow.
"When the FAs don't help us - they have to think about the game and not just their own interests. I have been here for six years and it is always this. Why don't we talk about it?
"We have 5 exceptional centre-backs. Last year taught us we need at least 4 centre-backs but when they are all healthy, we get these questions. It's not perfect every week for them but it's the situation and they deal really well with it because of their quality."
Joe Gomez was once again overlooked by Gareth Southgate's selection for the latest England squad, something which puzzles Klopp.
"He [Gomez] is in a top shape - he looks really good. I know that Gareth reacts on if players aren't playing regularly. He is an exceptional centre-half. Nat Phillips doesn't make the squad because of the numbers but he trains exceptionally.
"Sometimes Gareth reacts if you are not playing for your club you can't play for the national team. Obviously there is a special thing for Mr Stones."
Claudio Ranieri masterminded the greatest Premier League miracle of all time when he guided Leicester City to the title in 2016, and Klopp was full of praise for his fellow professional. Not so much, however, of his new employer.
"I think it's really harsh how Watford deal with managers. How can you be surprised they have a new manager in charge? I don't like that.
"I like Claudio but you cannot be surprised with Watford. I don't know how many different Watford managers I have faced since I have been here.
"Congratulations to Claudio as he is 69 now and looks younger than me! He has a good genetic basis and all the personal decisions."
Tactical set up for Watford
Klopp and his team have watched more footage of Sampdoria, Ranieri's previous team, instead of Watford in the build-up to the game.
"When you look at their last game against Leeds United, when they lost, Watford had a good idea about the game. They tried to build up with their football in wide positions, but the problem is when you lose the ball, the opposition has more space for counter attacks. That is why Leeds won.
"He [Ranieri] said we have to close the spaces and use the speed. We know Sampdoria played 4-4-2. Claudio said they have to be more compact. We don't know the system they'll play.
"We have to guess a little bit but we think we will be close to what will happen and that is what we will try to use.
"We have to be flexible but when we prepare for an opponent, we focus on us. We don't know a lot about the opponent tomorrow. If we play really good we are difficult to play against and that is what we try to do."
A lot of been said - good and bad - about a Saudi Arabia-backed consortium's takeover of Newcastle United, Klopp gave his opinion.
"I was waiting for some official statements about it, from Richard Masters," said Klopp. "Obviously there are concerns about human rights issues. We all think the same there. What will it mean for football?
"A few months ago we had a huge issue with 12 clubs trying to build a super league and rightly so. This is like creating a super team - guaranteed spots in the Champions League. FFP - nobody knows if it exists. Newcastle fans will love it. There is another superpower.
"Obviously the Premier League thought 'lets give it a go.' As far as I know, it's now the third club owned by a country. That's what everyone else has to deal with.
"In 5/6/7 years time, Newcastle will be a superpower - if the owners have the patience. The new owners will have enough money to buy the league.
"Much more important than money is good decisions. We won the UCL two years ago - football is a wonderful game - you can still win games even when the financial power of the opponent is bigger than your own."