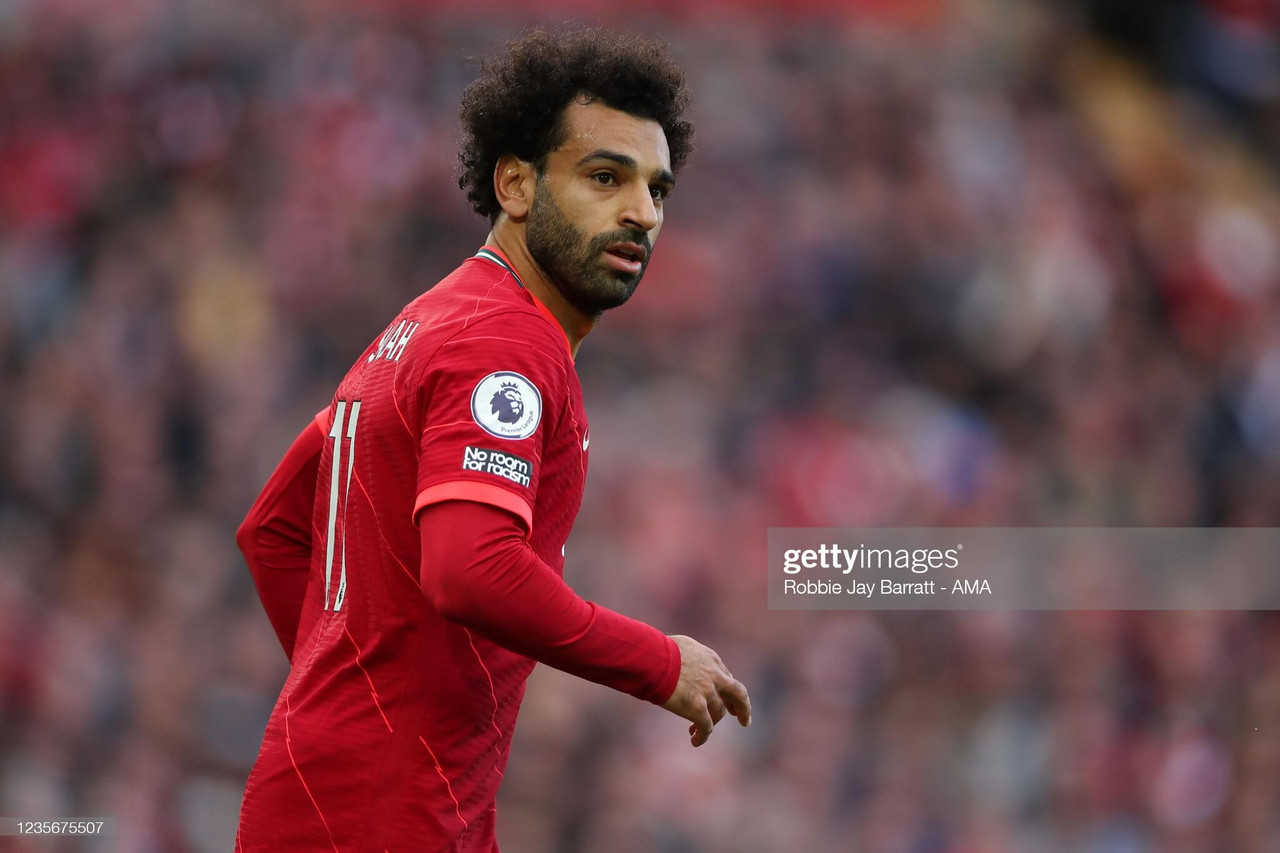 Tongues wagged as Mo Salah scored his wondrous goal to put Liverpool ahead for the second time against Manchester City. For a goalscorer who is breaking all sorts of records at his club, this was perhaps the best of the bunch.
Whether it was because there didn't appear to be much on when Salah robbed Rodri of possession on the right, midway in the City half, or due to the outlandish skill that he displayed when tricking not one, not two but three visiting players before caressing the ball past Ederson, this was certainly a goal to savour.
That moment, to go with the neat flick over Joao Cancelo in the build up to Sadio Mane's goal, highlighted why Salah is in the form of his life. Such confidence is oozing from the Egyptian that even Pep Guardiola's high-quality players couldn't even think about stopping him, let alone managing it. Poor Bernardo Silva, who had a good afternoon otherwise, was placed on his backside by Salah's incredulity.
Salah's goals are crucial to title tilt
When Jurgen Klopp's side won the Premier League title the season before last Salah scored 23 goals in 48 appearances, ironically his worst goalscoring campaign at the club. His nine goals already this term is three better than his previous best after nine matches – even his maiden season when he registered an impressive 44 and set a single-season new Premier League record.
He shows no signs of slowing down after scoring 134 in 212 Liverpool appearances. Last month he became the fifth-fastest player to notch 100 Premier League goals. What's for certain is that if Liverpool are to maintain their challenge for the title again this season, and Sunday's showing against City suggests that the pair will be the key protagonists, then Salah will have to keep this fine form going.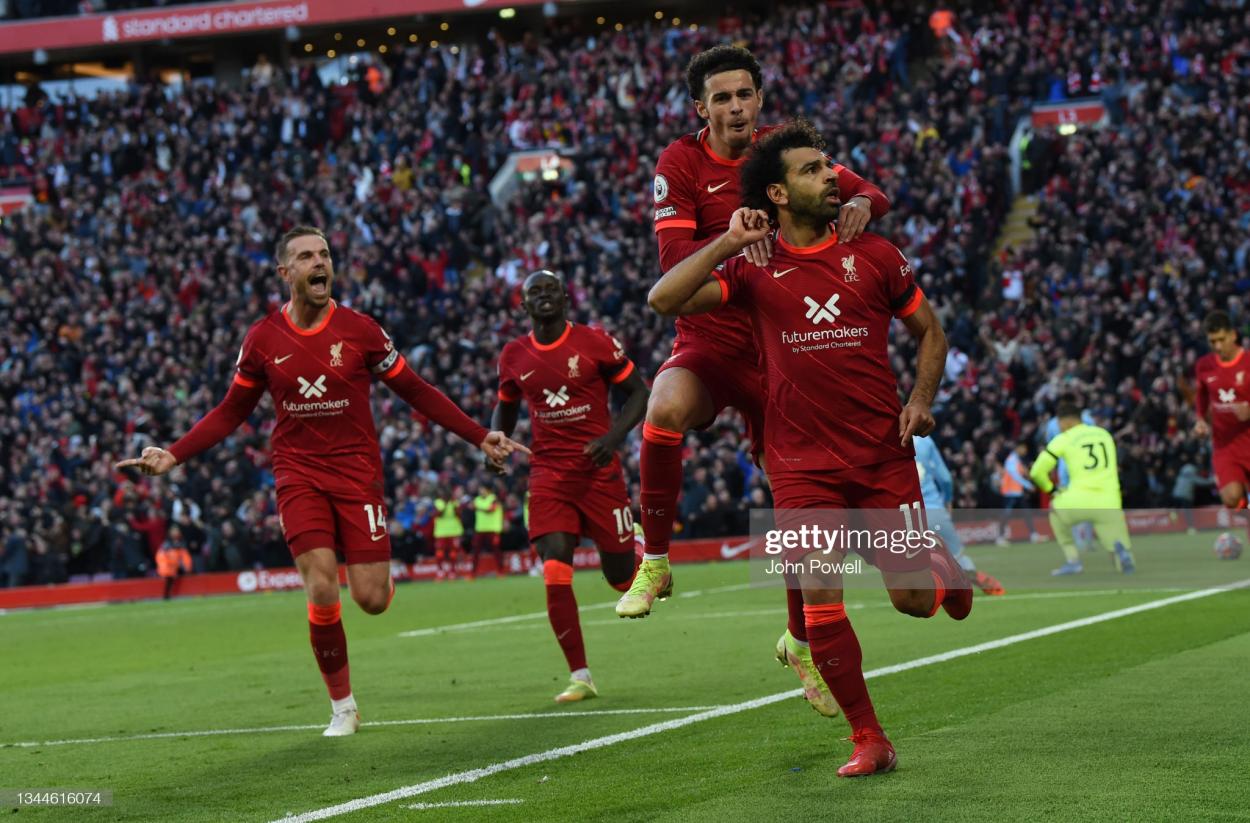 Whereas Salah is brimming with confidence currently, Mane, despite also scoring in the 2-2 draw, is cutting a slightly more forlorn figure. The Senegalese international has found the net six times in all competitions but is not at his influential best at the moment. On Sunday for instance he only attempted two dribbles, successively completed 75 per cent of his passes and had 33 touches. Salah, meanwhile, attempted eight dribbles, had a pass accuracy of 84 per cent and accumulated 49 touches.
What's more, against City Diogo Jota as Liverpool's central attacker was easily dealt with by Ruben Dias and Aymeric Laporte. Few chances fell the Portuguese's way and it didn't help that Liverpool's midfield were at sixes and sevens for large periods of the game, struggling to stabilise the game and launch attacks. It therefore required a Salah, a player who can create as well as finish, to step up.
Klopp will hope that more fluidity returns to his front three. Given the stability that the Liverpool manager now has in defence, the rhythm of the team can go up another level too. They do remain the only team unbeaten in the league, sitting a point behind table-toppers Chelsea, but a lot of Liverpool's attacking ambitions are currently resting on Salah's shoulders.
Foden shows he can handle occasion
If Salah was Liverpool's leading light then Phil Foden was City's. The tyro was the best player on the pitch when City travelled to Anfield last season, scoring in the 4-1 triumph, and would have been so again had Salah not been present. Foden's goal was splendid. From the deft touch to control Kevin De Bruyne's raking pass, to the assured, sumptuous low drive that gave Alisson no chance.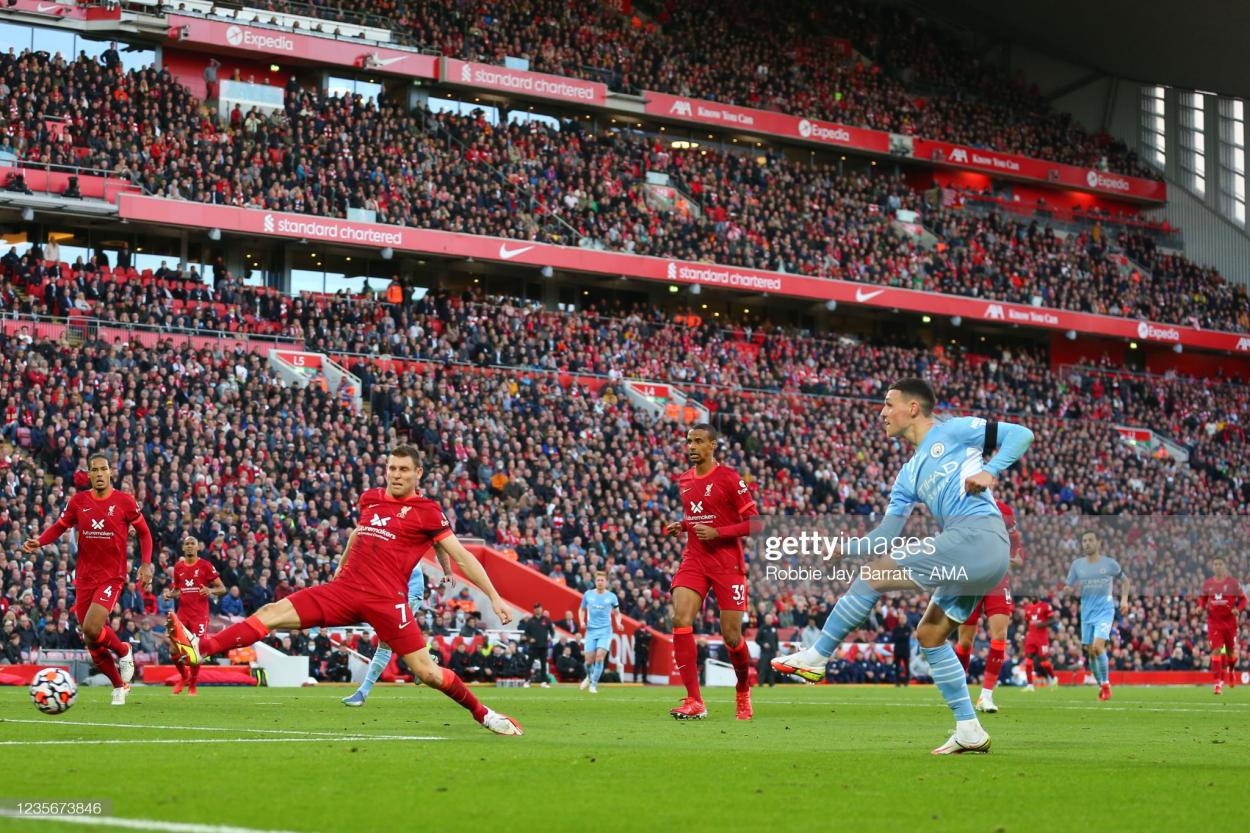 There are few more difficult tasks for an away player than to come to Anfield, especially one playing out wide with huge responsibilities to create, yet Foden relished the occasion. Guardiola struck on a fine plan to start the 21-year-old on the left of City's attack as he consistently had the beating of fill-in full-back James Milner. Despite Jack Grealish having to struggle as the false No 9, Foden's impact more than made up for it, as did Gabriel Jesus who seemed to enjoy himself on the right.
That does raise a question, however, as Guardiola seeks to align his attackers — or, actually, his midfielders — in a way that reaps greater goalscoring reward. Grealish may find himself being moved about more by his manager despite the relationship that the summer signing is starting to foster with overlapping left-back Cancelo.
There's a lot of moving parts in City's attack, in more ways than one, and yet the debate rumbles on as to how much better City would be if they had an out-and-out striker as a focal point. There is no doubt that they would have won this contest had a Harry Kane, say, been leading the line.
Nevertheless, with the work of Silva, craft of De Bruyne and the talents of Riyad Mahrez, Jesus, Raheem Sterling, Ferran Torres and Grealish along with Foden, City have plenty to blow their challengers out of the water.