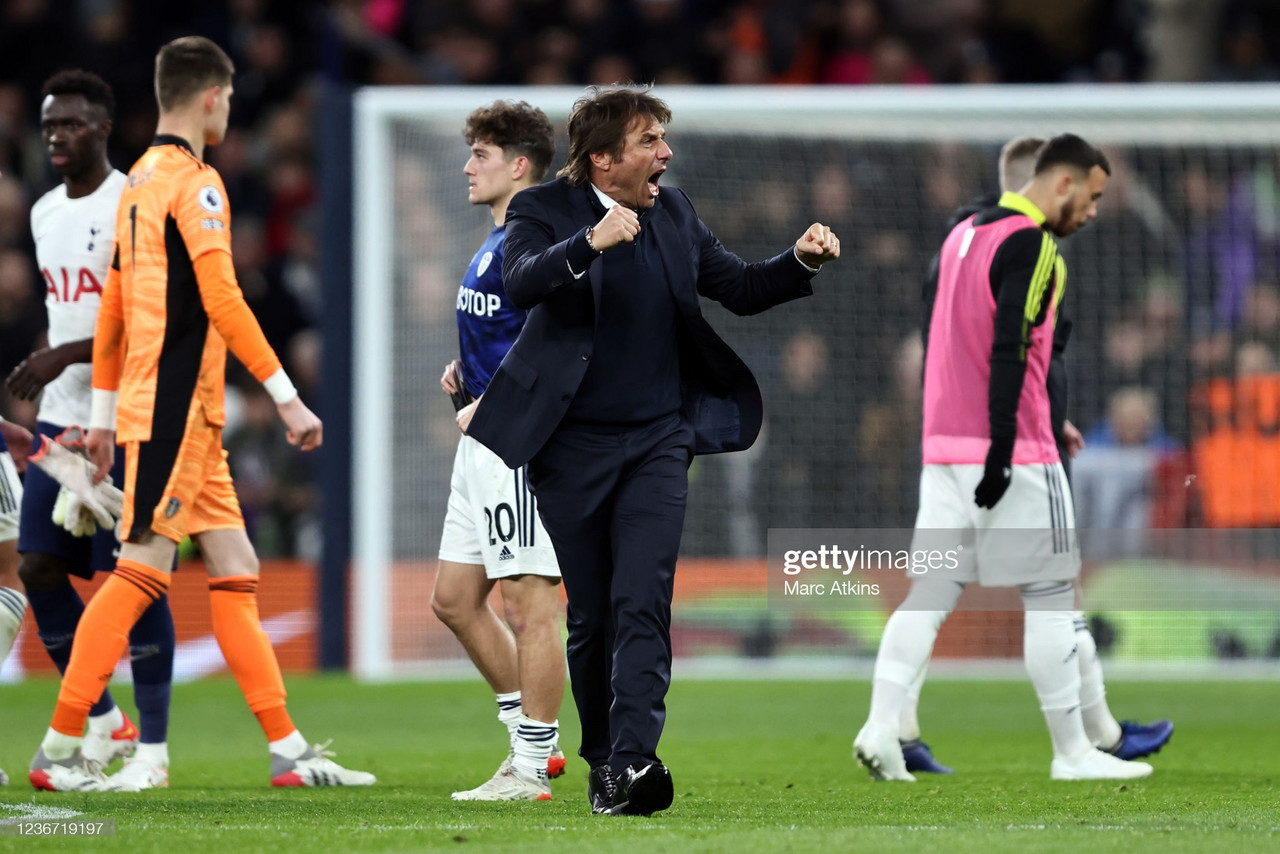 New Tottenham manager Antonio Conte registered his first league win in charge on Sunday, as his Spurs side beat Leeds United 2-1 at the Tottenham Hotspur Stadium.
Daniel James had opened the scoring for Leeds in the first half, but an inspired second half performance from the hosts allowed Pierre-Emile Hojberg and Sergio Reguilon to net for Tottenham and earn Conte three points in his first home league game in charge.
Following the match, the Italian spoke to the press. Here are five of his key quotes.
On winning ugly
"This win is very important because we struggled today in the first half. We played two different games; in the first half they beat us in the tactical aspect. In the second half we tried a solution to change the game and to play against Marcelo Bielsa is not easy.
"We must be satisfied, and this is the point to start for the rest of the season. We will continue to work on the tactical, mental, and physical aspect but we can have good improvement for the rest of the season. We know very well this season we have to fight a lot, but we want to make our fans proud. To win in this way is good because we had two different situations. We have a lot of space for improvement."
Managers often refer to 'winning ugly', which means getting a result when a team is not at their best. That's exactly what Tottenham did here.
In the first half, Leeds dominated and Conte' side were second best. In the second half they improved and deserved to win, but the result could still have gone either way. Ultimately, the three points are what matter on the surface, as long as improved performances follow.
On changing tactics at half time
"After the first half our fans weren't satisfied with the football we played, and I was agreeing. They were disappointed by it was the same for me and my players.
"In the second half we changed it totally and I am pleased for the players because I changed the plan, but they played well with personality, they ran, they put pressure and they created difficulty. We showed heart and passion and now we have to put this into every moment to improve."
Leeds controlled the game in the opening period, but Conte's general comments suggested it was a tactical decision to allow that to happen. The crowd made their thoughts known at half time with the Spurs players booed off the pitch, but then everything changed.
In the second half Tottenham were on the front foot, dominant and intense, and had 11 shots with four on target compared to two in the first half win none on target. A clear tactical change had been made and it paid off in giving the hosts the win.
On his passion
"We celebrated the win and because I think it was difficult. I realised that – Leeds was the first team [since joining] to bring that intensity. In the first half we struggled a lot because they played better than us, won the tackles and led the game. But we changed the plan tactically second half and we started to put pressure in every area of the pitch, and we created difficulty for Leeds.
"It is right to celebrate with passion. I have a great profession and I want to display my passion in all these environments. You can be good tactically and have the quality, but passion and heart you either have or don't have."
Fans love to see their manager animated on the sidelines and Conte is exactly that. He jumps, dances, and waves his hands in more motions than one throughout the game, and celebrates his teams' goals like a madman.
He did the same on Sunday, and it can be expected to carry on. Tottenham are dealing with a man that really loves his football.
On building fitness
"At the start of the game, I was afraid about this aspect [fitness levels]. In these three weeks we have worked on the physical aspect but only with the players we had with us, because others were with the national team. And in the other two games we couldn't work on fitness.
"For sure we need to improve because I like to bring intensity and we need to use it from the start. I didn't know if we could do it the whole game; at the start it was my decision to let them lead the conversation but in the second half we changed it and we had to go. To beat Leeds, we have to beat them at what they are good at."
Tottenham were extremely unfit under both Jose Mourinho and Nuno Espirito Santo, and that is a complete contrast to what Conte's sides are normally like.
The Italian must improve his team's fitness levels as a matter of urgency, and it seems he is going the right way about it. Tottenham outran Leeds by 3.7km in the second half on Sunday – by 4.2km in total – and that is no mean feat, with Leeds themselves usually dominating running distances in games. There are early signs of Tottenham moving in the right direction on that front.
"For sure we want to fight, and we want to try and improve on the position in the table. I think in England the league is very difficult and every game is very tough. You can lose points with all the teams.
"I think in this moment there are four teams where for many reasons – they are working with the same coaches, they invested a lot of money – there is a gap. But I am not scared about this. I trust in my players and in the squad. We want to fight to stay close to the Champions League and then if there is one team that slips, we must be there to try to do our best.
"I don't want to say it is good if we finish in this position. We need to improve. The club called me to improve the situation in the present but also the future, and I like to work with Tottenham because I know I can work in the way that I like, and I am sure that we can improve a lot and fight and be competitive in every competition."
Tottenham are now seventh in the Premier League table, four points off London rivals West Ham United in fourth. Conte accepts his side aren't one of the best four teams in the league but will not give up the fight easy.
If Spurs can keep up the pace, then only time will tell what could happen. But the little bit of bite, the little bit of hunger, that fans have been begging for, is there right now.