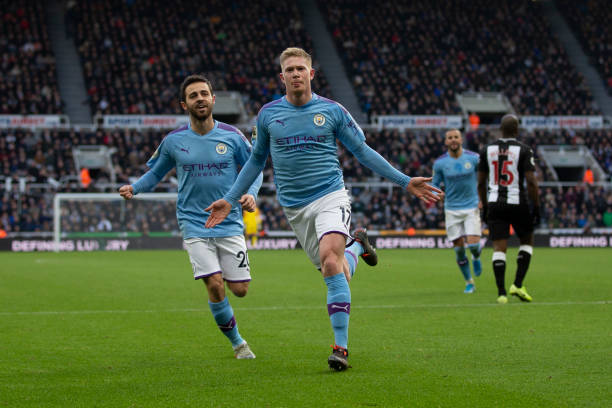 There have been a lot of memorable moments from Manchester City vs Newcastle United over the years? And this season is no different.
While Man City are pushing for the title once again, newly-bought Newcastle are in a dogfight at the bottom of the Premier League table, three points from safety and level with bottom side Norwich City.
It is all to play for.
With that in mind, what are your favourite moments from this fixture?
What you can do... Shelvey can do better?
30 November 2019 - a magnificent game between two sides fighting two very different battles.
Man City were trailing far behind a fantastic Liverpool team, and Newcastle were doing their best to keep as far away from the relegation zone as possible.
Nowadays, you would expect nothing less than a Man City victory. But the Premier League isn't always that simple, is it?
Raheem Sterling and Jetro Willems exchanged smart finishes to even up the score before the real magic happened.
"Ohhhh, that is outstanding! Truly brilliant from Kevin De Bruyne," exclaimed the commentator as the Belgian maestro sent a shot flying into the Newcastle net, pinging off the underside of the crossbar.
82 minutes gone. City winning because of a special De Bruyne strike. The game must be over, right? Wrong.
Jonjo Shelvey had other ideas. Allan Saint-Maximin fooled the whole City team, laying a ball out to the England midfielder to curl a beautiful effort into Ederson far post. Absolute pandemonium.
Newcastle had defied all odds to leave St James' Park with a point against the current champions.
Re-live all the action here:
Bellamy has last laugh in a seven-goal thriller
A last-gasp volley from Craig Bellamy in 2004 sealed a dramatic 4-3 win for Newcastle.
Goals from a lot of famous names covered the scoresheet. Laurent Robert, Alan Shearer, Shaun Wright-Phillips, Robbie Fowler, Robbie Elliott, Wright-Phillips again.
Then stepped up Bellamy. Newcastle, nor the Welshman, were settling for a draw.
Following good work from left-back Olivier Bernard, Bellamy controlled the Frenchman's cross before juggling the ball over a City player and slamming the winner home past a helpless David James.
Goal of the season contender
City's journey to St James' Park at the end of the 2020/21 season was memorable for so many reasons - one of which being THAT goal from Ferran Torres.
Torres' superb flick was one of three that day, with his hat-trick helping City to overcome a fearless Newcastle team.
Despite the Toon taking the lead twice in the game, City still managed to complete the comeback, winning their first game since being confirmed as champions.
But what else was special about this game?
For one, everyone's fan-favourite Scott Carson made his first, and only, appearance of the season. That was his only appearance to date for Man City since his original loan move from Derby in 2019.
In the match that marked almost a decade since his last top-flight game, it probably wasn't the dream for the goalkeeper. He did save a penalty, however (we just don't talk about Joe Willock scoring the follow-up...).
The win also meant City had broken another league record. Pep Guardiola's side had set the record for the most consecutive victories away from home with 12.
Will we see another special encounter this time round?