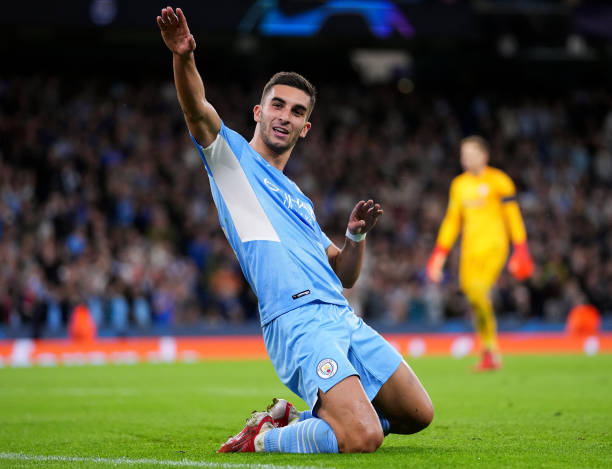 The start of a journey
From infant to young man. From enthusiast to professional. From dream to reality. Ferran Torres has turned from an exciting prospect to someone already very special to Manchester City and Spain.
Born in the municipality of Foios, Spain, a town in the Valencian community, Ferran was thrown straight into the deep end of football.
As a young boy, Ferran always had a ball at his feet, trying any skill and breaking many glass objects in his way.
His parents saw a spark in their kid, and in turn, decided to stimulate his love for the sport, taking him to Mestalla, the home of Valencia CF.
Seeing the club he loves go through the good, the bad, and the ugly times gave him a special connection to the club, leaving Ferran with a desire to one day play for the Spanish club, and hopefully going beyond.
The first few years of Ferran's life is when his boyhood club really hit their stride, with a total of two La Liga titles, one UEFA Cup, one Copa del Rey, and one UEFA Super Cup in those six years, no less than five first-class titles and two Champions League finals had been achieved.
Debt was the real killer for Valencia some years later, however.
With the club looking for ways to make money, talents were being let go here, there and everywhere. To name a few: David Silva, David Villa and Juan Mata. So much happiness and heartbreak at such a young age.
A youngster with a winning mentality must have been licking his lips to fill their boots, though.
He had a long way to go yet though.
At the age of six, Ferran enrolled in the youth systems at Valencia where his footballing journey began.
His parents were happy to support him, with more than just the two of them seeing the potential in Ferran. Taking inspiration from the legendary David Villa, a young Ferran Torres shot up the Valencia ranks, landing him a squad spot with the Valencia reserve team at the age of just 16 - a statement to set him aside from the other youngsters.
His obvious talent and determination was what set him apart from the others, and earned him a place within the Valencia B-side set up ahead of the 2017/18 season.
Despite his quick rise to this position, the winger was still hungry for more. He had his eyes set on the first team.
Luckily for him, the club shared the same ambitions with Ferran, offering him a new contract and promoting him to the first team on the first day of 2018.
So what did Ferran achieve at Valencia that caught the eye of multiple European clubs?
He became the first player born in the 2000s to play in La Liga.
With a goal against Lille in a 4-1 victory, he became the club's youngest ever scorer in the competition.
His 50th appearance in Valencia colours broke a club record - youngest Los Ches player to play 50 league games, a record that stood for over 38 years.
It is clear to see why Pep Guardiola is so fond of the winger, and why City were happy to pay his £21million price tag.
Filling legendary shoes
When you think about Manchester City and Spain, who is the first player to come to mind? Legend of the beautiful game, David Silva.
Ferran followed in the footsteps of David Silva. Valencia B. Valencia. Manchester City. It was meant to be. To add to this, the winger inherited the famous shirt number, 21, once worn by the City legend.
Once described by Valencia academy director of recruitment, José Giménez, as "powerful, quick, steady with the ball at his feet and strong in the air" and "unpredictable", Ferran is a very different player to Silva.
However, he very much has the ability to be something special at City.
Giménez added: "When he's running with the ball at his feet he can go on inside or outside his man because he is two-footed. He can cross, finish and shoot the football."
Remind you of another Spaniard?
Since moving to England for the 2020/21 season, Ferran has tallied up 16 goals and four assists in 43 games in all competitions.
Despite a slow start to his City career, it is undoubtedly clear now why £20.8million was an unbelievable steal for the now 21-year-old.
With such a young mind, and passion to learn, develop and listen, Ferran quickly became adjusted to the Premier League, while also becoming a fan favourite.
To some fans, it seemed that the winger was just going to be one of those bench warmers that Guardiola needed for an impact substitution every so often.
With first-team minutes in the first three league games of the Premier League season, maybe some fans got it wrong. However, Ferran was then benched for two games, despite a goal contribution against Leeds United in the game beforehand.
Ferran struggled to really stamp his mark and had to grow slowly back into the starting XI folds, earning the manager's trust as he went.
The Champions League was a different story, though. Ferran scored in four of the five group stage games he played in, only missing the away fixture against Olympiacos and unable to stamp his mark in a 0-0 stalemate with FC Porto.
Ferran was then given a 10-minute runout against Borussia Mönchengladbach before not making another appearance in the Champions League again last season - a surprise to many.
However, with City progressing closer and closer to the final with each victory, the fact that Ferran was not playing seemed to go under the radar, despite such an influential start to the campaign.
Between the start of January 2020 and March 2020, starts and appearances were hard to come by for the Spaniard. In 13 games, Ferran was given minutes in five of those - and sometimes as a substitute.
From there, however, things were looking up for Ferran. He started five games, was substituted on four times, and only failed to appear once out of the last 10 games of the season.
In one of these games, Ferran managed to notch a spectacular hat-trick against Newcastle United, with one of the strikes being a goal of the season contender.
So what next for Ferran?
Only a summer impressing on one of the biggest footballing stages in the world - Euro 2020. Despite having a depleted national team, and fielding a number of youngsters, Spain reached the semifinals before being knocked out by the eventual winners of the tournament, Italy.
As well as a huge boost of confidence for the 21-year-old, City fans would have been much happier seeing him come back to Manchester without injury.
Ferran scored once in their 5-0 demolition of Slovakia, before grabbing another goal plus assist in a blockbuster 5-3 win over Croatia.
The most interesting point to take away from his European Championship competition was where he was deployed on the pitch.
As an agile and pacey winger, it seemed that Ferran was also a good fit in the centre forward role - one that Guardiola had utilised at certain times last season.
This would become much more common at the start of the 2020/21 season too. Rumours of a new striker coming into the club to replace the departing legend, Sergio Agüero, were floating around. Names like Harry Kane, Erling Haaland, Dušan Vlahović, all mentioned.
Especially with Gabriel Jesus switching to a wider position on the wing, it seemed like another big-money move would be joining Jack Grealish.
But with many failed attempts at different players, Ferran would end up starting the season upfront. Eyebrows raised. Questions asked.
Centre forward on seven occasions this season, including the Community Shield. Maybe not an attacking return in every game, but two goals and an assist against a struggling Arsenal side proved many fans wrong.
A goal against Wycombe Wanderers too. Ferran's linkup play has been immaculate, and definitely that of an expensive striker's.
So why the need to spend over £100million pounds on a 'superstar' when all Ferran Torres needs is trust, game time and more experience.
It seems like many Citizens agree with that. However, sadly for the man in form, Guardiola has benched the Spaniard in the last three Premier League games and no one can really put their finger on why.
He was also benched for City's 2-0 loss to Paris Saint Germain and could have made an impact against the French giants.
Hopefully, Ferran can gain his place back in the starting XI and find his form again.
International future
City fans will not even want to think about Ferran potentially moving on from the club in the future. Many will be hoping that he will stick around for a while.
As for his national team, Ferran has the capability to make strides. World Cups, Euros, Nation Leagues, you name it. Ferran could win it all with the new and fresh-looking Spain side.
Since being called up to the senior Spain side in September of 2020, 16 days after signing for Man City, Ferran has already racked up 12 goals in 21 games for his country, which is even more impressive with his prime position being on the right-wing.
Two months after his call-up, Ferran recorded his first hat-trick for Spain. Now, that is impressive by itself. But to add to this, the hat-trick came against Germany... Germany! Manuel Neuer. Toni Kroos. Leroy Sané. Timo Werner. A rather impressive defeat for any side.
It is safe to say that the Spain national side is safe in the hands of their exciting youngsters.
Just a young Spanish boy from the municipality of Foios, a young boy that dreamed of playing football, a young boy that looked up to the likes of David Silva and David Villa, is at the forefront of this growing force.