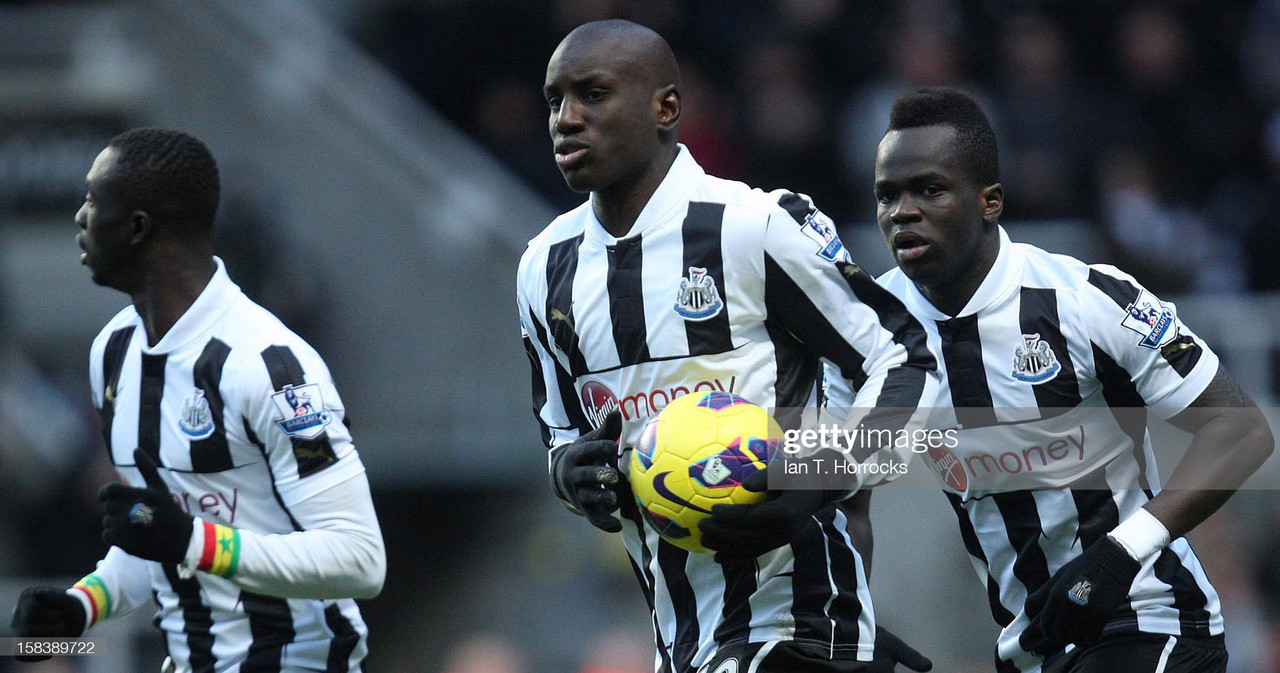 Ten-year reunions are for high-school, University friends and occasionally big pop-culture TV shows. Never had a ten-year reunion been done as a football club with players returning.
This is the opportunity that Newcastle has this summer with Hatem Ben Arfa, Demba Ba and Papiss Cisse all being available on a free transfer with the contracts at their respective clubs running down.
Back in the 2011/2012 season, Newcastle had a formidable squad filled with players just finding their feet, much like the club was back in that time. Newcastle ended up finishing fifth and had a stint in the Europa League, which ended in a quarter-final defeat to Benfica. The squad slowly was picked apart, being sold on for-profit and distributed to different clubs across Europe.
The opportunity
Demba Ba, Papiss Cisse, Hatem Ben Arfa were fan favourites during their time on Tyneside. All three are out of contract and did not leave on bad terms. The fans would welcome each player back with open arms and make them feel like they have never left.
With Newcastle still needing backup striking options themselves, a small glimmer of hope remains for the two strikers.
Ben Arfa, however, is the most unlikely, following Ben Arfa has been to five different clubs in six years. The thirty-five-year-old still produced two goals and five assists in October. The patchy form and demand for playing time might derail conversation before they begin.
Cisse is a similar story with the 36-year-old producing five goals from 25 appearances; however, the difference is that most of Cisse's contributions were from the bench.
Ba is the most unlikely of all. With reports coming from Turkey saying that Ba's contract was not extended, the Senegalese striker wanted more playing time, and the club was unwilling to give it to him. Ba revealed in an interview to Sky Sports what happened with his contract and why he was not offered a new one.
"They said it was down to the fact they thought the coach would not play me much for the rest of the season," Ba said.

"Because of the name I have and the respect they have for it they decided to terminate my contract early.

"But I think it's more that sometimes I probably have a character that is too strong - I don't hesitate to speak my mind and it doesn't work every time.

"He told me he was going to start selecting players who can play the ball more instead of those who can run and fight and that I would start games.

"Then two weeks later we play Fenerbahce and I'm not even in the squad which I'm surprised about because this was not the conversation we had. But this is football - things change.
Possibility of a further reunion?
Three more ex-Magpie players are out of contract this summer and offer a much more realistic option, and all can start now in this current Newcastle United squad.
Andros Townsend, Danny Rose, and Jetro Willems. Again the three players contracts are up. All three enjoyed successful loan spells and offering options for Steve Bruce. It was no secret Newcastle became short in the left-back position and the attacking winger position. With both Jamal Lewis and Ryan Fraser only managing 29 starts between them.
Cover would be needed for Newcastle and with Bruce and company opting for free-agent options before a few could happen.
Is it likely?
In truth, out of the six players mentioned, only one looks set to move to Tyneside and join the Magpies, and that is Jetro Willems.
With an injury dampening his loan spell in the 2019/20 season and plaguing this last season, Willems has been released, and many fans want the Dutchman back as he seemed to get what the city was about. The budding friendship with Newcastle star Allan Saint-Maximin cannot hurt.
Newcastle has never been a sentimental place under Mike Ashley and with each player discussed lacking a sell-on value, it is nothing but a pipe dream for fans to hold onto.
That does not stop being fun to wonder what a strike force of Ba, Cisse, Saint-Maximin, and Callum Wilson would look like in 2021...