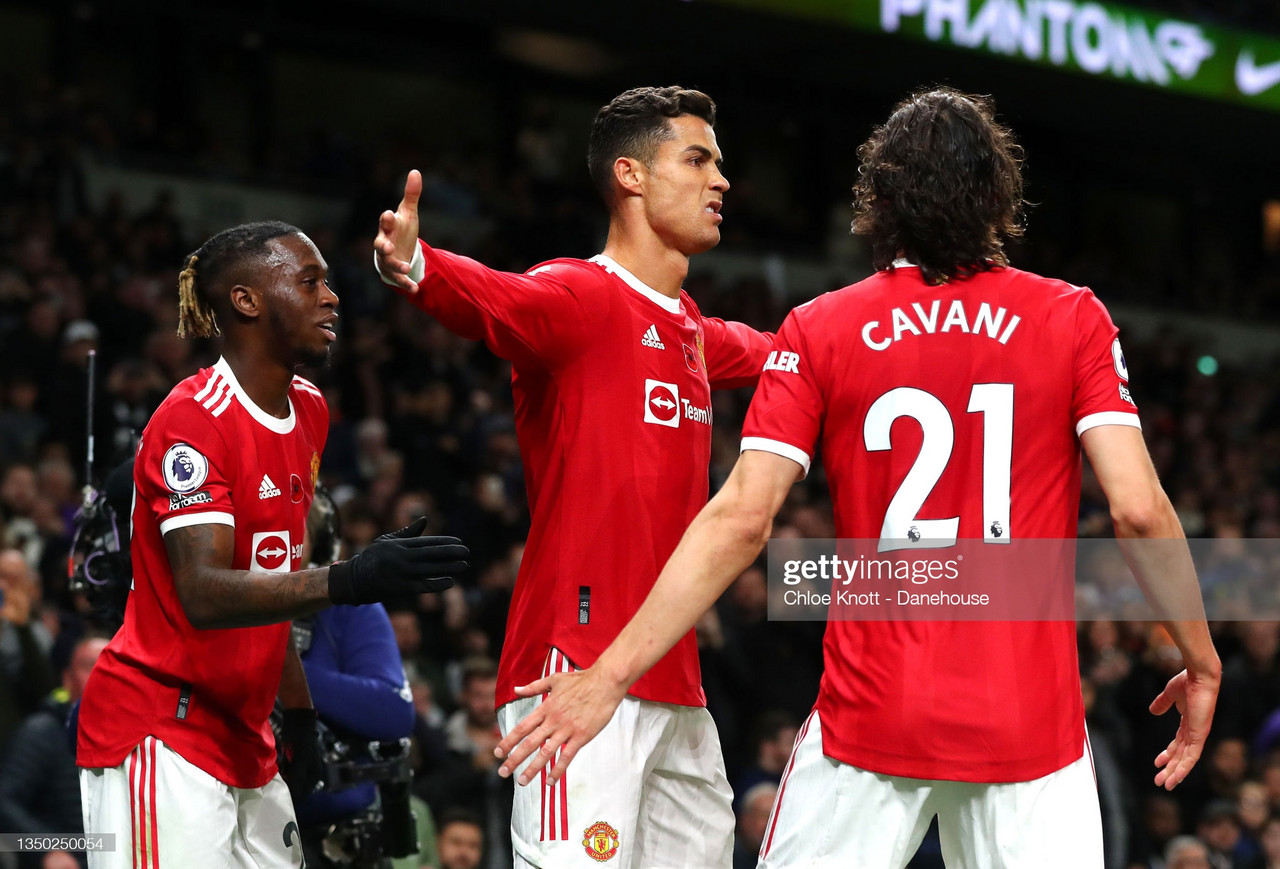 A sublime opener from Cristiano Ronaldo was followed up by goals from Edinson Cavani and Marcus Rashford, securing Manchester United a big win against Tottenham Hotspur.
Ole Gunnar Solskjaer was a dead-man walking last weekend. Ironic, therefore, that he is starting to rise from the dead on Halloween weekend!
His radical system change to a 3-5-2 gave support to Ronaldo in attack and it ironed out the organisational problems that spectators had become accustomed to seeing in defence. The Norwegian needed to make big moves and they absolutely paid off.
The pressure on Solskjaer passed over to Nuno Espirito Santo over the course of the match. The Portuguese hasn't been in the Spurs job for long but his style of play, coupled with inconsistent results, has left fans feeling very frustrated. They made their feelings known at several points throughout the tie.
Make no mistake, this was a match that both managers were desperate not to lose.
Story of the match
Nuno's selection screamed pragmatism from the start, with Ben Davies and Giovani Lo Celso surprisingly getting the nod over Tanguy Ndombele and Sergio Regulion.
Solskjaer brought Raphael Varane back into the fold and placed him in the centre of a back-three to provide some defensive stability. He started a two-man attack of Cavani and Ronaldo for the first time.
It was a cagey start but there were a few nearly-moments from both teams.
Son Heung-min saw his long-range effort drop narrowly wide after taking a deflection off Fred.
Aaron Wan-Bissaka, playing very high up in the wing-back role, almost got himself an assist with a nice pick-out for Edinson Cavani. The Uruguayan's shot was goal-bound but was Eric Dier was on-hand to make an important block.
Shortly after, Luke Shaw fired a dangerous ball across the six-yard box – an early sign that the wing-back system could cause Tottenham a few problems.
However, Spurs slowly got to grips with the game and the running prowess of Lucas Moura, and then Lo Celso, proving difficult for the United defenders to deal with.
It wasn't a surprise, then, to see Moura produce a stunning dinked pass to Son, playing him in-behind a high United defence, but the South Korean elected to take the ball on his right foot and he couldn't keep the ball down. The angle of the position seemed to favour a left-footed finish.
However, just minutes later, the visitors broke and Bruno Fernandes found Cavani with a clipped ball into the box; the only surprise was that the striker couldn't direct his header on target. A big chance-a-piece.
There was a roar of euphoria from the home faithful as Christian Romero diverted Eric Dier's flicked header into the back of the net. Celebrations were cut-short when the linesman's flag eventually made an appearance.
Neither keeper was particularly busy but Fred did keep Hugo Lloris on his toes with a 30-yard dipping drive that the goalkeeper did well to parry.
United's defensive-line had already been breached once and it looked like Son was going to make them pay this time. He wouldn't have in the end, due to another belated offside flag, but Wan-Bissaka got back to make an incredible recovery block nonetheless.
There was a little bit lacking from both teams in the final-third and you felt a mistake or a moment of magic would be needed to finally break the deadlock. Enter Ronaldo.
The 36-year-old raced onto an inviting lofted through-ball from Fernandes, before directing a stunning first-time volley across the despairing dive of Lloris. He had absolutely no right to score from there but that's what world-class players do.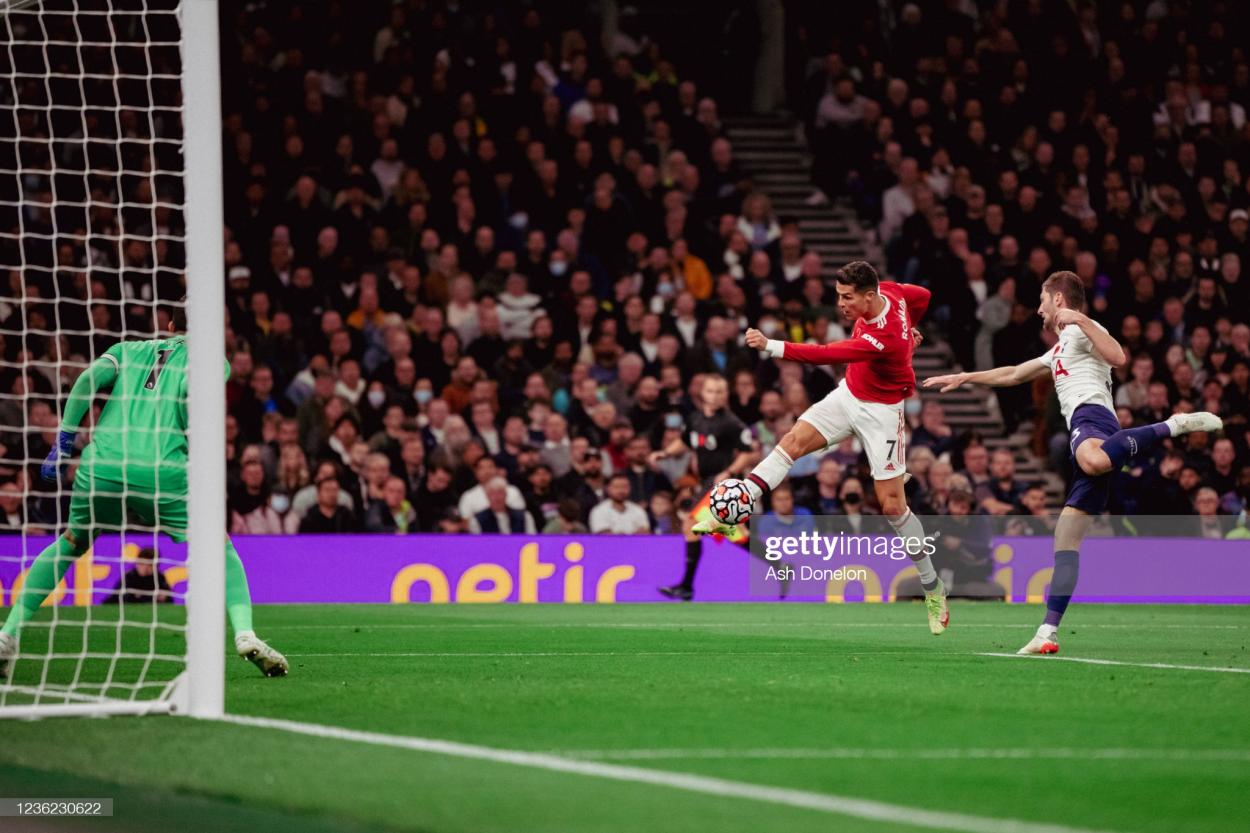 The second-half started with a bang and both teams had openings.
Wan-Bissaka's low-drilled cross was dummied by Cavani, anticipating the run of Ronaldo, but he probably should have taken it on himself as Romero cleared.
Moments later, David De Gea then inexplicably played the ball to Moura who in turn teed-up Son but, not for the first time, the he couldn't work an effort on-target from a presentable situation.
Fans were still catching their breath when Ronaldo fired a rocket past Lloris after sprinting through on goal but he was denied by the linesman's flag. And breathe!
Nuno felt his team needed some fresh urgency in attack but his decision to replace Moura with Steven Bergwijn was not a particularly popular one. It was greeted by universal boos from the home faithful, followed by a very loud cry of, "You don't know what you're doing", from some of the more disgruntled supporters.
Moura was the best player on the pitch in the Carabao Cup victory at Turf Moor and he had been playing relatively well in this match. It was a strange call from Nuno, and things went from bad to worse for the Tottenham head-coach when United doubled their lead.
The Spurs defence was all at sea as Ronaldo spun away from Oliver Skipp. He played a simple through ball to his striker partner, Cavani, and the former Paris Saint Germain man made no mistake this time ― dinking the ball over the on-rushing Lloris.
Solskjaer made another bold decision, replacing Ronaldo and bringing on Marcus Rashford – a sign that he is going to do whatever he feels it takes to pick up results.
Nemanja Matic replacing Bruno Fernandes was a further indication that the Norwegian wanted to hold on to what his team had. The consequences of dropping points from this position would be too great.
Still, Rashford had time to add a third: confidently slotting past Lloris after racing onto a through-ball from Matic. Game over!
The result leaves United in fifth position while Spurs languish in eighth, with the same number of wins and losses (5).
Solskjaer is still up against it but this result has provided a little bit of respite. What Nuno would give for a positive result or two in the next few matches.
The boos ringing around the stadium at the end were deafening; it seems many Spurs fans have already made up their minds on the former Wolverhampton Wanderers manager.