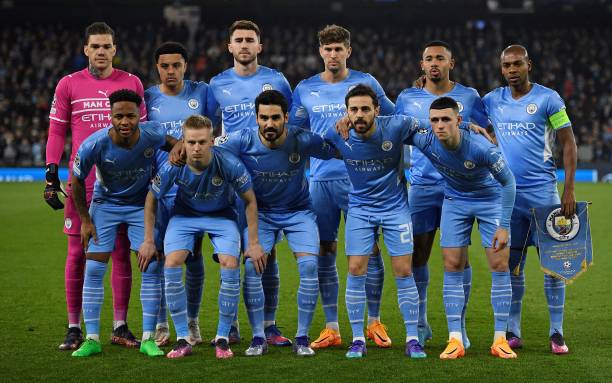 To be honest, Manchester City vs Sporting CP was not the most exciting game of the night. 0-0 at the end of a rather dull encounter.
While Karim Benzema was busy becoming the oldest player to score a Champions League hat-trick against PSG, the Etihad witnessed a 0-0 draw.
However, that was enough to see Man City progress to the quarterfinals of the Champions League with a 5-0 win in the first leg.
With a game full of half-chances and a lack of energy, let's dive straight into the main talking points.
Bringing through the youth
A five-goal buffer meant City were able to field some youngsters on Wednesday night, with CJ Egan-Riley starting and playing the full 90 minutes, and James McAtee and Luke Mbete gaining valuable minutes on Europe's biggest stage.
Egan-Riley had a night to remember in his first Champions League appearance.
A clean sheet against the team sat second in the Portuguese Primeira League, 75 touches, 97% pass completion, 100% dribbles completed and four duels won.
Egan-Riley has been a consistent starter in the Premier League 2, captaining City's U23s on multiple occasions.
Seven clean sheets, one assist, top of the league. A very deserved place in the squad on Wednesday night.
McAtee entered the pitch at half-time, replacing fellow academy star Phil Foden. After many were unsure whether the young attacker would stay at City or go out on loan, Citizens are delighted to see him given the opportunity to shine.
In the Premier League 2 and UEFA Youth League, McAtee has made 21 appearances. His stats are incredible at the age of just 19 - 21 goals and five assists.
No wonder City fans are calling for him to get regular minutes in the first team. But patience is the key with Pep Guardiola.
Foden's rise is proof enough.
For Mbete, it may have only been a six-minute cameo but it was a very important step forward in his career.
Having played 1493 minutes out of a possible 1980 in Premier League 2, and playing a vital role in City U23s' short European campaign.
Green and white Poznań
The Sporting fans were, while knowing that they were heading out of the Champions League, absolutely class.
Many fans coming to play Man City now expect not to take home anything. That did not stop the fans in the green and white from enjoying themselves, though.
Singing, chanting, drinking, breaking out the Poznań, the whole shebang. And what an atmosphere it created, especially for a 0-0 draw.
Possibly the best visitors we have welcomed to the Ethiad this season...
Oldies but goldies
Fernandino:
With Rodri making the defensive midfield his own, Fernandinho has been kept to the bench for nights like this. At 36-years-old, some think that the Brazilian could struggle under pressure.
That, obviously, is not the case.
The game against Sporting also marked a special occasion for Fernandinho - 100 Champions League appearances (across his two clubs - City and Shakhtar Donetsk).
A huge accomplishment for anyone, but all the better for a Blue to do it.
He said: "I am so proud of that (reaching 100 Champions League appearances) and I am so grateful to both teams I have played for (City and Shakhtar).
"It is a big achievement for me and thanks to my teammates and anyone who was involved in that."
Scott Carson:
Scott. Paul. Carson. That's all that needs to be said really.
Carson is clearly a fan favourite, with herds of voters flocking onto the BBC Sport app to gift him Man of the Match, while only playing 25 minutes.
The 36-year-old keeper has equalled his tally for most appearances in a City shirt in a season - one. Last season's appearance came against Newcastle United in a frantic 4-3 victory.
Maybe he can beat it with still so many games of the season left!
Citizen abroad
Not many City fans will know the name - Pedro Porro.
Having signed for the club in 2019 from Girona for a fee of £10.8m, Porro is yet to make an appearance in City colours.
The right-back has had a mixture of loans but Sporting is proving to be a successful one.
27 appearances. Four goals. Six assists. 12 clean sheets.
One of those clean sheets came against his parent club on Wednesday night, keeping out the likes of Foden, Raheem Sterling, Gabriel Jesus, Bernardo Silva and Riyad Mahrez.
Not bad, huh?
Is it about time we see him play for us, rather than against us?
Pep Guardiola loves his attacking full-back and that is exactly what Porro has developed into, aiding Sporting's push for the Portuguese league title this season.
Definitely One to Watch for City fans.