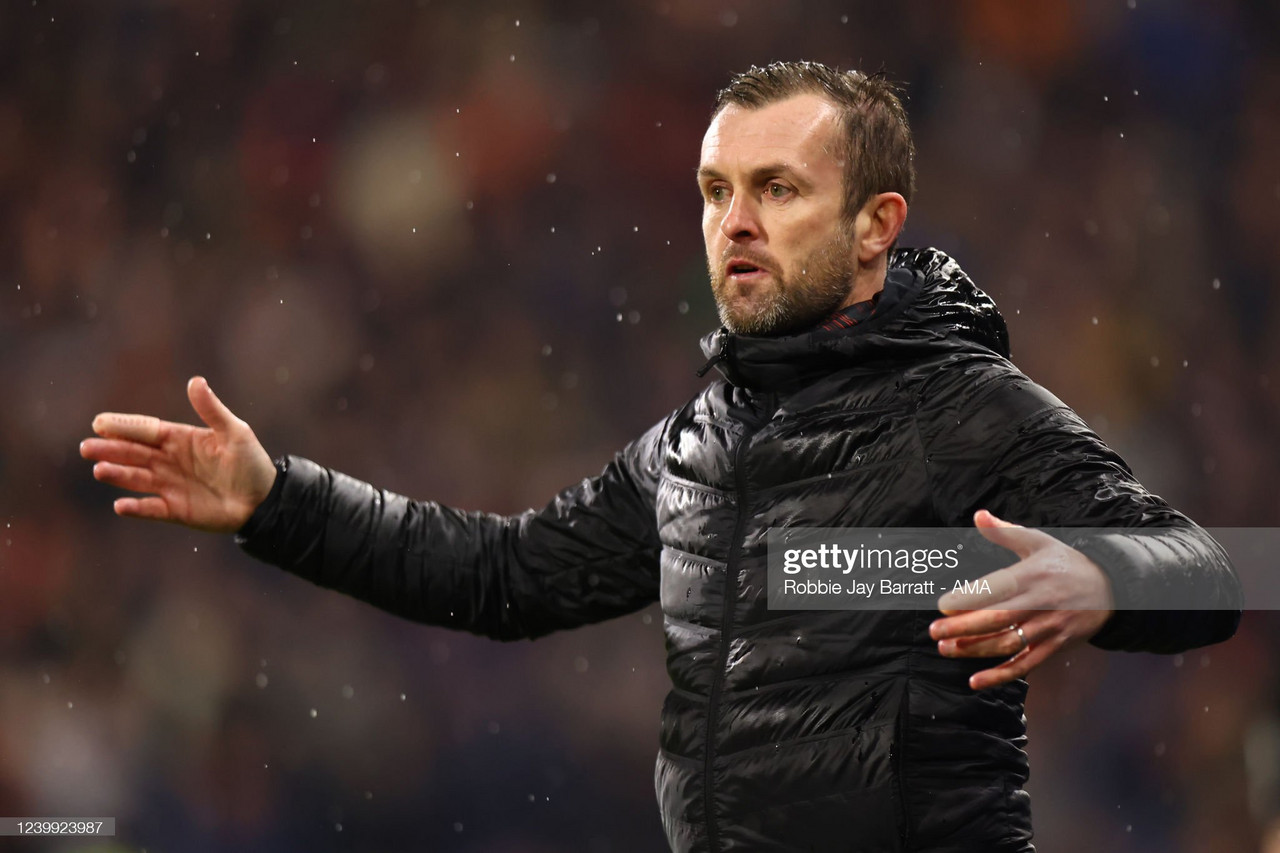 Nathan Jones was a despondent figure yet again as Huddersfield Town compounded a slowly stagnating period for the Hatters.
The hosts at the John Smith's Stadium battled to a 2-0 victory with second half goals from Jonathan Russell and Naby Sarr enough to edge out the travelling Bedfordshire side.
In what could be deemed a turning point in the game, Elijah Adebayo was unable to convert from the penalty spot. Despite the disappointment, Jones wasn't convinced the game hinged on the otherwise reliable forward's miss.
Luton, two situations and praise against adversity
"Well, it hinged on us not defending two situations. They didn't have to work hard. We were excellent I thought in terms of defensive shape. Everything we did - we were bold, brave, we moved the ball.
(With the first goal) "There's an element of luck. Then late on, Naby Sarr comes on. He's 6'7 and no one picks him up and you think "oh, come on" - so two naive bits of defending and that's cost us."
Penalty miss from uncharacteristic Adebayo
Luton obviously watched a golden opportunity to get back into the game slip into the abyss, as Elijah Adebayo's penalty went clattering off the woodwork on 70 minutes. It was an uncharacteristic miss from the spot from Adebayo, who although off the pace in this fixture, Jones believes will come back stronger.
"He was way off it for his own standards and then when he's like that (those standards) they're compounded. He'll come back, he's been excellent this year.
"Let's avoid any blame because he's been wonderful, a real good focal point for us and we go again on Friday. He'll be back at it."
More injuries as Hatters looked to fit square pegs in round holes at Huddersfield
Continuing a frustrating but albeit common theme for Luton this season, another game saw the squad blighted by two further additions to the unwieldy injury tally. Both Pelly Ruddock-Mpanzu (knee) and Henri Lansbury (neck) had to be replaced.
"It's tough, (Henri) tried to soldier on but he couldn't and it means another midfield player lost. We lost Pelly with a knee injury. That's the thing at the minute. Catastrophic injury list in terms of Gabe Osho, Jordan Clark, Luke Berry. Pretty much everyone has been out and that's cost us.
"We're losing people, we've had centre halves who've been out. We've got to contend with it. I'm sure others are contending with similar stuff, not quite as bad I think but we were the victims of our own downfall tonight."
Defeat in Yorkshire could be what Town needed
In his post match interview, Jones picked out an important sentiment in this defeat and suggested perhaps it was what Luton needed.
"I think it could be one of the best things that could've happened to us. When we've been in third place and we've had that game to really cement it - we haven't.
"It's when we have to chase, we gather momentum. It could've come at a good time, if we go bang bang bang now - it's a wonderful time to do so. But, hit on the nose, we usually bounce back."
Jones, perhaps looking to spur his players on, also had this observation. A little subliminal jab from the Welshman?
"I think the group might not be ready to establish itself as a top three, top four side. Let's be honest, it's a longshot to try and do that in this division. Five games, five absolute glorious games to go."
When asked "Nothing to lose, Nathan?", Jones responded adamantly.
"Everything is to gain. We want to achieve something, we're bang on track. If we go and get a certain amount of points that we believe we can, look there's real opportunities."
Luton are back at home for the next trial and against yet another play-off rival, Nottingham Forest. Jones alluded to Sky's rescheduling and gruellingly quick turnaround.
"It is a quick turnaround. It's a bit unfortunate. We've had all our games switched. We haven't had a three O'clock kick off for a while. Being on Sky six, seven times, whatever it is - it's tough.
"They must like us, we had an entertaining game. Forest will have a full week to prepare, we got two days, so it is difficult."
Difficult it may be, a return home to Kenilworth Road will be welcome as the Luton boss wrapped up his thoughts with praise for the fans.
"We've given them everything, together we've been really good all season. Now, it's the final thing. We can't falter, we can't stutter. We have to be strong, we have to be together. We have to go out and get the results we need.
"It's tough, it's really disappointing (today) but we've got to get over that because there's plenty still to play for."