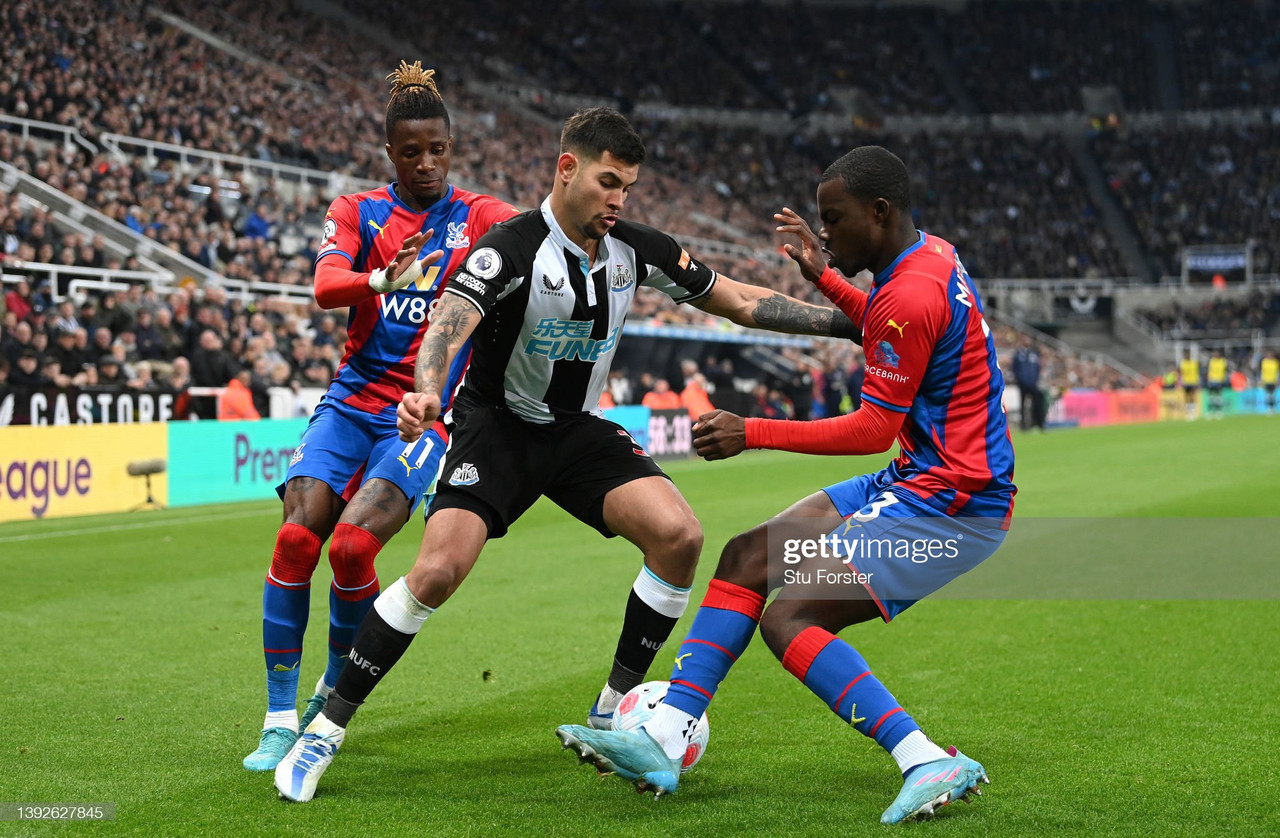 How do you solve a problem like Odsonne Édouard? A player of obvious talent, Edouard has struggled for minutes since the turn of the year, with the more physical Jean-Philippe Mateta preferred as the central striker.
On the evidence of this game, it's easy to see why. Afforded a rare start, the former Celtic man looked rusty, his touch was shaky, and he struggled to influence the game.
There is clearly a good player in there somewhere, and he did look more threatening after Mateta was thrown on as his strike partner. But there is no indication that Vieira will pivot to starting two upfront any time soon, and the left-sided slot is locked down by club legend Wilfried Zaha.
It's obvious that he needs a run of games, but where exactly does he fit in? You sense that remains an open, and increasingly problematic, question.
The Eagles enjoyed 64% possession against Newcastle, yet they rarely looked like scoring. By contrast, in the thumping of Arsenal at the start of the month, they had just 31%. In fact, if you look at how much of the ball Palace have had in their last 6 Premier League games, a theme emerges:
Newcastle 64% lost 1-0
Leicester 49% lost 2-1
Arsenal 31% won 3-0
Man City 26% drew 0-0
Wolves 36% won 2-0
Burnley 59% drew 1-1
Both of their victories in that time, as well as that heroic draw against Manchester City, came in games where they had far less possession than their opponents. For all the talk that Vieira has transformed this team into a dominant force with the ball, the suspicion remains that they are still more effective when they don't have it and can play on the counter.
In truth, a team in Palace's position needs to have multiple options up its' sleeve and be able to tailor their approach to the opponent. Palace have played a variety of different ways this year, and Vieira will be pleased with his team's adaptability.
Vieira must find a way to accommodate Eze
If, as expected, Conor Gallagher does not return to Selhurst Park for the next campaign, he will leave a gaping hole in Palace's attacking midfield options. The obvious candidate to replace him will be Ebere Eze, a standout performer in his debut 20/21 season at the club.
That impressive campaign, though, has been followed by one of frustration, as Eze has struggled for game time following a serious Achilles injury. He once again did not make it onto the pitch at St. James' Park, and as he watched on from the bench, he could perhaps be forgiven for wondering what life might have been like had he taken the opportunity to move there on loan in January.
Like Odsonne Edouard, Eze is a player who doesn't have an obvious place in Vieira's preferred 4-3-3 system. But the Eagles' boss will surely appreciate the importance of re-integrating this supreme talent before the season is out. He will be needed next year.
Palace need to keep minds away from the beach
A third straight defeat in league and cup leaves Palace in 14th place, with sizable gaps to both the European and relegation spots. The FA Cup run and a string of positive league results, culminating in that joyous routing of Arsenal, had fired enthusiasm and energy at Selhurst, but that has been dampened now. Here, in the words of captain Marc Guéhi, they started badly and got exactly what they deserved.
Realistically, the team has little left to play for but pride, and with three of the remaining six fixtures coming against teams in a similar position, there is a real risk that the players may find their minds wandering onto the proverbial beach.
Patrick Vieira will be desperate not to let that happen.
He looked agitated in his post-match interviews and made it clear that the performance here, especially the first 30 minutes, wasn't good enough. He warned his players that he is expecting more from them in the closing weeks of the season. Time will tell if they heed this.
Palace might not have a better chance to get a result at Newcastle for some time
Victory over Palace took Newcastle to 40 points and all but guarantees their survival.
Like it or not, the Magpies are going places. Their new financial power may be of questionable provenance, but it nonetheless gives them the means to spend big in the summer transfer window, and every transfer window after that until they get to where they want to be. And that is several levels above where they are now.
This game may turn out to be the last time Palace take them on as mid-table peers, and Steve Parish will have taken note. The Premier League gets harder every year, and with another club being added to the list of those the Eagles are certain to finish below, Parish's own challenge to take the club to a new level becomes a little steeper. It is a timely reminder that the club simply cannot afford to stand still, and must continue to invest in the first team if they want to remain competitive.