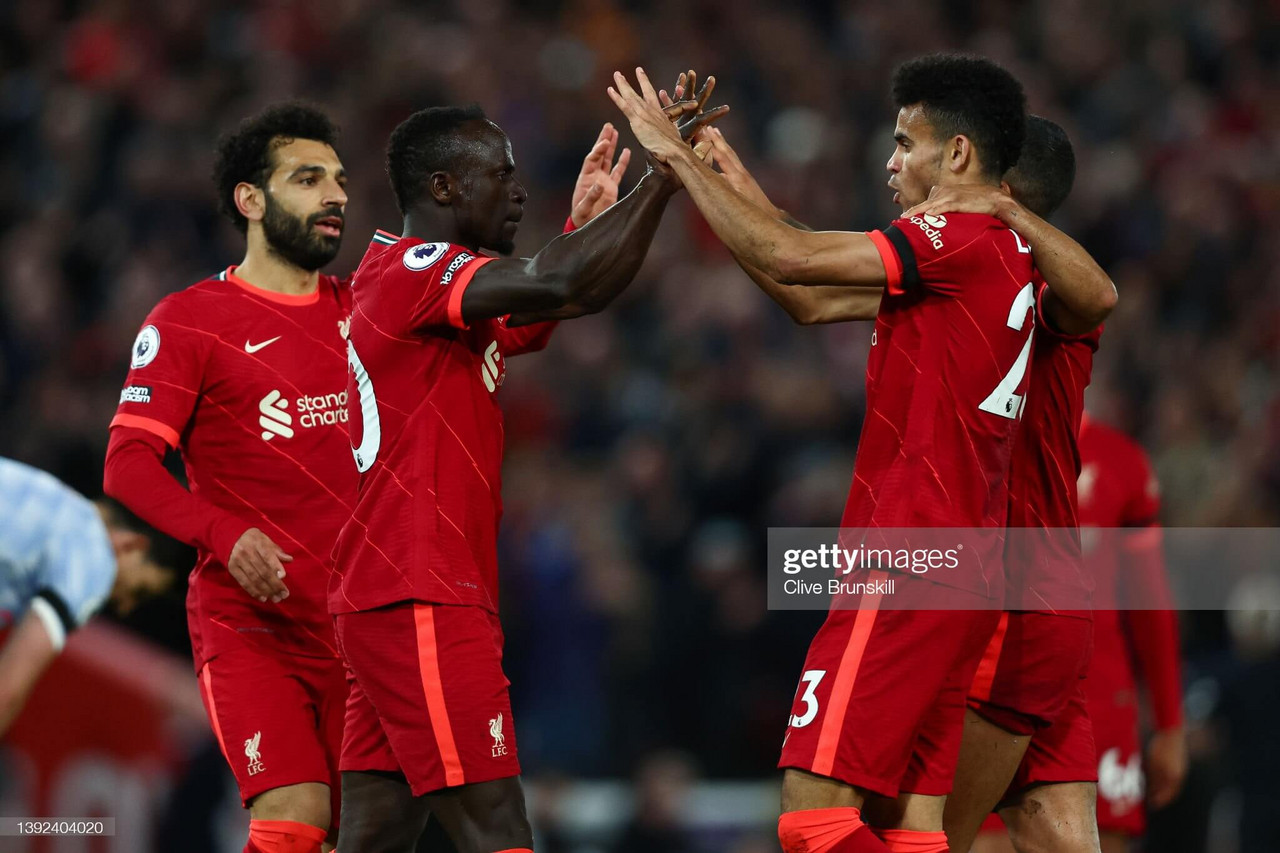 Frank Lampard watched Liverpool's 4-0 demolition of Manchester United on Tuesday evening from his Merseyside flat and, even though the Everton manager is not afraid of fronting up to any challenge, the thought of turning off the television may have crossed his mind. For it is his Everton team who cross Stanley Park on Sunday afternoon for a Merseyside derby they're given little chance of taking anything from.
Everton will be the latest side to come up against this red hot team, going well in the Premier League, FA Cup and Champions League. Liverpool's season is reaching its crescendo with players and supporters alike relishing every moment as the hunt for four trophies enters the final stages.
Playing Liverpool is no easy task. In the past 10 days alone, Jurgen Klopp's team have advanced past Benfica from the European quarter finals, booked their place in the FA Cup semi final courtesy of a 3-2 triumph over Manchester City and served up the latest humiliation to troubled Manchester United in front of a baying Anfield.
In those games and beyond, Liverpool's attack has been on song. That Klopp's team haven't been involved in a goalless game this season says as much.
The attacking trio of Mo Salah, Sadio Mane and Roberto Firmino — the reliable front three of much of Klopp's reign — has been bolstered by the introduction of Diogo Jota in 2020 and Luis Diaz in January. Now, Liverpool possess a contingent of attackers who not only provide greater strength in depth but also compliment each other perfectly. It's a testament to the club's recruitment strategy.
This season, Liverpool have three of the Premier League's top scorers and the winning margins that Klopp's team have attained showcase their prowess: they have won by one goal on four occasions, two goals eight times, three goals five times and by four goals or more in six matches.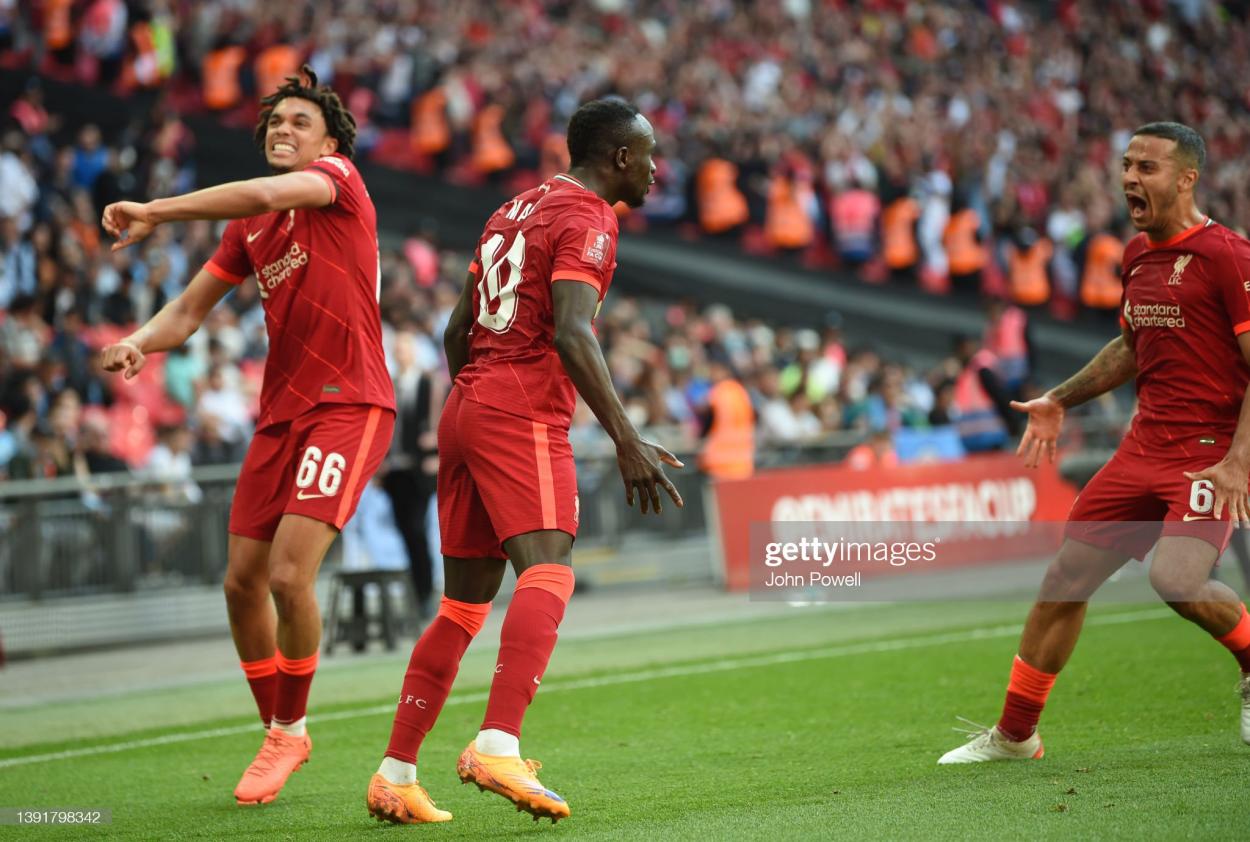 It is interesting to observe how the arrival of Diaz, signed from Porto, has seemingly thrusted Liverpool's forward line to greater heights. Not only has the Colombian had an immediate impact, scoring four goals and providing two assists across his 17 appearances, but he has become a starter in Klopp's first-choice attack. His high energy, perfect for Liverpool's incessant pressing game, and big smile, that the manager often comments on, has ensured the smoothest of transitions.
Diaz thrives on the left and so, as a consequence, Mane has often been deployed centrally. This hasn't hampered the Senegal international's performances; he scored twice against City in the FA Cup semi final last Saturday and showcased his ability in tight spaces with an around-the-corner assist against United. Mane's goal tally of 19 combined with three assists demonstrates his continued influence.
Likewise, Salah's numbers speak for themselves. And even though the 29-year-old's opening goal on Tuesday was his first from open play in 12 matches, his impact in the final third transcends that relative slump. That said, his 30 goals and 12 assists across his 42 appearances are startling. Salah has had the most shots on target per game in the league highlighting his wont for always testing the 'keeper.
What is noticeable is that the Diaz-Mane-Salah combo is Klopp's current first choice for the biggest games. Of the last 18 matches stretching back to early February, the trio have started eight of them including the League Cup final against Chelsea and the FA Cup semi final. Klopp trusts that unit to breakdown defences.
The relationship that Diaz has struck with Mane and Salah has become increasingly evident in recent games. Against United, all three scored and assisted — that is a true sign of an attacking trio in sync.
The form of Diaz, Mane and Salah may be seen as a detriment to Jota, but the Portuguese's ascendency has not diminished. The 25-year-old has made more appearances than any other Liverpool attacker this season (45) but a larger proportion have been from the substitutes bench. Jota, rightly or wrongly, can be seen more as an accomplished 'finisher', for instance, he comes on to exploit a tired defence.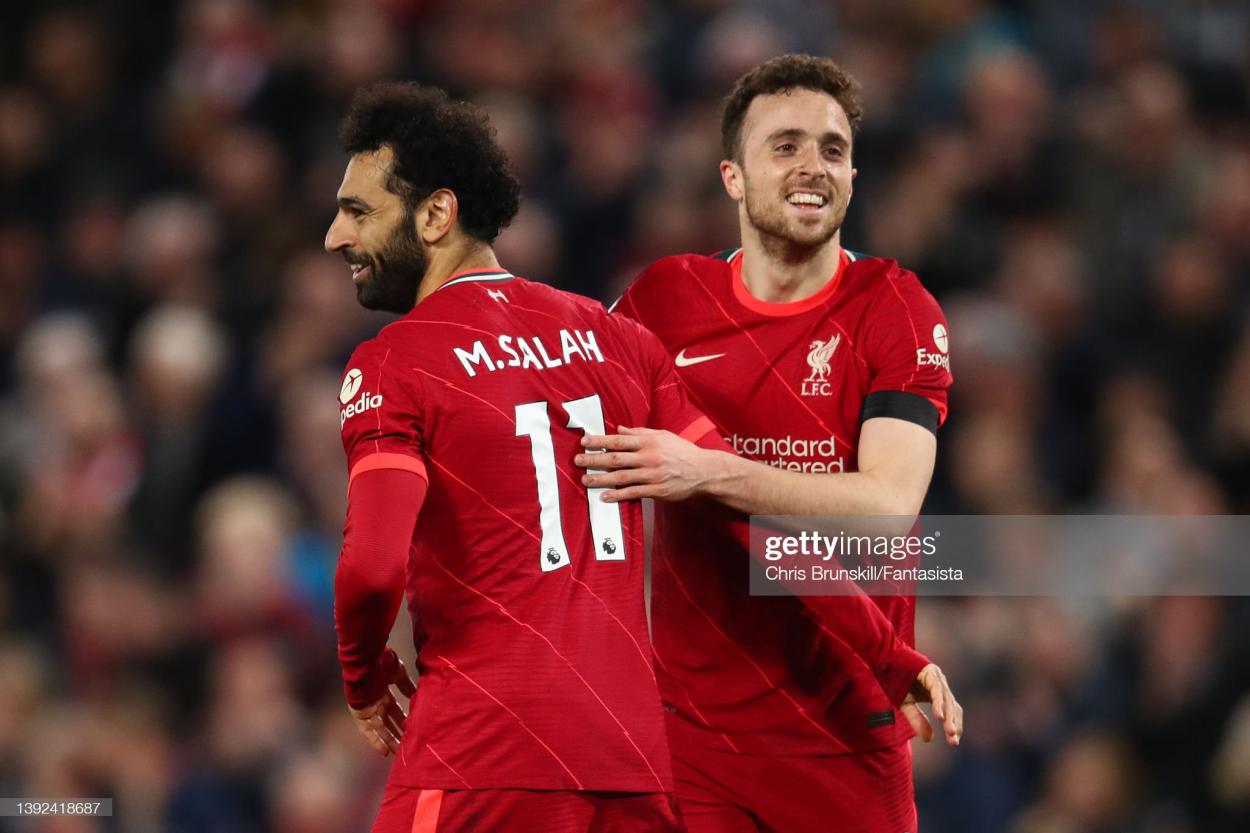 However, that is largely untrue. Jota has been rotated in and out of the team but his impact remains constant. His goals have carried substantial weight too. Ten of his 21 goals this season have given Liverpool the lead in matches, while he also converted the winning penalty in the League Cup quarter final and scored the two against Arsenal to take them into the final.
Similarly, Firmino, who has moved down the pecking order but still remains valued, has contributed with 11 goals and four assists in his 31 appearances. Crucially, whoever starts in Liverpool's forward line, it's usually devastating. The embedded approach of high press, quick running and sharp passes enables each of them to excel. Even squad players Divock Origi and Takumi Minamino have good goals-to-minute ratios, albeit they have come against weaker opposition.
Such high-calibre attacking talent working as one has been a substantial part of Liverpool's quest for an unprecedented Quadruple and allowed Klopp the luxury of rotating from a position of strength. What's more, the service that they receive is also outstanding. Liverpool possess the top three assist-makers in the division.
Also, the growing influence of Thiago Alcantara has helped Liverpool become even more potent. In the 14 matches that the Spaniard has started, Liverpool have won 13 and drawn one, scoring 41 and conceding four. Without him, they have suffered two losses and drawn six. Liverpool's three-man midfield is new to Thiago, who was accustomed to a double pivot at his previous club, Bayern Munich.
Now up to speed, he is passing earlier and forward more, releasing the attackers into space. He put on an exhibition against United with no-look passes and drag-overs galore — he rightly got a standing ovation. But, as Klopp points out, this is not about one player, rather the collective. And Liverpool have a collection of attackers who bring the best out of each other.
Good luck trying to stop them, Frank.