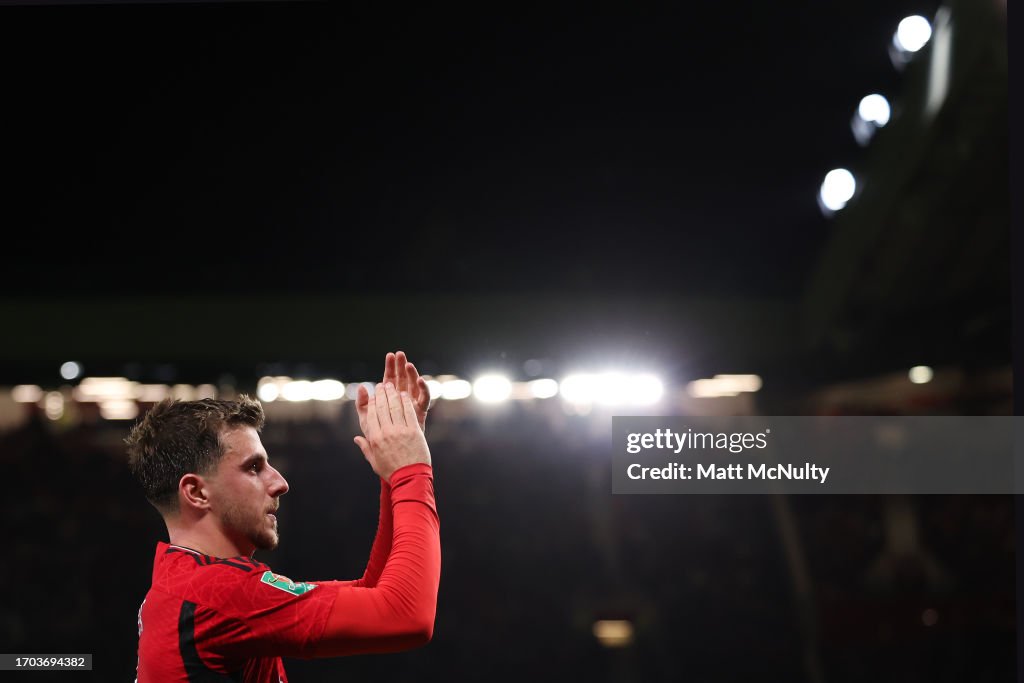 Manchester United eased their way to victory after brushing aside Crystal Palace in what was their most complete performance of the season thus far. United were dominant from minute one, and even though their dominance was in part due to Palace inviting pressure on themselves by sitting behind the ball, United continued to probe until the goals inevitably started rolling in.
The first goal came courtesy of Alejandro Garnacho, who stroked the ball into the goal, assisted by Diogo Dalot. The key pass in this sequence however was Mason Mount's excellent diagonal ball into Facundo Pellistri to kick off the move.
United's second came from a Mount corner into Casemiro, who headed it emphatically into the far left of the goal, his fourth goal of the season so far. United were surely aware of Palace's tendency to score goals in the second half of games, but United ended that hope quickly in the second half when Casemiro delivered his second goal contribution of the game, assisting Anthony Martial to all but seal the win for United.
Even though Andre Onana had a fairly easy night, when called upon he showed his concentration by making two big saves to make sure he secured his third clean sheet of the season. United were able to rotate comfortably as well, allowing for 19 year old Dan Gore to make his senior debut for the club on his birthday, and show the type of midfielder he has the potential to be.
Here are four things we learnt from the night.
United showed that they can execute ten Hag's ideas with the right profiles
The lineup that started the game looked very tactically flexible on paper, and on the pitch the dynamism was clear to see. Every player understood their role and delivered in their positions, sticking to ten Hag's instructions and executing his plan brilliantly.
Mount started as a 10 but was clearly given license to go wherever he wanted on the pitch to collect the ball and help circulate possession, similar to Bruno Fernandes. Mount and Casemiro proved to be great mediums for creation in the final third with both of them having four key passes and two big chances created between them.
The wingers were also clearly instructed to hold width and only carry the ball infield if space appeared, and this allowed Sofyan Amrabat and Dalot to invert effectively to manipulate play in the half-spaces. The tactical fluidity of the lineup meant that throughout the game United regularly switched between 2-3-5, 3-2-5 and 3-1-6 in possession shapes, which is something that will become easier to do with time.
Every action on the pitch from the United players was performed in tandem, meaning that the actions were cohesive and visibly rehearsed for most of the game. This was a performance where, tactically, nothing went wrong for the United manager, and the performance was evidence of how effective his tactics can be with the right profiles in the team and his important players back in the team.
Amrabat will prove crucial to United's hopes of success this season
Amrabat was given an hour to show what he could do and acquitted himself expertly. He started at left-back but even before the game it did seem likely that he would be inverting, and it didn't take long for him to start drifting infield.
Amrabat was a calming presence in United's midfield, something they haven't had for a while, and a key to helping United disseminate possession all over the pitch. While there were times during the game where he could've opted to receive the ball on the half-turn rather than with his back to goal, he made up for his lack of risk-taking in that department with his positive risk-taking in his passing, completing five of six long balls.
Amrabat's relationship with Garnacho was conductive to his dominant influence on the game especially in the left half-space as Garnacho for the most part held width, allowing Amrabat to operate in that zone and get more players involved in and around the final third.
It was clear that Amrabat being on the pitch was helping Casemiro and the centre-backs a lot too, because at times Amrabat would become the CCB in possession whilst Casemiro pushed higher, and vice versa - this helped United stay on the halfway line and suffocate Palace whilst in control of possession.
How to get Amrabat into the team for future games is a positive dilemma for ten Hag to ponder, but what is definitely certain is that Amrabat has to start for United regardless.
Palace's game-plan went horribly wrong
From minute one it was obvious that the Palace players were instructed to sit behind the ball and play on the counter, but the problem was that the players either weren't properly anticipating or gauging when to press United, or they just lacked the sufficient profiles to execute Roy Hodgson's plan.
Ultimately Palace just ended up inviting too much pressure, and because United's game-plan was working so effectively, Palace weren't able to deal with all of the zone overloads and positive possession keeping. It was becoming clearer that around the thirty minute mark the Palace players were tiring because they had been spending that half-hour chasing shadows, and this problem persisted for the rest of the game.
Palace will likely be better on Saturday
Palace were slightly better when more of the starters like Eberechi Eze and Marc Guehi were substituted onto the field. Eze is their most dangerous attacking threat, and it showed in flashes whenever he entered the final third, but he couldn't do much because the Palace players looked to have in the back of their heads an acceptance that the tie was over.
Palace's main centre-backs in Joachim Andersen and Joel Ward were missed too, as they have proven that they can be simultaneously aggressive and calming at the back for the team. It also remains to be seen what will be of former United goalkeeper Dean Henderson, who will have been gutted to have to leave the pitch with an apparent injury. When Sam Johnstone replaced him he wasn't able to distribute the ball as well as Henderson, and it sacrificed even more control for Palace.
With Palace to surely field a better lineup on Saturday though, it is also rather likely that their performance will improve too.