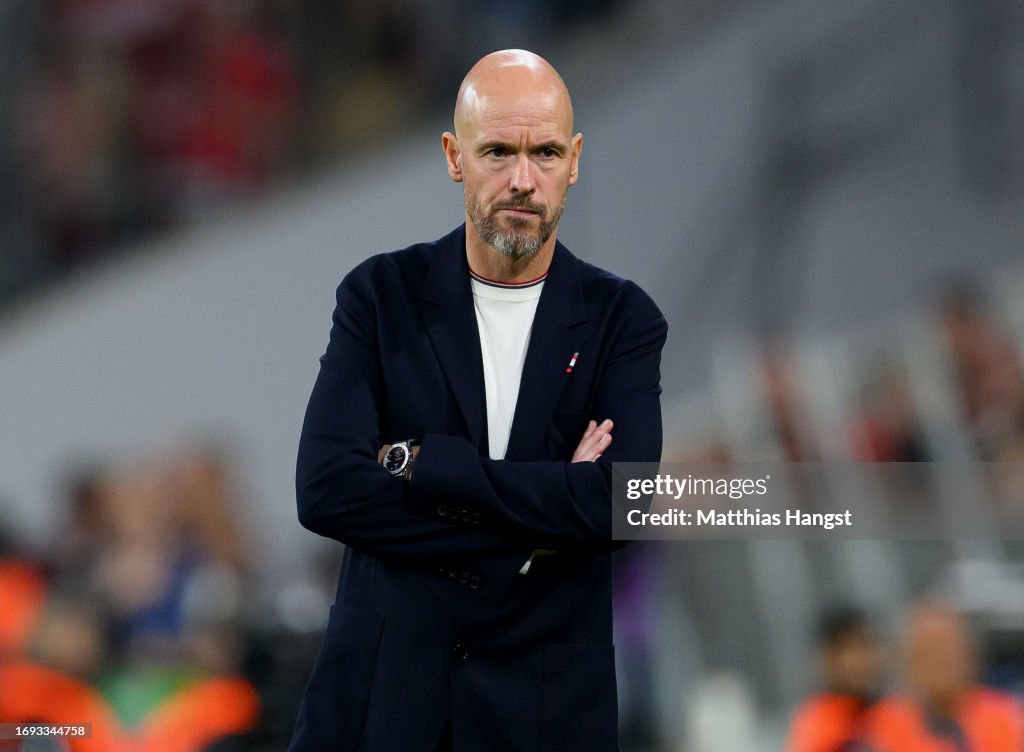 Bayern Munich took all three points on Matchday 1 in Group A of the Champions League after putting four goals past Manchester United at the Allianz Arena.
Truthfully, the scoreline is quite flattering for the red devils as for much of the game Bayern were on top, having nine shots on target from nineteen attempts, in comparison to United's four shots on target from nine attempts.
Bayern remain undefeated since the official start of the season in all competitions, whilst United only have two wins to show for the six games they have played so far this season.
Here are the player ratings from last nights seven-goal bonanza.
Bayern Munich:
Sven Ulreich - 5
Ulreich faced four shots on target and managed to concede three whilst only making one save all game. In possession he was clearly put under pressure by United's press and often made reclaiming possession of the ball easier for United. He wasn't exactly a presence in the box for United's set-pieces either, having to rely heavily on his defenders to bail him out at times.
Konrad Laimer - 5
Marcus Rashford had the beating of him for large parts of the game and his night didn't get any easier when the likes of Alejandro Garnacho and Anthony Martial came on. He improved slightly in the 2nd half going forward but was largely out-shined by the wingers in front of him.
Dayot Upamecano - 7
Excusing the questionable defending for both Casemiro goals, Upamecano was fairly comfortable and confident throughout the game. Was a useful asset in retaining possession and was strong and aggressive in his duels, playing a big role in nullifying the threats of Rasmus Hojlund and Rashford.
Kim Min-Jae - 6
His passing was sufficient as usual and helped push Bayern up the field to heap more pressure onto United's midfield and defence, however he was uncharacteristically timid at times in defence, and didn't win any of his duels.
Alphonso Davies - 7
After ten Hag's comments regarding his defensive capabilities, perhaps it gave Davies further motivation to have a solid game at left-back and deal with Pellistri, and that's what he mostly did. His recovery pace was key to Bayern being able to consistently win the ball back in their half and counter-attack, and Davies won the majority of his duels against Pellistri too.
Joshua Kimmich - 8
One of Bayerns best players today. Was the key to Bayern being able to circulate possession so well, and delivered a brilliantly weighted pass to Mathys Tel for Bayerns fourth. A proper captains performance from the German international.
Leon Goretzka - 7
Formed an organised pivot with Kimmich, and was another reason why Bayern were able to easily win the midfield battle. Stayed deep when Kimmich would push high and his passing was largely accurate.
Jamal Musiala - 9
The star of the show. With the maturity and confidence he exudes on the pitch it's hard to believe he's still only 20 years old. An unbelievably efficient creative display in which the German international dominated the final third, putting United's midfielders and defenders into panic mode whenever he carried the ball over long distances. The main reason Bayern were able to win tonight, and while he only recorded one assist he arguably should've had more.
Leroy Sane - 8
While he was very fortunate to score, he was still a constant threat to United all game. He was constantly bursting into space and like Musiala, he was posing a massive creative threat in the final third. Very nice to see that even after his injuries he's still such an explosive athlete.
Harry Kane - 9
Another world class performance from a world class striker, who is clearly enjoying being surrounded by such a dangerous attacking arsenal of players. He remained a constant threat in the final third, recording four key passes and registering an assist.
Serge Gnabry - 6
Outside of his goal, his performance was fairly average as Sane was monopolising most of Bayerns attacks.
Substitutions:
Mathys Tel - 7
Was a constant threat when he came on and rifled his goal into the roof of Onana's net, sealing the win for Bayern.
Thomas Muller - N/A
Kingsley Coman - 7
Picked up where Gnabry left off by providing a constant threat around the box. Would've had a goal if not for a good Onana save.
Became an instant threat whenever he was in and around the box and had two good chances saved by Onana.
Manchester United:
Andre Onana - 6
Despite the schoolboy error which gifted Bayern their first goal, Onana picked himself up and managed to put on a solid goalkeeping display. He completed the majority of his passes and was still very influential in United's first phase buildup. Onana also prevented the scoreline from being a lot worse, recording five saves.
Sergio Reguilon - 6
Although it wasn't his best performance ball retention wise, he was still one of United's most important players in the match by simple virtue of him showing a fight and spirit that many United players failed to exhibit.
In possession he was fantastic, but his defending at times left much to be desired. It didn't help that his centre-back partner Victor Lindelof had a shocking defensive display either.
Victor Lindelof - 3
Whilst in possession he was fairly acceptable, defensively however he was quite simply atrocious. At times it was as if Martinez was having to defend the box himself. Too easily bypassed and too easily bullied. Raphael Varane can't come back soon enough.
Diogo Dalot - 6
A largely average performance.
Casemiro - 6
The two goals seriously flatter Casemiro, because he was treating the ball like a bomb all game. Was non-existent when Bayern counter-attacked and was once again too rash in his decisions to go to ground for tackles. Wouldn't be surprised if a run of good games from Sofyan Amrabat makes ten Hag seriously consider dropping Casemiro for the foreseeable future.
Should ideally be his last time starting a high-pressure game for United. Physically he's finished.
Bruno Fernandes - 7
Have to commend the fact that the skipper was still able to help influence things in the final third for United despite having to take responsibility for the defensive duties of his midfield pivot. Brilliant assist for Casemiro's goal.
Marcus Rashford - 7
As usual was one of United's only threats going forward. Showed more effort in his pressing and tracking back too.
Rasmus Hojlund - 7
Another positive performance from the young Dane. Constantly made himself an option upfront and once again showed intelligence in his box movement to put away his first (official) goal for United.
Didn't show enough.
Substitutions:
Anthony Martial - 7
Made an instant impact when he came on and looked sharper than he's been all season. Very influential in Casemiro's first goal.
Scott Mctominay - 4
An average cameo tuned into an embarrassing one after he lost the ball and failed to track his his man, leading to Bayern's fourth.
Didn't impact the game much at all when he came on. Was largely out-shined by Martial.