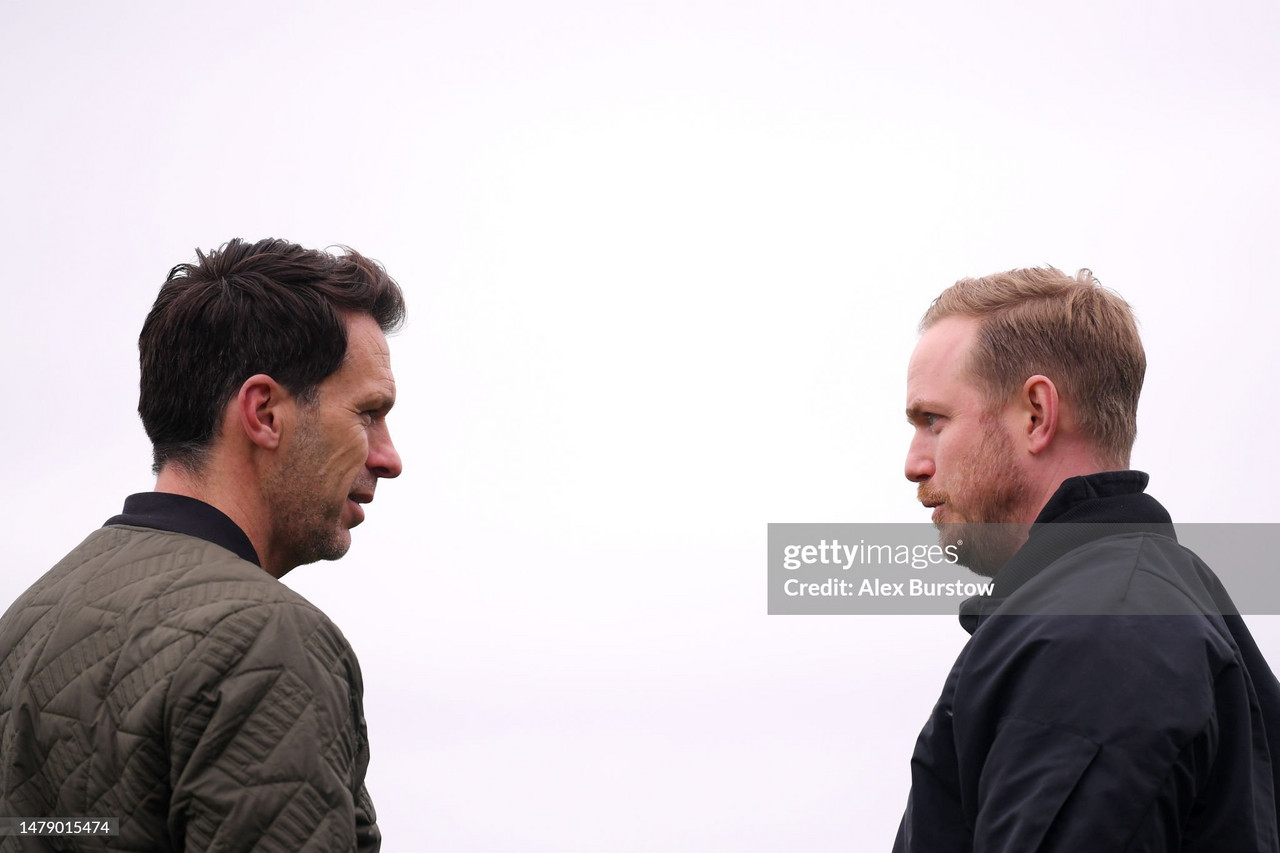 Arsenal appear to have kicked into gear following their sluggish start to the 2023/24 Barclays Women's Super League season - but while the Gunners have started to pick up the points, there are still concerns that they have conceded in every game since their infamous UEFA Women's Champions League elimination.
on Arsenal's defensive struggles
'I think the last seven games we haven't been able to keep a clean sheet. If you look back over the last two seasons, we've been very good with keeping clean sheets and we're constantly looking for ways to improve that,' Eidevall explained in his pre-match press conference ahead of Arsenal's trip to Leicester City's King Power Stadium on Sunday.
'The reality of it is the number of chances that we concede in the games is probably the lowest in the league. We have the lowest conceded expected goals in the league compared to all teams but we definitely don't have the lowest number of conceded goals, which is a problem.'
'Sometimes that's how football is that things don't get distributed evenly, but they're also things that we allow, big chances that we need to correct in our defending.'
Eidevall cited efficiency as the leading cause for Arsenal's shortfalls thus far this season, in both attacking and defensive areas.
'When it comes to our offence and attacking play, I think we have come from a game against Liverpool, where we didn't create enough, to come into games from Man United and onwards where we have created more and more in the games. We probably lacked a little bit of efficiency.'
'We got that back against Manchester City and I think from a creation perspective when we played against Bristol in the Conti Cup yesterday, that was also good, so I think that's something that we are continually improving upon.'
on settling into the season
Jonas Eidevall dismissed the idea that the Gunners are settling into the season, explaining that 'he's a very big believer that you play one game at a time and after all games you see where you finish in the league table. In regards to our development, I think I've been very clear from the beginning this season that time has not been a friend of ours.'
'Going into the Champions League qualifiers and then coming into the first game of Liverpool, I spoke about how limited the number of training sessions had been where we had been able to work with the whole squad.'
'I see as a team that we're going to develop during the season. We're far from a finished product and if we use the time in the right way we're definitely going to be able to develop and grow and that's what I think you can see from this Arsenal side because the players have been training very well, applying themselves and we go from game to game and learn new things. We develop together. Do we have room for more development? Absolutely.'
on added pressure against Leicester
Twelve months ago, it would have been unfathomable for Arsenal and Leicester City to be separated by just three points - but that is exactly the case ahead of Sunday's encounter on the banks of the River Soar.
Regardless of their proximity in the league standings, Eidevall insists that there is no extra pressure to perform. 'Every time we step onto the pitch we want to do our best to win and like I said before, the league table is not going to be decided after six rounds. We need to treat it on a game by game basis.'
The boss was also keen to highlight that 'it is early in the season, teams have played very uneven home and away and [against] different opposition - but let's play more games and let the league table settle a little bit more before we start jumping towards early conclusions.'
on Leicester's form this season
'The way that they have recruited and the way that they have played since January last year, they are competing in every game and are a really hard team to play,' explained Eidevall when questioned about the Foxes' improvements this term.
'They obviously play with a really high pace, high intensity, pressing football and now the manager has had two transfer windows he has been able to bring in players who fit into that style and I think you can see that more and more as well.'
'We can definitely expect a really competitive game. Leicester's development and their investment in their squad absolutely shows the development and the growth of the league as well.'
He credits Willie Kirk for their transformation, as the Foxes have enjoyed a fantastic turnaround since his appointment last winter. 'I think Willie Kirk is a top manager who has done a really good job with Leicester - both in the way he recruits players but also getting his group of players playing really well - he has played a massive part in making them a really competitive side,' he added.
on Mead and Miedema's returns
'I'm really bad at celebrating anything on the football side,' explained Eidevall when questioned about the impact that there returning Vivianne Miedema and Beth Mead could have for his side.
'I think there's a quote from a Brazilian volleyball coach that, when the players are out celebrating the victory in the evening, I go back to my room and worry about the next fixture.'
'I think it sums up my life pretty much! I'm really pleased for the hard work that both those two players have been doing and that they now can start to be back on the pitch and doing what they love the most, but for my mindset, I very seldom stop and celebrate anything. I'm 100 percent focused on Leicester now and I want us to perform as well as possible as a team. Maybe that's a part of my own personal development where I need to improve.'
Understandably, Eidevall was quizzed by reporters as to whether he thinks Gareth Taylor's comments about his touchline behaviour against Manchester City was acceptable.
The City boss accused him of bullying the referee, with Eidevall claiming in midweek that the accusation is 'borderline slander' - given that he was not reprimanded by the officials during the match.
The Scandinavian was not in the mood to talk about the matter on Friday though, largely offering one-word answers on the topic - insisting that he has not received an apology from Gareth Taylor and that 'it doesn't take a lot of my thought process at the moment.'