Jose Mourinho has been confirmed as Manchester United manager following the sacking of Louis van Gaal on Monday evening despite FA Cup glory.
The Dutchman van Gaal failed to deliver United's minimum expectation of reaching the top four and therefore Champions League football but did guide the Reds to the FA Cup on Saturday evening.
Mourinho becomes Manchester United's 3rd manager in 3 years
The eight-time domestic league winner Mourinho has replaced him, signing a three-year-deal, with an option to extend his stay until 'at least 2020'. Mourinho's appointment was delayed due to issues with image and naming rights.
Van Gaal's position had looked untenable in recent months and particularly in recent weeks, the appointment of Mourinho has looked inevitable. United fans have endured a tough season under Louis van Gaal, with a period in December the worst performances from the Reds in decades.
Mourinho will now attempt to build on the work that van Gaal has done. There is no doubt that the Portuguese will have to continue to focus on rebuilding Manchester United. Since the departure of Sir Alex Ferguson, United have won just one FA Cup and have missed out on the UEFA Champions League twice in three seasons.
The appointment means the two men widely regarded as the two best managers in world football, Mourinho and Pep Guardiola, will face off in the Manchester derby next season with Guardiola at rivals Manchester City.
Mourinho comes in after days of contract talks
Van Gaal, for all his faults, has laid down a potential foundation for Mourinho to build on. United fans are excited by the prospect of the former-Chelsea manager, sacked in December, coming to the club. He has won the league title at every club he has been at, including three Premier League titles in two spells at Chelsea.
When Ferguson left in 2013, retiring after 27 years at Old Trafford, Mourinho was considered to be the favourite for the job. Yet the Scotsman elected David Moyes as his successor, only to be sacked before his first season has concluded, leaving United in seventh in the league.
Mourinho has flirted with United and their fanbase over the past decade. He became a world-renowned figure when his FC Porto side, on their way to Champions League glory, beat Ferguson's United at Old Trafford. In 2013, his Real Madrid side came to Old Trafford in Europe's elite competition and finished winners following a red card for winger Nani. In that match, he played with the crowd, responding to their taunts of "sit down Mourinho" before coming out post-match and suggesting that "the best team lost".
Van Gaal won FA Cup but not enough to save job
His sacking at Chelsea came at the same time as United's worst period of the season. They were beaten by Norwich City, AFC Bournemouth, and Stoke City and knocked out of the Champions League. At that point, it seemed van Gaal was set to be sacked too. However, he survived, partly due to his good relationship with Ed Woodward, Chief Executive Officer at United.
There have been some highlights during van Gaal's spell at United. The FA Cup glory at the end of his spell is the largest and a good way to bow out on a fine career.
Mourinho brings excitement back to Old Trafford
A large majority of Manchester United fans were desperate for managerial change and Mourinho's arrival has excited the fans hugely. His name and status alone are huge and his record speaks for itself. The Portuguese has won titles in each of the countries he has managed in. He has already won the Premier League on three occasions with Chelsea, in two separate spells.
However, not all support the appointment of Mourinho. His off-field antics, particularly in the 2015/16 season in a fiasco with the Chelsea physiotherapy team and at Real Madrid, worry some sets of supporters. United is a club of great tradition and Mourinho threatens to stop a record of 3,803 consecutive first team games with a youth player in the squad, stretching back to 1937. It is the longest record of that kind from any top European club.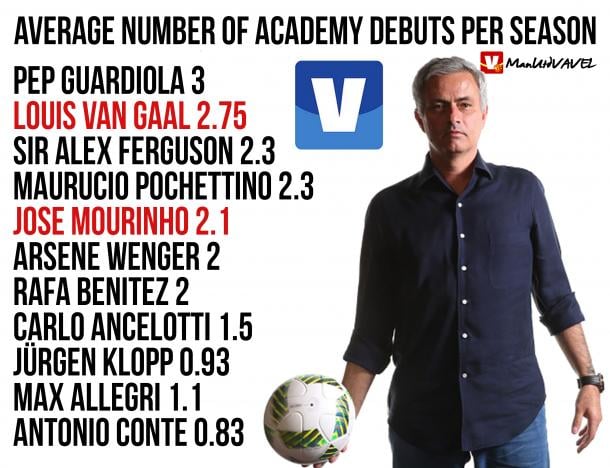 There have already been reports of Mourinho's potential summer transfer targets including Everton's John Stones, Juventus' Alvaro Morata and Real Madrid's James Rodriguez. One figure who is widely expected to come to United is Zlatan Ibrahimovic who worked with Mourinho at Inter Milan.