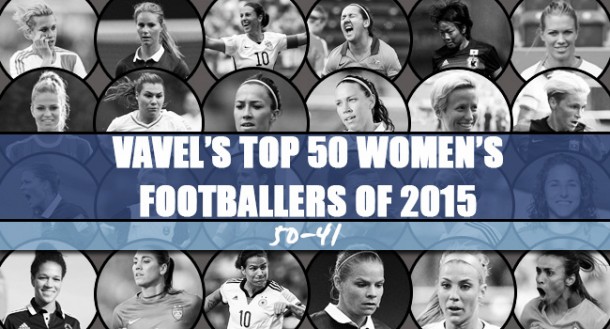 It's been a terrific year for women's football. The 2015 FIFA Women's World Cup captured more attention than the sport has ever enjoyed and now, as we look ahead to 2016, there is hope that the game can capitalise on this sudden spike in interest to help it grow and improve.
However, as the New Year beckons, it is also time for us to look back at the last 12 months and the players who really shone in this time.
So, without further ado, based on their form and achievements this year, here is the first installment of VAVEL's Top 50 Women's Footballers of 2015, starting with those ranked 50 to 41.
50 - Lia Wälti (Turbine Potsdam/Switzerland):
22-year-old Lia Wälti squeezes in at number 50 on the list, and it's easy to see why the Swiss midfielder is beginning to earn so many plaudits in both domestic and international action. With a passing range to die for, the Turbine Potsdam midfielder is an almost ever-present for the Frauen-Bundesliga side and helped them to a DFB-Pokal final last term.
It has been a rough start to the season, but she played her part in their spectacular 5-2 comeback win over VfL Wolfsburg in recent weeks and will hope that this is the start of their climb back up the standings.
49 - Toni Duggan (Manchester City/England):
Toni Duggan comes in to the list after an impressive year with Manchester City, scoring six times in 10 games to help the Citizens finish second behind Chelsea in FA WSL 1. Despite a fairly mediocre World Cup, she still played her part in the Lionesses' success in Canada and will be hoping to add to her eight England goals in the near future.
Unfortunately for the forward, her season was cut short with injury and this will only add fuel to her fire in order to get back amongst the goals and secure her spot in the England squad for the upcoming European Championship.
48 - Ewa Pajor (VfL Wolfsburg/Poland):
After earning herself a summer switch to Frauen-Bundesliga giants Wolfsburg, Ewa Pajor is one of the most promising players in the women's game right now. The 19-year-old made a mockery of Poland's Ekstraliga with KKPK Medyk Konin and so after four years with them, having made her league debut at a record age of 15 years and 133 days, it came as little surprise to see her snapped up by a bigger club.
After a stunning final season in her homeland, her goals helping Medyk to another league title, Pajor is now onto bigger and better things as she looks to establish herself at the top and 2015 has been a huge year for her as she looks to do so.
47 - Almuth Schult (VfL Wolfsburg/Germany):
Wolfsburg and Germany number one Almuth Schult arrives into the list at 47, in what has been a big year for the shot-stopper. She has officially taken over duties as national team goalkeeper after Nadine Angerer retired and claimed victory over Wälti's Potsdam in the cup final.
However, a nasty injury has curtailed her 2015 and she will have to fight to earn back both spots in the New Year. Schult's quality is not in doubt and has played a vital role in the Wolves' success in recent seasons though, especially when it comes to shot-stopping.
46 - Lisa De Vanna (Melbourne City/Australia):
Had England not reached the semi-finals and won the hearts of so many this summer, Australia would have received all the press and media attention in Canada as they battled their way out of the group of death to a quarter-final finish, where they were only upended by eventual runners-up, Japan.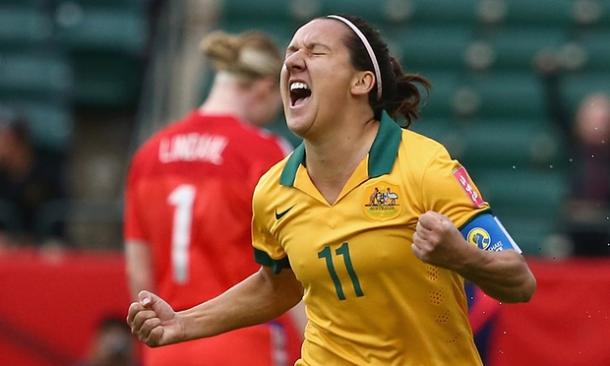 It was Lisa De Vanna who guided the Matildas there, the veteran striker using all her experience to unite a young and promising side who possess many players who will surely establish themselves in a top 50 list in a few year's time. A deadly finisher, a tireless worker and, above all, a marvellous leader, De Vanna set the example in Canada for her team to follow, and they did so brilliantly.
45 - Caroline Graham Hansen (VfL Wolfsburg/Norway):
Another one of Ralf Kellerman's team makes it into the top 50, this time Caroline Graham Hansen slots in to number 45. The Norway starlet has been a game changer for Wolfsburg, coming off the bench to great effect or generally causing havoc whenever she gets on the ball.
Her direct dribbling style and fierce shot has already punished Chelsea in this season's Champions League, and it would be no surprise to see a similar performance later in the competition. Always playing one-two passes around the area, her eye for goal is matched by her ability to pick a pass and it would be no surprise to see her further up the list this time next year; one to watch.
44 - Morgan Brian (Houston Dash/USA):
After a glowing college career, Morgan Brian was the first overall pick in the NWSL College Draft at the beginning of this year and she has not disappointed since joining the Houston Dash. Forming a stunning midfield partnership with Carli Lloyd, the 22-year-old showed her maturity in the division this season and had her and Lloyd been around more, the Dash really could have challenged for the Championship.
However, the two were instead lighting up the world stage, Brian helping the USA go all the way at this summer's World Cup as she picked up a winner's medal in her first senior tournament. Lauren Holiday's retirement will not come as as big a blow to Jill Ellis' side with this promising youngster in their ranks.
43 - Meghan Klingenberg (Portland Thorns/USA):
If there was ever one example of why physical stature isn't the be all and end all in football, it is Meghan Klingenberg. The diminutive defender doesn't let her height stop her from being one of the most consistent and tough-tackling full-backs in the game.
Her excellent performances helped the US to claim World Cup glory in Canada this summer, having featured in every single game. Her role at left-back was matched by Ali Krieger on the right, in what was a formidable back-line. Equally happy going forward as she is in defence, Klingenberg fully deserves to be on the list.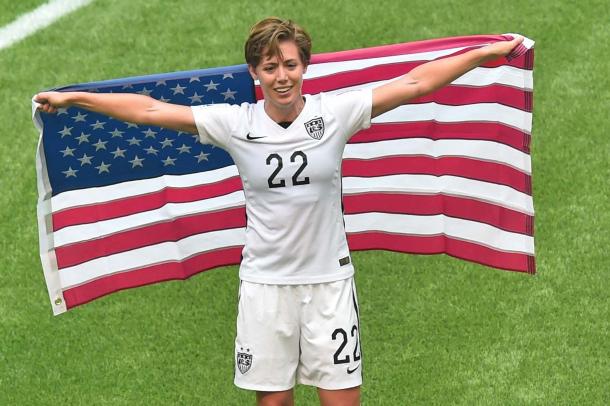 42 - Kadeisha Buchanan (West Virginia Mountaineers/Canada):
Another youngster who impressed at this year's World Cup was Canadian defender Kadeisha Buchanan, with the 20-year-old eventually picking up the tournament's Young Player Award for her efforts.
With 40 caps for her country already, the rumours of interest from French giants Olympique Lyonnais epitomise the potential that Buchanan has, with her rarely, if at all, displaying youth and naivety in the summer, despite the pressure being on her and her team as the hosts. Composed in possession, strong on the ball, a great reader of the game and the ability to drive forward, the defender has it all and can become one of the greats.
41 - Caroline Seger (Paris Saint-Germain/Sweden):
Caroline Seger completes the line-up, in terms of this section of 10 players. The Swedish midfield dynamo helped Paris-Saint Germain to reach the final of the Champions League, though she was suspended for the final.
Her presence and ability to transition the play was a massive loss, and could be viewed as a major factor in their defeat to 1. FFC Frankfurt. Her hard work and partnership in the middle with Shirley Trana Cruz has been fruitful in recent seasons, and looks set to continue this term with PSG set to challenge on all fronts heading into the New Year.