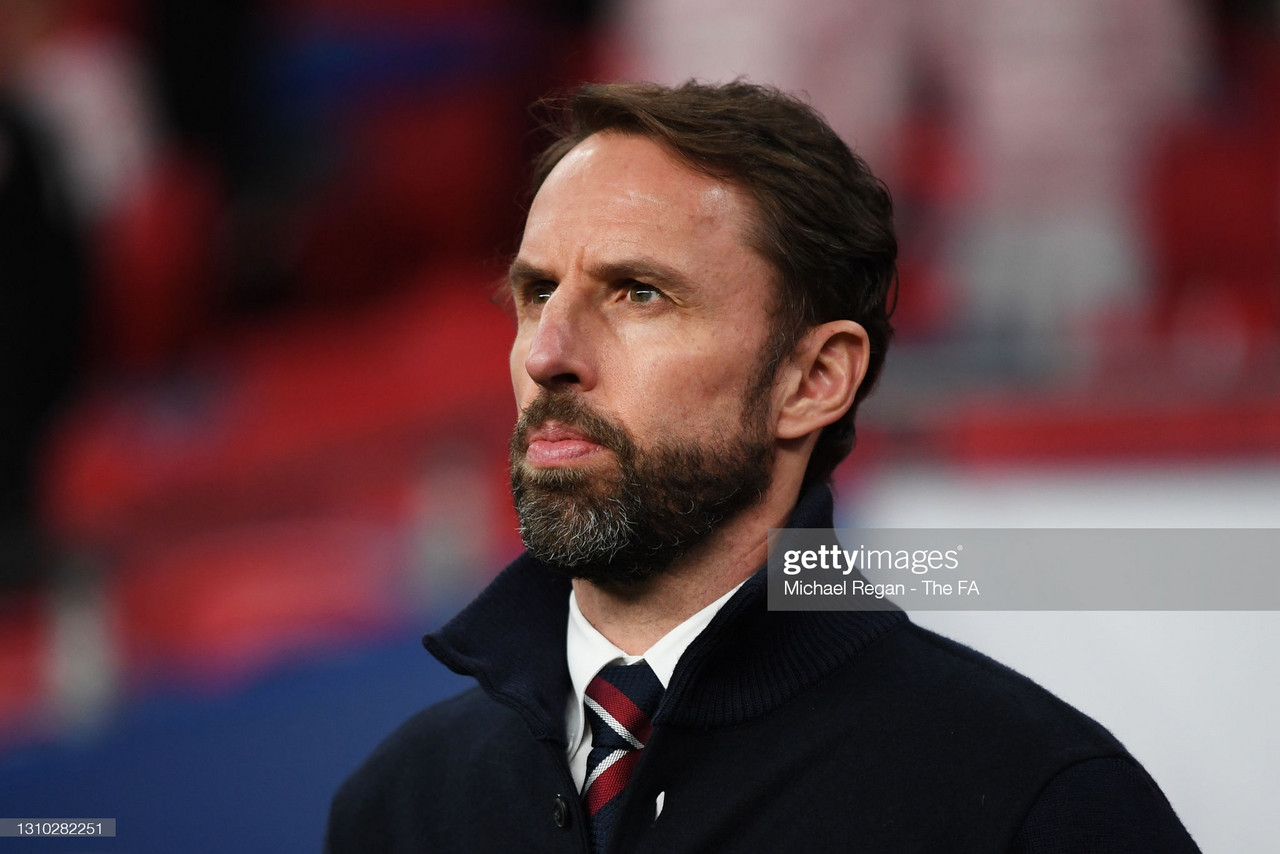 England and Gareth Southgate are set to announce their 26-man squad for the 2020 European Championships on Tuesday.
The tournament starts on June 11, with England battling it out against Croatia in a 2018 FIFA World Cup semi-final rematch on June 13.
This is an article based on who we think Southgate will select, not the opinion of the writer.
Goalkeepers
1. Jordan Pickford
His heroics against Colombia back in the 2018 FIFA World Cup, virtually guaranteed his place in the England squad for the foreseeable future under Southgate.
2. Dean Henderson
After David De Gea took time out for personal reasons, Dean Henderson stepped up as Manchester United's number one goalkeeper. He enjoyed a solid spell as he managed three clean sheets from his first three starts of the calendar year.
3. Sam Johnstone
After a truly sensational season as the starting 'keeper for the relegated West Bromwich Albion, he was already knocking on Southgate's door. But with the fresh injury, Nick Pope has suffered, this has almost guaranteed a place for Johnstone.
Defenders
4. Trent Alexander-Arnold
Probably the biggest argument in English football amongst fans in the pubs or on walking down the high street is whether Trent Alexander-Arnold has done enough to secure a place in Southgate's squad. With the tournament now allowing nations to include 26 players, we believe this secures the Liverpool right-back's position in the squad.
5. Kyle Walker
Walker's versatility has proved to be useful in Southgate's system. Southgate can use Walker's experience and pace to great effect, especially considering he could start at the right-back position or even centre-back in a back-three.
6. Reece James
James has shown this season his progression as a footballer and especially a right-back, but in Chelsea's FA Cup final loss to Leicester City, James showed he can also play in a back-three as a centre-back. Similarly to Walker, James has that versatility with his physique and build. He handled Jamie Vardy incredibly well, despite being at fault for the Foxes' winner.
7. Harry Maguire
Maguire was a certain pick, even with his ankle injury that he suffered just two weeks ago. His robustness and determination could see him rush back in order to be fit for the tournament, which United fans won't want. But as a player, you want to be involved in these huge tournaments for your country and Maguire will want to continue what he started at the Russian World Cup.
8. John Stones
Only a year ago, if John Stones was in the England squad for the Euros you would be asking how much he offered Southgate for a spot. With the introduction of Ruben Dias to Manchester City, Stones has found a level of comfort and confidence playing alongside the Portuguese centre-back this season and has forced his way onto Southgate's teamsheet, never mind the squad.
9. Luke Shaw
Similarly to Stones, Luke Shaw has had one heck of a season at Man United. He was voted United's Players' Player of the Year and held off the threat of Alex Telles who was breathing down his throat for a starting position. Southgate was in attendance for Shaw's winning goal in the Manchester derby back in March, which would have impressed the England boss.
10. Ben Chilwell
Chilwell hasn't been the left-back most Chelsea fans expected but he has improved under their new manager, Thomas Tuchel. He has also played as both a full-back and wing-back under Tuchel which appeals to Southgate and almost certainly will see him included in the squad.
11. Eric Dier
Dier is someone that most fans will not want to see included in the squad but is a well-trusted servant for Southgate. He has had a poor season for Spurs but can play multiple positions, which is attractive for any national team manager going to a major tournament.
12. Tyrone Mings
Some Aston Villa fans would argue that Ezri Konsa should be taken to the Euros ahead of Mings after his fine form for the Villians. However, Mings has been a regular in Southgate's squads since the World Cup in 2018 and being a lefty (left-footed) could be of high value for a potential back-three.
13. Conor Coady
Conor Coady is one of those hard-core natural centre-backs that provides strength, leadership and loyalty to any defence. Southgate recognises these traits and is extremely fond of Coady. On the pitch, the Wolves captain also carries the ball well and has an impressive range of passing.
Midfielders
14. Jude Bellingham
Bellingham came on at half-time in Borussia Dortmund's final match of the season and was a standout player in their UEFA Champions League quarter-final against Man City. Bellingham also received praise from the England boss after his fine performance against San Marino in March.
15. Declan Rice
A certain in the squad and probably starting lineup for Southgate is Declan Rice. Despite him suffering an injury and missing six of West Ham United's final nine matches of the Premier League season, he returned for the last three and played the full 90 minutes in every game.
16. Jordan Henderson
According to reports earlier this week, Jordan Henderson received a huge boost for his chances of being included as he has been proving his fitness. The Liverpool captain made the bench in his side's final match of the season for the first time since February.
17. Kalvin Phillips
Phillips is another English midfielder that is under injury-watch by Southgate. The Leeds midfielder suffered a shoulder injury in the final seconds of his final match of the season against West Brom on Sunday. Leeds did provide an injury update on Phillips where they said they remain 'confident' he will be fit for the tournament if selected.
18. Mason Mount
Mason Mount is one of those good guys in football who happens to also be very good at the sport. He was excellent at Derby County, fantastic under Frank Lampard for Chelsea and now world-class under Tuchel. Mount has had great praise from the England boss and will definitely be included in Southgate's squad.
Attackers
19. Phil Foden
The Stockport Iniesta has set the Etihad alight this season in both the league and Champions League for Pep Guardiola's side. The 20-year-old has been compared to Paul Gascoigne and tipped to dominate for both club and country for the next 15 years according to teammate, Kevin De Bruyne.
20. Jack Grealish
A man who was pushing for a starting position suffered a shin injury in February and returned to football three months later. Grealish was putting up remarkable numbers before he suffered the injury and managed to play the full 90 minutes on the final day of the season against Chelsea in a 2-1 win.
21. Marcus Rashford
It's hard to criticise this man after all the good he does off the pitch but Marcus Rashford has struggled for form recently for United which won't please Southgate too much. Still, his experience and quality on any given day is enough to put him in the squad - even if he has got just the one goal since United's Europa League quarter-final against Granada.
22. Mason Greenwood
At the start of the season and after his Iceland antics, Mason Greenwood was in Southgate's bad books. His performances in the first half of the season did not warrant a call-up either. But that turned around towards the end of the season as Greenwood enjoyed a spell of 11 matches and nine goal contributions in the league and Europa League for United.
23. Raheem Sterling
Having been on the sidelines for some time under Guardiola because of Foden's brilliance - Sterling can still expect a call-up for this summer's tournament. Eight goals in 29 games in 2021 is not something that will excite Southgate too much but he will hope Sterling can turn it around in time for the summer tournament.
24. Jadon Sancho
Sancho, the man of many talents and possibly the most-typed name of last season's summer transfer window suffered a slow start in the Bundesliga. It took 13 games for him to open his goalscoring account, however, he ended the season with four goals and five assists in what could have been his last five matches for Dortmund. In the German cup final, he managed two goals and an assist in a 4-1 win over RB Leipzig.
25. Dominic Calvert-Lewin
Dominic Calvert-Lewin or Patrick Bamford? That has been Southgate's dilemma for a good number of months. Calvert-Lewin ended the season goalless in his last four fixtures for the Toffees as Bamford scored three in four. Bamford was left out in March for England's World Cup qualifiers in March despite his impressive form, which hinted that Calvert-Lewin was the preferred choice all along.
26. Harry Kane
The Golden Boot winner has proved his worth to Southgate week-in-week-out and has become even more valuable as he has now added assists to his game. He ended the Premier League season with 23 goals and 14 assists.
Notable players that we expect to miss out
Jesse Lingard - his resurgence under David Moyes has been excellent to see and he has been enjoying a fine run of form, however, we don't think it will be enough for Southgate ahead of an exceptional midfield class of players.
Joe Willock - seven goals in seven consecutive games for Newcastle United.
Patrick Bamford - 17 goals and seven assists in debut season for Leeds in the league.
Ollie Watkins - 14 goals and five assists in a successful debut season for Villa.