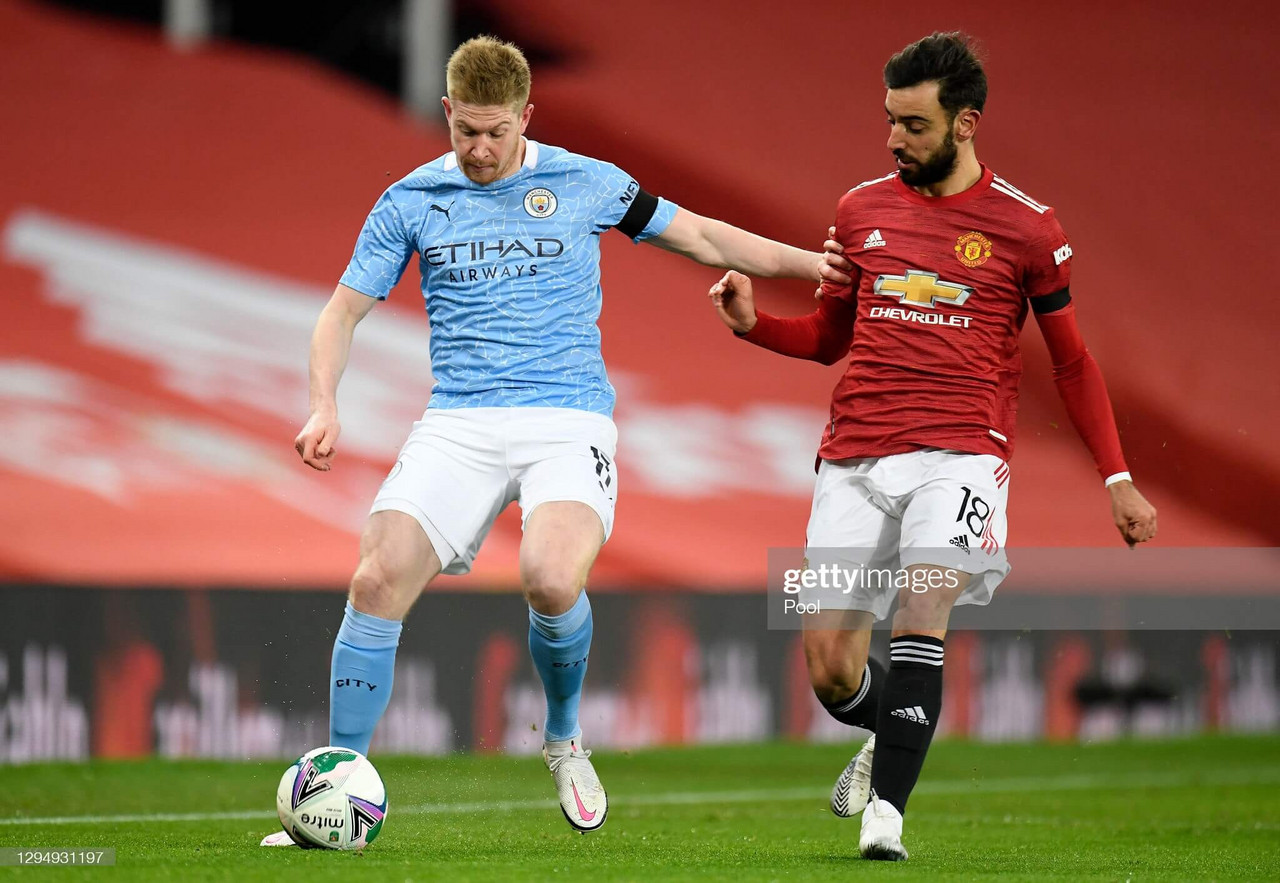 Manchester City host Manchester United on Sunday evening in the Premier League.
Both teams have players with individual excellence but who do our editors think their team could benefit the most by signing a player from the opposition?
To make the decisions less predictable we ruled out the possibility of sending Bruno Fernandes to the Etihad or Kevin De Bruyne to Old Trafford.
Luke Shaw at the Etihad
With 21 consecutive wins heading into tomorrow's clash, it's hard to say there are many areas of the City squad that need improving, but we'll take a look anyhow.
The obvious choice from those over the road would be their talismanic midfielder, Fernandes. There are few, if any, sides in world football that would turn the Portuguese attacker down. But as we have opted against selecting Fernandes or De Bruyne, who else from Ole Gunnar Solskjaer's side would be welcomed into Pep's setup at the Etihad?
I must admit, a part of me wanted to select Edison Cavani. The veteran forward has shown that he still knows where the back of the net is, chipping in with some important goals for Man United in their quest for Champions League football next season. Although I feel this would be somewhat of a redundant pick, seeing as the Uruguayan would be unlikely to break into City's starting eleven.
With that in mind, I've opted for arguably United's most consistent player this season, Luke Shaw.
With Joao Cancelo likely to see a more regular role at right-back from next season onwards, and growing doubts over the long-term futures of Benjamin Mendy and Oleksandr Zinchenko, City could well be in the market for a left-back in the summer.
AC Milan's Theo Hernandez and Atalanta's Robin Gosens have been linked with the club in recent weeks, but if Shaw can keep up the same levels of consistency that we've seen from the 25-year-old at Old Trafford this year, he could be a great addition to this unstoppable City outfit.
Ruben Dias at Old Trafford
With United's defensive woes this season and City's relentlessness at the back, it should come as no surprise that Ruben Dias is the man in blue that improve the Reds.
United have already conceded nearly the same amount of goals they did in the entire 2019/20 league campaign. Solskjaer's men have allowed 32 goals to hit the back of their net this season after 27 games compared to 36 goals across 38 games last season.
Dias came to Manchester from Benfica in September and has built an unlikely and dominant relationship with John Stones which has seen City enjoy an incredible run of form. Unfortunately, for this hypothetical scenario, United can only take one of City's players but they could probably benefit from a few more.
City's centre-back partnership has scored more goals than they have conceded and to be honest, that partnership beats Harry Maguire and Eric Bailly/Victor Lindelof every day.
The other remarkable stat is that they haven't conceded in back-to-back games when they pairing start - which does not bode well for United on Sunday considering they conceded in their last match together against West Ham United.