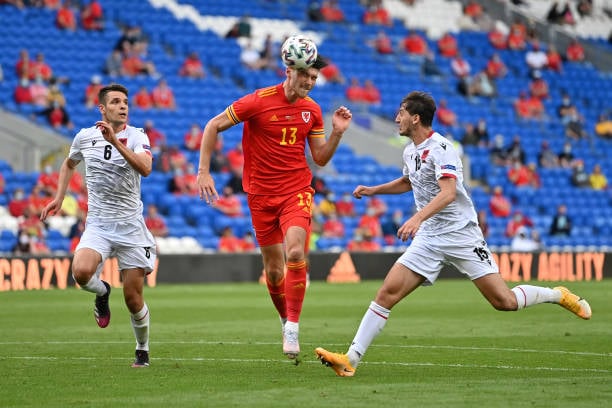 Expectations were high, especially for the 4,000 fans allowed in the stadium. However, Wales were held to a stalemate as Albania ground out a 0-0 draw. Here's how the players performed:
Wayne Hennessey - 6/10
A clean sheet - what's not to like? Hennessey was a bystander for parts of Saturday's game, only being threatened once by Rey Manaj, who was eventually shepherded well by Ben Davies.
The only part of his game to critique was his kicking and distribution, but even that was a very scarce aspect during the 90 minutes.
Hennessey may have been wanting a game where he could impress, with Danny Ward stating his claim for Wales' first-choice keeper against France and especially, Karim Benzema.
Neco Williams - 7/10
Williams had a proper chance to show off Rob Page's newfound position for the young full-back.
Before being sent off against France, Williams was seen to be playing a more central role, acting as a box-box midfield when on the attack and filling in at the back when Wales were defending.
Page had deployed the tactic once again, with the Liverpool defender showing his versatility in a difficult matchup against a stubborn Albania side, but managed to threaten the opposition's backline and prevent any Albania attacks from building.
The full-back also recorded the only shot on target of the game, forcing a fantastic save from stand-in keeper, Gentian Selmani.
Ben Davies (C) - 8/10
Davies led by example, as any good captain should. With Gareth Bale on the bench, it was essential that the superstar's club-teammate rose to the occasion - and that he did.
In a slightly different role to left-back, Davies did well to adapt. He covered well for Rhys Norrington-Davies when the full-back went bombing up the wing and controlled the midfield with a very vocal performance.
Davies snuffed out any danger thrown his way and dealt with Albania's only real attack in a rather intelligent way. Manaj was through on goal and the Welshman knew that he needed to keep the striker at an acute angle.
If Manaj was to cut in on his left, Hennessey could have been stranded. So Davies allowed the striker to take the shot on forcing him to go for power rather than accuracy, and the jeers from the crowd did not leave much to the imagination of where the ball ended up.
Some say the ball is still rising.
Chris Mepham - 6/10
Mepham is still gaining experience, demonstrated by his needless red card in a Championship play-off semifinal second leg.
The centre-back did not have the busiest game of his life, but his ability to stay focussed was impressive.
With the lack of attention needed throughout the 90 minutes, though, led to a string of loose passes and loss of possession.
Rhys Norrington-Davies - 6/10
After a poor first half for all players, Norrington-Davies looked much more comfortable in the second half due to a change of shape and system.
The full-back used the wing well, getting in behind the Albania defence, and playing smart passes inside for the forwards to create chances.
At only 22 years old, Norrington-Davies joins the list of exciting Welsh prospects, giving fans a hope for the future of Wales football.
Joe Allen - 5/10
It was unusual to see Allen have a poor game in a Wales shirt. However, it seemed that the Albanians had done their homework on him and knew how to keep the Stoke City man quiet.
Being run ragged by World Champions, France, is enough to affect anyone's game and that could have been another reason why Allen was slightly off-pace on Saturday afternoon.
Ethan Ampadu - 4/10
After a long season out on loan at Sheffield United, Ampadu looked the most tired out of all the Wales squad.
Mistakes in dangerous areas. Misplaced passes. Loss of possession. Nothing could go right for the defender/defensive midfielder.
Being replaced at half-time by Kieffer Moore will have been a relief for the Chelsea man, but what looks like a lack of confidence will be a worry for Ampadu and the Wales supporters.
Dylan Levitt - 6/10
At the age of 20, Levitt is an exciting prospect and a perfect player to be shadowing Allen.
With Allen ageing, and gradually becoming more injury-prone, the quality that Levitt has shown in his eight caps for Wales so far will fill Welsh hearts with hope.
Levitt's presence was needed, while Allen went under the radar. But the two worked well together and showed that playing the two together at Euro 2020 could give a new dynamic to the side.
Aaron Ramsey - 6/10
Although Ramsey looked rusty for the most part, the midfielder's quality shone through from time to time in Wales' last warm-up before taking on Switzerland in their opening group stage game of Euro 2020.
It was clear that he was in need of the extra minutes on the pitch before Euro 2020 and a feisty affair against Albania was exactly what was needed to kick Ramsey into gear.
The Juventus man was substituted on the hour mark after being battered and bruised.
Wales fans have not missed a single minute of Ramsey playing at home due to COVID-19, with his last game being the all-important win over Hungary, securing Wales their qualification for Euro 2020 and scoring both goals in the process.
David Brooks - 6/10
Dai Brooks was quiet for the majority of the game, sparking into life every 10 minutes or so.
He missed seven games towards the latter end of Bournemouth's season, with the remaining games used to build up the winger's fitness again. So that could be a reason for his somewhat lackluster performance.
Brooks was inevitably yanked off after 75 minutes, with Jonny Williams replacing him.
Tyler Roberts - 6/10
The Leeds United man never stopped running and got in good positions, but was just unable to apply the final touch at the end of multiple attacking phases.
The forward's interlink was exactly what was needed to break Albania's backline, but Roberts seemed to go missing for parts of the game, leaving no real target man upfront until being replaced by Moore.
The Red Wall - 11/10
A beautiful sight. The Red Wall was back in the Cardiff City stadium. Or a few bricks were back, at least.
The difference between Welsh fans and no Welsh fans was noticeable almost instantly, with the national anthem rocking ringing around just before kick-off.
"Land of my Fathers" and "Men of Harlech" - two songs that Wales players will have been missing.
Substitutes
Kieffer Moore - 7/10
Moore had an instant impact, pushing Wales further up the field and giving the Albania defenders something to think about.
With his Championship-type approach, the Cardiff City man had no luck when it came to pressuring the opposition, and failed to be as deadly in the box as he has been all season.
He did, however, bring his teammates into the game more.
Joe Rodon - N/A
Harry Wilson - 6/10
A drop of the shoulder - a moment of brilliance. The scuffed shot afterwards - only added to the frustrations.
Wilson looked lively, and had a positive impact on the game. However, the finish to any move was just not there for the winger, or any of the players for that matter.
Matt Smith - N/A
Gareth Bale - 6/10
Bale's introduction was too little too late, as Wales' superstar star failed to make the desired impact when thrown on as a late substitution.
Bale shows no signs of letting up, though, with this last season at Tottenham Hotspur being one of his best in recent times.
The Red Wall will be hoping for a similar tournament display to Euro 2016.
Jonny Williams - 6/10
Although he was unable to make a difference to the final result, it was clear Williams is still up for the fight (even in a friendly). The man recently released from Cardiff City wasted no time in starting a brawl and rattling the Albania defenders.
The Welsh Wizard was too quick and too witty for the opposition, leading to him being brought down several times.
The confidence was radiating, though. 'Joniesta' as many fans call him, gave the crowd something to cheer about and got the Red Wall expecting a late winner. It was not to be, however, and so they had to settle for a draw.