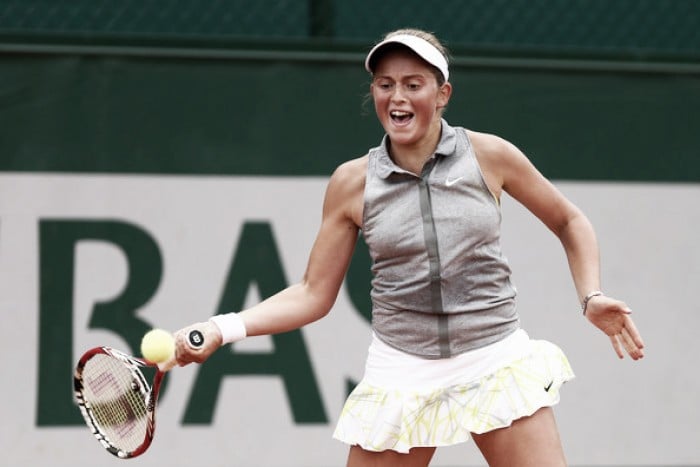 Latvia. Not really a country usually associated with the sport of tennis; ice hockey and basketball are more their thing. Ernests Gulbis is probably the one and only figure to have emerged and been successful in the sport, having won six ATP career titles to date and a run to the semi-finals of the 2014 French Open. However, over the coming years, a certain young lady might be about to change the face of her sport in her country forever.
Success At An Early Age
Jelena Ostapenko is only 18 years old (she doesn't turn 19 until early June) but has already enjoyed success in her career to date. Coached by her mother (also named Jelena) and father Jevgenijs being her fitness coach, Ostapenko has won seven ITF singles titles and eight ITF doubles titles, whilst also winning a bronze in the girls' doubles in the 2014 Youth Olympics in Nanjing.
Her biggest triumph in her junior career however was winning the Wimbledon girls' singles title that very same year, unseeded as well, which then led to her taking part in her first WTA main draw at the Tashkent Open in Uzbekistan just a couple of months later, where she won her first round match, defeating Israel's Shahar Pe'er, a former world no.11.
2015 proved to be even better for Ostapenko. At SW19, twelve months on from her girls' singles triumph, she made a huge statement again, thumping Carla Suarez Navarro, the ninth seed, with the loss of just two games, to win her first Grand Slam match. She would also reach the 2nd round at the US Open, and her first WTA final in Quebec, where she was runner-up to Annika Beck (whom Ostapenko had beaten a few weeks earlier in New York).
An Eventful Start to 2016
Ostapenko was still, at this stage, not a household name, but all that changed during her second round meeting with Britain's Naomi Broady in Auckland back in January. Things started well for the Latvian, winning the opening set, but Broady eventually clawed her way back to win in three sets and book her place in her first quarter-final at a WTA event.
Sadly, it won't be the tennis which will be remembered in this match. During the second set, Broady hit a winner, which left Ostapenko seeing her racquet come out of her hand, hit the court and towards a ball boy. Broady thought it was deliberate, Ostapenko defending herself and saying it was accidental. The Brit, from Stockport, asked the umpire to disqualify Ostapenko, but after deliberations with the ball boy in question, the umpire eventually only gave the Latvian a code violation.
Broady, furious and in tears, fought back, as mentioned above, yet the ill-temper continued post-match, with a frosty handshake at the net, before Broady let her outrage out once again; a tirade of angry words towards her opponent. Some might see it as Ostapenko having fire in her belly and that she does care, a useful asset going forward. Others may deem it as her, like so many other teenagers, throwing her toys out of the pram if things don't go her way. However it may be deemed, this controversial moment certainly gave the viewing public a bit of an insight into Ostapenko.
The Latest 18 Year Old Sensation
A little over a month later though, Ostapenko's tennis really did do the talking. She arrived at the Qatar Total Open in Doha a fortnight ago thinking that she was two out of the main draw and that she would have to play qualifying. It would turn out to be the best week of her career so far as she reached her second WTA final, her first at WTA Premier 5 level.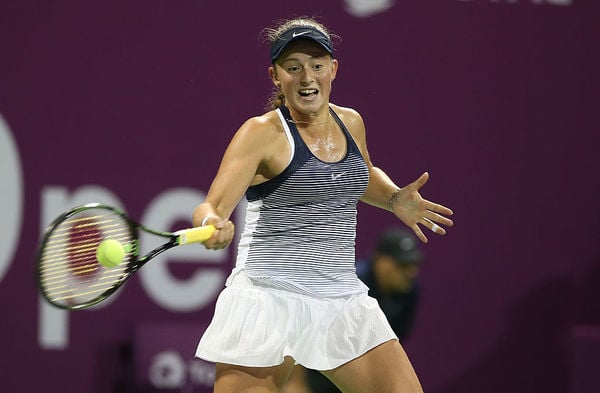 Zarina Diyas, former French and US Open champion Svetlana Kuznetsova and, most impressively, Petra Kvitova (from a set down no less) were all defeated, before Ostapenko came past Saisai Zheng and Andrea Petkovic to set up a final with, ironically, Suarez Navarro, the woman she beat a little over six months earlier for her first major win.
It seemed as if another hammering was coming the Spaniard's way, when Ostapenko took the opening set 6-1, but she rallied back to take the second and final sets 6-4, and gain revenge for that Wimbledon loss. Defeat for Ostapenko, yet her run to the final would see her rocket up the rankings and break into the world's top-50 for the first time, placing her at world no.41.
Her Game And Where Next
In terms of her game itself, Ostapenko is bold, brave and ballsy. She is aggressive, on both wings, meaning winners aplenty. Her forehand is lethal, and whilst her backhand (as will so many areas of her game considering she's still so young) does need improvement, that will prove to be a big weapon in the future. But with wins over the likes of Suarez Navarro, Kvitova and Kuznetsova already, the Latvian certainly has big match experience under her belt already.
She is one of three 18 year olds currently placed inside the world's top-50 at the moment, alongside Belinda Bencic and Daria Kasatkina, and considering the trio's opening couple of months of the year so far, talk has started to simmer about these three especially battle for the world no.1 spot and major titles over the next decade or so. Whilst that might be a little too early, Ostapenko certainly will only get better and better.