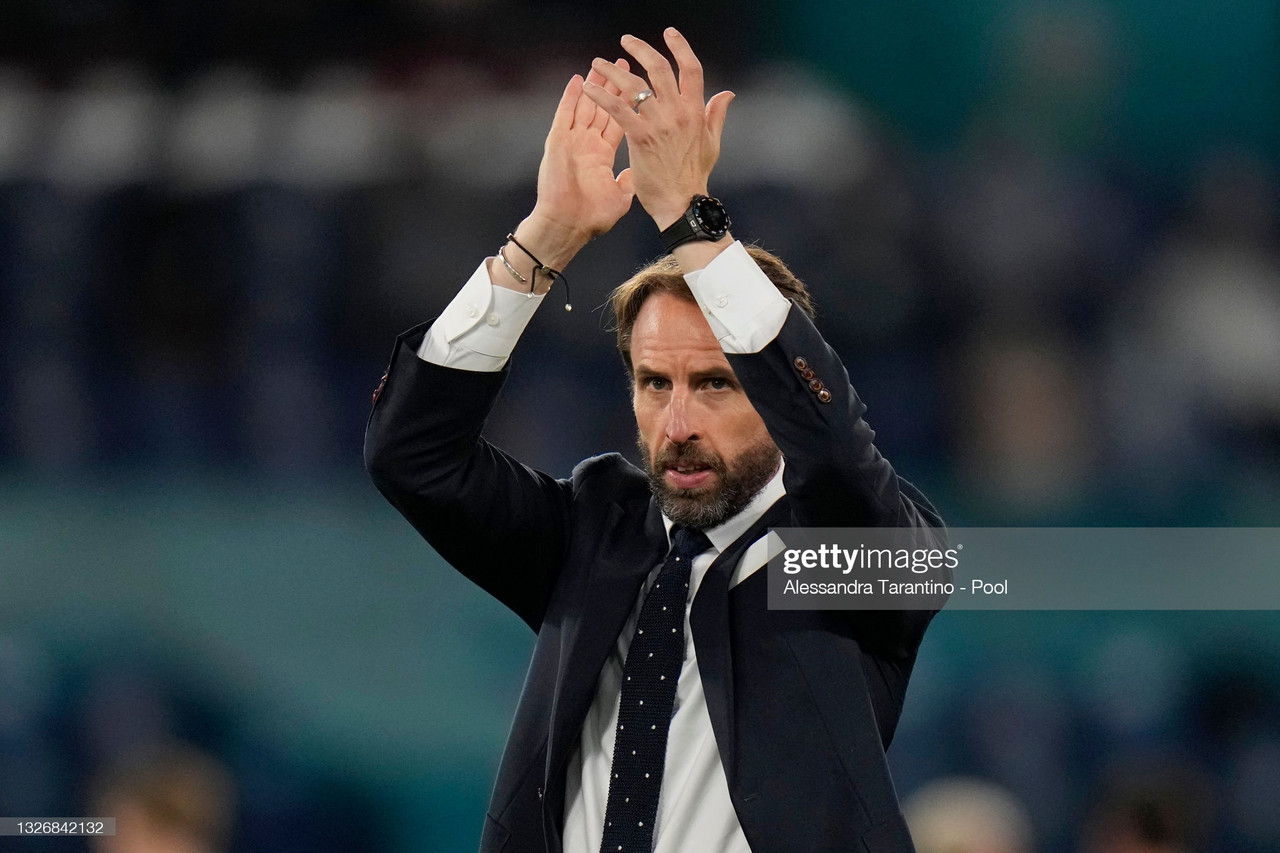 Like him or not, Gareth Southgate is now England's second-greatest manager ever. With record books that stretch back to 1872, the victory against Ukraine on Saturday evening saw Southgate overtake icons such as Sir Bobby Robson and Terry Venables, as the current manager achieved a second consecutive berth in the semi-final of a major international tournament.
While Southgate has been dismissed in the past for his overly defensive tactics, or perhaps a reluctance to use media favourites like Jack Grealish, or perhaps even by not having an overwhelming pedigree, the current England boss has turned heads across the nation once again. England are in the semi-finals of Euro 2020.
Regardless of what happens here, any of the three outcomes that could potentially occur will be a vindication of his management style. Maybe, just maybe, Gareth Southgate knows what he's doing.
Tactically dominant twice over
Once, fair enough. Perhaps it was luck. But twice? Maybe Southgate has an inkling of tactical nuance.
Against Germany, Southgate's deeply unpopular selection on the field received swathes of criticism from media and supporters alike, devastated at the overtly defensive 3-4-3 system, which, at times, became more of a 5-2-3.
However, the system deployed by England nullified Germany's experienced attack, pinning their dangerous wing-backs into their own half and controlling the play for the majority of Wednesday's victory. England were never in too much danger of losing, save for Thomas Muller's heart-in-mouth miss while one-on-one with Jordan Pickford.
It was almost a complete reverse of the 4-1 defeat in Bloemfontein eleven years earlier. That match, at the 2010 World Cup, saw England rely on experience but were blown away by the youthful brilliance of a fledgling Germany side that would lift the World Cup four years later. In London, the likes of Manuel Neuer and Muller remained as it was the hosts' young talent that inspired the victory.
Perhaps it was luck, the tactical switch that beat Germany. But vindication arrived in the professional yet thrilling win against Ukraine on Saturday. Reverting back to their usual 4-2-3-1 system, England dominated all three aspects of the game, allowing Andriy Shevchenko's side almost no room to counter England's brilliance.
The rotation, allowing Mason Mount and Jadon Sancho to return to the side, ensured England would be a full-strength squad in Wednesday's semi-final with Denmark – and as such, the quasi-home nation of this tournament will be looking for their first European Championship final spot in a winnable tie at Wembley.
The answer England have needed has been there all along
Many England supporters have craved their national team to cherry-pick the greatest manager in the world to take over the national squad. The issue is, they've tried that. Neither Fabio Capello nor Sven-Göran Eriksson impressed in the early-to-mid-2000s. Both were at the top of the sport when appointed as England manager. Neither succeeded.
What international management requires is the patient and cautious approach that Southgate has adopted. Not in the last twenty-five years have supporters been allowed such a connection with the manager of their national squad, but Southgate is eloquent in his speech, a compassionate man who has experienced the trials and tribulations of international football, and also an obsessive over the game.
Especially when he discusses the most divisive issues in Britain today, Southgate manages to unite many different strands and create hope for tomorrow.
"Every game, no matter the opposition, has the potential to create a lifelong memory for an @England fan somewhere." #ENG | #EURO2020 https://t.co/ccXs7YjbLP

— The Players' Tribune (@PlayersTribune) June 29, 2021
He won't match Pep Guardiola for tactical brilliance. Neither will he emulate Jurgen Klopp's passion. But winning a major tournament doesn't always require such a manager. German manager Joachim Low has remained in charge for fifteen years because he understood how international football was played.
He didn't have a pedigree in management like Capello or Kevin Keegan, with his highest-profile job coming with Turkish giants Fenerbahce – but being around Die Mannschaft as assistant manager at two major tournaments allowed him to gain the internal experience of what was required.
Didier Deschamps had only a brief spell at Juventus to boast before becoming the French manager in 2012 – but has since won a World Cup and has pruned an international powerhouse.
And Southgate, while his name may not sound as exotic as some foreign and successful managers at club level, was an internal appointment after coming to terms with what international football is like. He was able to experience the development of England's bid to win the 2022 World Cup, starting with the Football Association's root-and-branch review in the late 2000s.
And while he may not be able to boast heavy-metal football or the experience of managing Barcelona like Robson or Venables, he has been able to showcase himself as a caring, articulate man who may just know a thing or two about management at the international level.