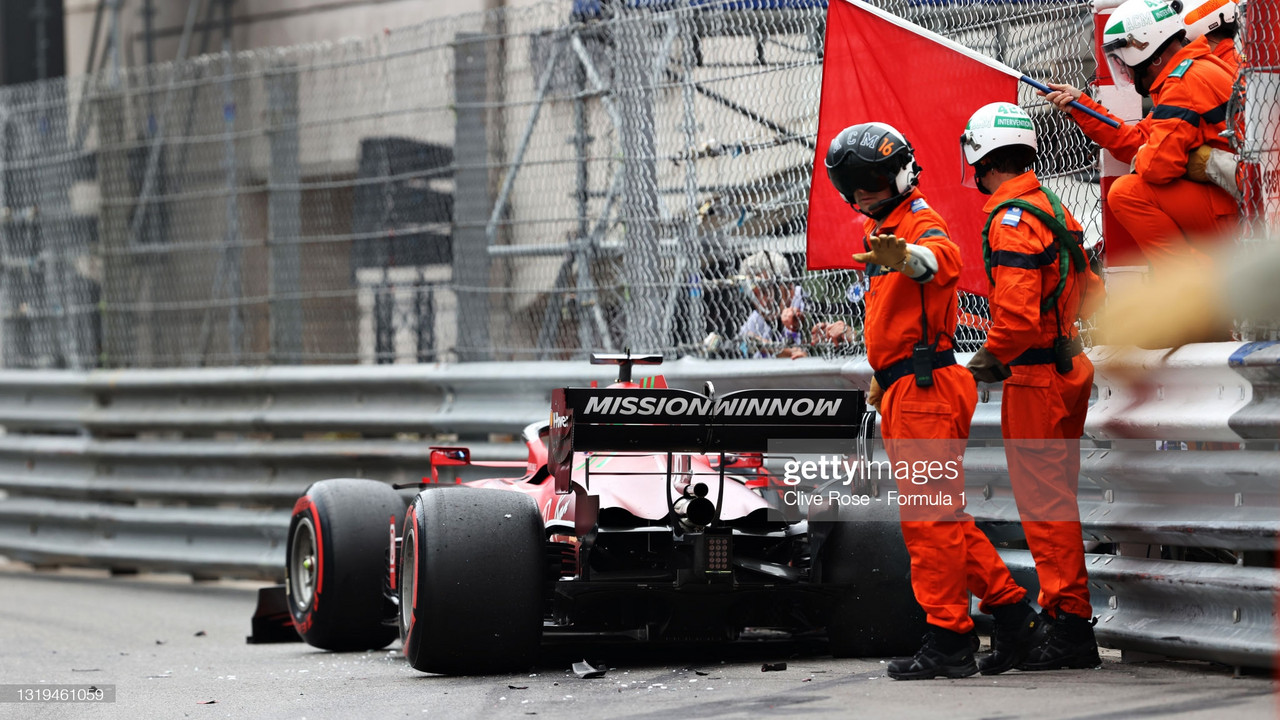 Charles Leclerc will start on pole for the Monaco Grand Prix, despite putting it into the barriers causing a red flag at the end of the session. However, damage to his gearbox could see him knocked down the order.
Here is how qualifying unfolded:
Q1
Mick Schumacher missed the chance to take part in his first-ever Monaco qualifying session, his crash in FP3 caused substantial damage to his Haas, leaving him unable to participate.
Two-time Monaco winner, Fernando Alonso was surprisingly knocked out in Q1, missing out on Q2 by just over a tenth of a second. The Spaniard will start behind Yuki Tsunoda, who will start from 16th on the grid.
Nicholas Latifi put his Williams in 18th, with Nikita Mazepin qualifying his Haas car in 19th ahead of his team-mate Mick Schumacher who was unable to take part in the session.
Valterri Bottas was setting the early pace at the top end of the order with 1.10.938 to put him fastest ahead of Charles Leclerc and Max Verstappen who were both within two-tenths of the Mercedes.
It was a disappointing Q1 for Bottas' team-mate Lewis Hamilton, who was only 7th fastest, six-tenths away from Bottas and struggling with oversteer.
Q2
There was another huge disappointment at the end of Q2 as Daniel Ricciardo was knocked out in his McLaren. Ricciardo will start 12th on the grid behind the Alpine of Estaban Ocon.
Kimi Raikkonen will start in 13th behind the Aussie, with the oldest driver in Formula One missing out on Q3 by two and a half tenths. His teammate Antonio Giovinazzi put his Alfa Romeo into Q3 for the first time this season with a spectacular lap.
Canadian Lance Stroll will start 14th on the grid in his Aston Martin ahead of George Russell, who will start 15th in his Williams.
Charles Leclerc was fastest in Q2 with a 1.10.597, 0.053 seconds ahead of Max Verstappen and two-tenths Leclerc's teammate Carlos Sainz in third.
Q3
Charles Leclerc put himself on a pole at his home Grand Prix for the very first time and caused a red flag at the end of the session when he hit the wall hard coming out of the Swimming Pool chicane. Leclerc could be given a grid penalty if the damage to his gearbox is substantial enough for it to be changed.
Leclerc put his SF21 on pole with a 1.10.246, two-tenths ahead of Max Verstappen and Valterri Bottas in third.
Carlos Sainz will line up in fourth alongside former teammate Lando Norris in fifth. A terrible qualifying for reigning world champion Lewis Hamilton seems him start seventh with Frenchman Pierre Gasly ahead of him.
Sebastian Vettel will start eighth ahead of Sergio Perez with Antionio Giovinazzi rounding out the top ten.
2021 Monaco Grand Prix Qualifying result:
1. Charles Leclerc
2. Max Verstappen
3. Valterri Bottas
4. Carlos Sainz
5. Lando Norris
6. Pierre Gasly
7. Lewis Hamilton
8. Sebastian Vettel
9. Sergio Perez
10. Antonio Giovinazzi
11. Esteban Ocon
12. Daniel Ricciardo
13. Lance Stroll
14. Kimi Raikkonen
15. George Russell
16. Yuki Tsunoda
17. Fernando Alonso
18.Nicholas Latifi
19. Nikita Mazepin
20. Mick Schumacher