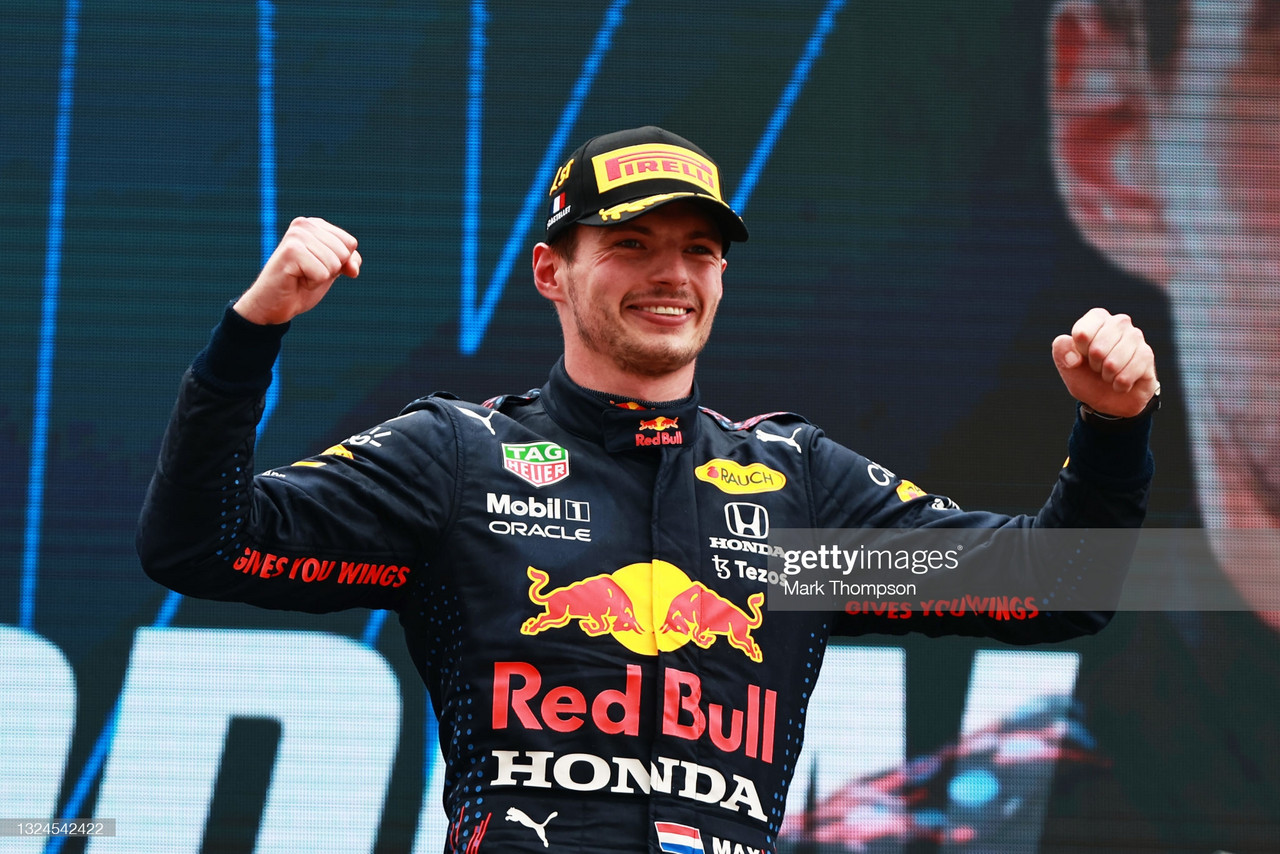 Max Verstappen pulled a trigger on a two-stop strategy, and Mercedes failed to react as the Dutchman stormed past the seven-time World Champion on the final lap to take his third win of the season. Sergio Perez took third place after overtaking Valtteri Bottas late on, and the Finn wasn't happy with his team.
The race was finely poised after another tight qualifying session on Saturday that saw Verstappen secure the fifth pole position of his career. Hamilton was closely behind his championship rival in second, despite a difficult weekend beforehand, and Bottas in third, as Mercedes look to pile the pressure on Red Bull leading driver.
Although, the Red Bull driver looked unfazed on lights out and took a commanding lead into turn one, but went wide at the next corner, struggling with the wind, and Hamilton overtook Verstappen to take the lead.
Yuki Tsunoda, who had to start the Grand Prix in the pit lane after changing his floor and gearbox from a collision in qualifying yesterday, quickly made ground on the group and jumped to 16th by the end of the fifth lap.
Hamilton caused some concern in the Mercedes garage after he took to the radio on lap six to say, "these tyres aren't going to last as long as you expecting," but the World Champion is known for exaggerating in those situations.
Further down the grid, Daniel Riccardo was held up by two-time World Champion Fernando Alonso for eighth place. The Australian managed to get past Alonso on lap eleven, and the Alpine driver was quickly under pressure once again.
Then, within the next corner, Riccardo's team-mate Lando Norris capitalised on an exposed Alpine and also overtook Alonso, as the Spaniard continued to drop from downwards.
But as the race reached lap 15, drivers started to complain about more tyre wear, and plan A for many teams started to be abandoned, with a two-stop strategy becoming more likely.
Ricciardo was starting to look comfortable in the McLaren after a difficult few weeks. On lap 18, the Australian decided to stop one lap earlier to undercut Pierre Gasly, and it worked to perfection, not only passing Gasly but also Carlos Sainz.
The leaders quickly followed as Bottas pitted first to undercut Verstappen, in which the Red Bull driver defended one-lap after, but in remarkable scenes, he managed to undercut Hamilton and retook the lead, an outstanding call by Red Bull.
With the three leaders pitting, Red Bull decided to keep Perez out and was told "Plan A plus three laps" as the Mexican eyed a different strategy compared to the others. He pitted on lap 26 and nearly 18secs behind Bottas but on a fresher set of tyres.
Charles Leclerc was one of the first cars to pit onto hard tyres, started to suffer from tyre wear on lap 30, and began to raise concerns for teams at the front.
Verstappen pulled the trigger first, stopping for the medium set of tyres on lap 33, putting pressure on Mercedes to react or leave both drivers out, with the Dutchman gaining one second on the first few laps.
Further down the grid, AlphaTauri's Gasly overtook Sainz into eighth place. The Spaniard was followed by fellow countrymen Alonso, as Ferrari's weekend quickly turned sour with Leclerc in eleventh.
The drama heated up as we approached the final ten laps of the race. Verstappen continued to gain on both Mercedes but needed a smooth overtake past Bottas to have any chance of catching Hamilton. He achieved that as the Finn went wide at turn 12 and Verstappen breezed past.
Things got worse for Bottas as Perez, who stayed out longer in his first stint, then started to close down on the Mercedes driver and Perez glide past on lap 49, taking his second podium in consecutive Grand Prix and further extending Red Bull's lead in the standings.
The battle for the lead continued into the final two laps, and a fresher set of tyres, Verstappen closed down on Hamilton and overtook with relative ease in the second DRS zone, securing Red Bull's third consecutive win and extends his championship lead.
Bottas took fourth, audibly frustrated when Perez overtook him, while Norris continued a fantastic start to the season by finishing in the points (5th) once again.
McLaren rounded off a good weekend as Ricciardo finished sixth to equal his best result since joining the team, especially as their Championship rivals Ferrari failed to have either driver in the top ten.
Gasly recorded a seventh-place finish in his home Grand Prix.
Alpine's Alonso finished in ninth, with Aston Martin's Sebastian Vettel and Lance Stroll rounding off the top ten after the British-based team decided to start on the hard tyres and had a longer first stint.