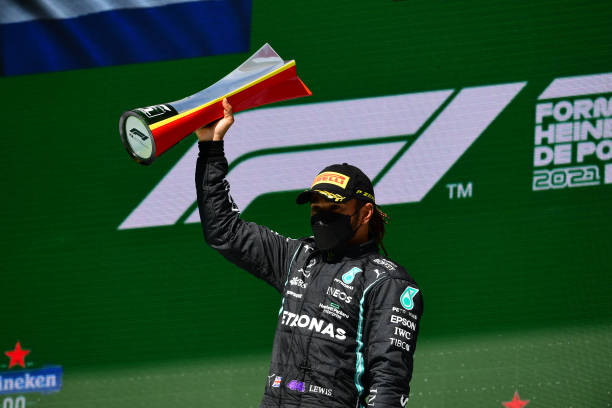 After the drama of the Bahrain Grand Prix and the chaos in Imola, Round Three of the 2021 Formula One season was a largely subdued affair.
All but one driver finished the race at Portimao and aside from some brilliant overtaking moves, there wasn't too much in the way of surprises.
Taking into account both qualifying and the race, here are the driver ratings for the Portuguese Grand Prix:
Kimi Raikkonen - 0
Qualifying - P15
Race - DNF
The only driver not to finish, Raikkonen's race lasted just over a lap. The Finn accidentally hit his Alfa Romeo teammate, Antonio Giovinazzi, while following him down the pit-straight.
The contact broke his front wing in spectacular fashion and the damage forced him to retire immediately.
Nikita Mazepin - 1
Qualifying - P20
Race - P19
Prior to joining Formula 1, Mazepin had already developed a reputation for aggravating other drivers. We saw some of that today, as the Russian ignored blue flags multiple times, eventually incurring the wrath of Red Bull's Sergio Perez.
That particular incident saw the Haas driver receive a 5-second time penalty. Not that it greatly affected his race, as he was lapped twice and finished around a minute behind his teammate, Mick Schumacher.
Nicholas Latifi - 2
Qualifying - P18
Race - P18
Not much to report for Latifi. The Williams driver started near the back and finished near the back. He ought to have finished ahead of Schumacher, but he ran wide toward the end, allowing the German to pass.
Mick Schumacher - 4
Qualifying - P19
Race - P17
There's not an awful lot rookie Schumacher can do. His Haas is easily the slowest on the grid so beating a driver from any other team is a big win. And that is what he did.
In the closes stages he caught Latifi and after a brief duel, made his move after the Canadian made his mistake at Turn 3.
George Russell - 3
Qualifying - P11
Race - P16
They don't call him Mr. Saturday for anything. Russell is renowned for his strong qualifying performances but sadly the Williams car lacks the pace to convert those into points come race day.
After narrowly missing out on a top-ten start, there was a feeling that points were a realistic possibility. Unfortunately, that was not the case and P16 was all he could muster.
Yuki Tsunoda - 5
Qualifying - P14
Race - P15
The Japanese rookie has shown a lot of promise in his brief F1 career. However, for one reason or another, he was unable to get his AlphaTauri going in Portugal and ended up having a rather bland race.
Lance Stroll - 4
Qualifying - P17
Race - P14
After a terrible qualifying, Stroll would have been looking for redemption on Sunday. Alas, Aston Martin's car has taken a massive backward step from last year.
The Canadian was the only driver to DNF last season's Portuguese GP, so this was a slight improvement.
Sebastian Vettel - 5
Qualifying - P10
Race - P13
Qualifying within the top 10 was brilliant for Vettel, whose Aston Martin career hasn't gotten off to the smoothest of starts, it's fair to say.
He couldn't replicate this feat in the race, as he easily out-classed by the other midfield runners. Three GPs in, the German is one of seven drivers yet to score points in 2021. Not good.
Antonio Giovinazzi - 6
Qualifying - P12
Race - P12
The contact with Raikkonen aside, Giovinazzi had a quiet, yet still impressive, race. While he hasn't scored points yet this season, the Alfa Romeo team looks reasonably competitive and the Italian should not be ashamed of a P12 finish.
Carlos Sainz Jr. - 4
Qualifying - P5
Race - P11
This was disappointing. Sainz qualified best of the rest and after getting past Perez at the start, the Spaniard would have been eyeing a potential podium finish.
But a poor Safety Car restart saw him drop down the order and a gamble to stop early proved disastrous.
The Ferraris simply did not have the pace on the Medium tires and after being overtaken by Pierre Gasly on the last lap he dropped out of the points.
Pierre Gasly - 6
Qualifying - P9
Race - P10
Speaking of the Frenchman, Gasly didn't get up to much in Portimao but drove solidly to snatch a point for AlphaTauri right at the end.
Daniel Ricciardo - 8
Qualifying - P16
Race - P9
Ricciardo has been under some pressure lately. His relatively slow start to the season, compared to his teammate Lando Norris, has come under scrutiny.
His performance this weekend will have done him a lot of good then. A dreadful qualifying saw him knocked out in Q1. But from lights out, the Aussie was a man possessed. He quickly made up places and after an extended first stint, secured a points finish.
It could have been more, however. A slow pit-stop delayed the McLaren's progress but there are a lot of positives to take from this race.
Fernando Alonso - 8
Qualifying - P13
Race - P8
Alpine has had a slow start to the season, but things were looking up after a successful race in Portugal.
Alonso was especially impressive, pulling off some great overtaking on the likes of Gasly, Ricciardo, and Sainz. While he may be 39, Alonso still hasn't lost his knack for awesome passing moves.
Esteban Ocon - 8
Qualifying - P6
Race - P7
Ocon was the star of Saturday, dragging his Alpine to a remarkable P6. He may have dropped one place in the race, but this was a fantastic result for the Frenchman who moves up into the top 10 in the Drivers Standings.
Charles Leclerc - 7
Qualifying - P8
Race - P6
Another solid, if unspectacular, race for Leclerc. Like Sainz, his Ferrari struggled for pace on the Medium tires, but he was able to hold on for good points finish.
The Scuderia already looks miles better than they were last season and in this long season, consistency will be key if they want to finish the best of the race.
Lando Norris - 9
Qualifying - P7
Race - P5
Norris's good form continues and the young Brit remains P3 in the standings as a result.
He got his overtaking done early on Sunday, pulling off great overtakes on Ocon and then Perez to move into P5. That's where he would go onto finish and while it wasn't a podium, as some had predicted pre-race, it's another great result for McLaren.
Norris has always been quick, but now in his third year, he has added real consistency to his drives.
Sergio Perez - 7
Qualifying - P4
Race - P4
Perez was the quickest off the line, but he made up for a poor beginning with a great drive to finish just outside the podium.
Credit must be given for the Mexican managing to make his tires last over 50 laps in the 66 lap race. The in-genius strategy proved fruitless in the end though, as he was unable to use the fresh rubber to catch Valtteri Bottas, nor get the bonus point for setting the fastest lap.
Nevertheless, it is great to see that Perez is adjusting to life at Red Bull and he will no doubt be on the podium soon. Maybe even on the top spot?
Valtteri Bottas - 7
Qualifying - P1
Race - P3
Oh, Bottas. The Finn shocked everyone by claiming pole-position, denying Sir Lewis Hamilton the 100th pole of his F1 career.
But there was no stopping his teammate on race-day. He started well enough, keeping the lead after lap 1 and cleverly getting away from Sir Hamilton and Max Verstappen at the Safety Car restart.
But it all went downhill after that. Sir Hamilton took the lead off him on lap 20 and then a mistake on cold tires saw him lose P2 to Verstappen. He did however secure the fastest lap bonus point but will that be enough to ward off his critics?
Max Verstappen - 8
Qualifying - P3
Race - P2
While unable to properly duel Sir Hamilton, Verstappen is still very determined to beat his rival to the Championship.
He got past the Mercedes at the restart but was unable to hold off the Silver Arrow for long. He kept the pressure on though and eventually got the undercut on Bottas after pitting early.
It wasn't all roses, however. The Dutchman was instructed to pit again in order to try and claim an extra point for the fastest lap. But just as it looked like he had done it, on the very last lap no less, the stewards decided that he had exceeded track limits and he was stripped of the point.
Sir Lewis Hamilton - 9
Qualifying - P2
Race - P1
After missing out on the pole by just 0.007 seconds and losing a place to Verstappen early on, Sir Hamilton got his head down and drove superbly to secure his 97th career win.
His overtake on Verstappen, around the outside of turn 1, was nothing short of incredible and once he passed Bottas, it was so straightforward.
On the team-radio post-race, the Brit said that there was still a lot more work to do. While this weekend was relatively easy, he is of course correct. This title race should be extremely close but a near-flawless drive like this one will put Sir Hamilton and Mercedes in a good mood ahead of next weekend's Spanish Grand Prix.