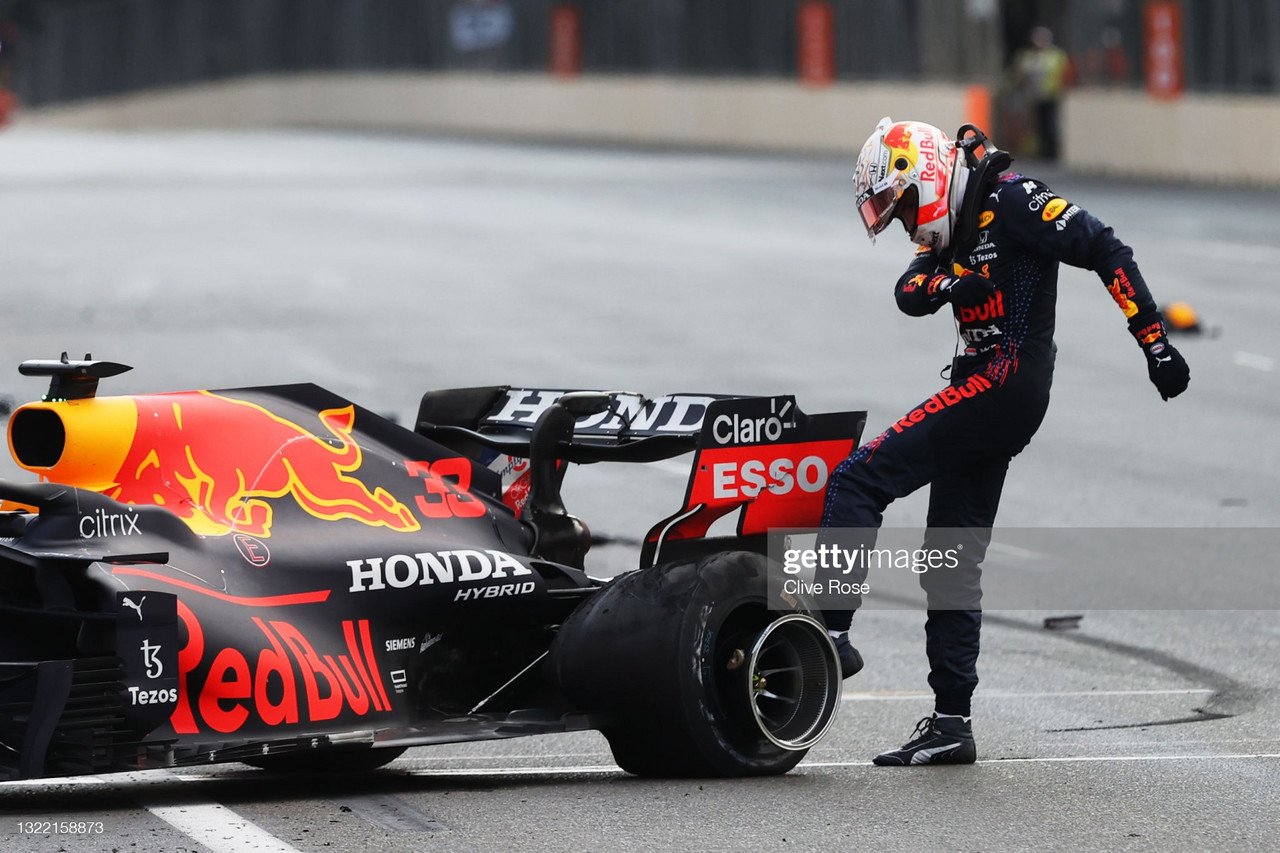 Even though it only joined the Formula One calendar in 2016, the Baku Street Circuit has garnered a notorious reputation for providing dramatic, destructive and disruptive races. And the 2021 Azerbaijan Grand Prix was no exception.
Qualifying saw FOUR red flags, as drivers pushed themselves to the limit and the race was equally epic, with all the thrills and spills you could possibly ask for.
Late drama saw championship leaders Max Verstappen and Sir Lewis Hamilton both fail to score, while Sergio Perez took his first victory in a Red Bull. Sebastian Vettel finished second to claim Aston Martin's first podium in F1, with AlpaTauri's Pierre Gasly rounding off an astonishing top three.
So, how did every driver fare around the perilous streets of Baku:
Esteban Ocon - 2
Qualifying - 12th
Race - DNF
With all the commotion at the end of the race, you'd be forgiven for forgetting we lost Ocon just four laps in. The Frenchman qualified a creditable P12, but no sooner had the race begun, his Alpine lost power and he was forced to retire.
Lance Stroll - 5
Qualifying - 19th
Race - DNF
With Vettel finishing second, teammate Stroll will look back on what could have been this weekend. The Canadian was one of the four drivers to crash heavily during qualifying and bring out the red flag and was left with a lot of catching up to do.
Yet, despite making contact with Mick Schumacher at the first corner, he managed to make up places rapidly. Starting on the hard compound tyre allowed Stroll to jump up the grid as he ran an alternative strategy to everyone else. It was an ingenious move that saw him all the way up to P4, when disaster struck.
On lap 31, Stroll's left-rear tyre punctured on the main straight, sending him straight into a wall at high speed. His race was instantly over but thankfully he was unhurt. Who knows what could have been had his tyre not given way but there will be a serious inquiry into what happened, especially given the similar incident with Verstappen later on.
Max Verstappen - 8
Qualifying - 3rd
Race - DNF
Speaking of Verstappen, the Dutchman was well on his way to victory in Baku, when, same as Stroll, a left-rear puncture on the main straight saw him cascade into a wall at nearly 200mph, just four laps before the chequered flag. The sight of Verstappen kicking the ruined tyre, will no doubt go down as one of the defining images of this season, especially if he narrowly misses out on the world title.
Pirelli has some serious questions to answer.
It must be said that prior to his retirement, Verstappen was excellent. After getting into second behind Sir Hamilton, he managed to jump his rival in the pits and was easily the quickest driver of the day, maintaining a comfortable gap to Perez and Sir Hamilton and setting the fastest lap of the race.
There is of course one consolation. Sir Hamilton's mistake means the Driver Standings stay as they were, with Verstappen still four points ahead.
George Russell - 3
Qualifying - 15th
Race - DNF
The wait for points (in a Williams that is) goes on for Russell. The Brit made it into Q2 yet again this season, but even an unconventional call to stop on the very first lap could not propel him up the order.
A second stop under the Safety Car also worked to no avail and just as the cars lined up for the red flag restart, Russell's Williams lost drive and he was forced to crawl back to the pits to retire.
On the upside, a terrible weekend for Valtteri Bottas will surely boost Russell's chances of driving for Mercedes next year.
Nicholas Latifi - 3
Qualifying - 16th
Race - 16th
Until the final few laps, Latifi's race was completely uneventful. Following Verstappen's crash, cars were ordered to drive through the pit lane in order to avoid the debris on the track. Unfortunately, thanks to a communication error from his engineer, Latifi did not follow this instruction and was subsequently handed a 10-second stop-go penalty.
He was unlikely to finish any higher but the penalty compounded the Williams driver to last of the finishers.
Sir Lewis Hamilton - 4
Qualifying - 2nd
Race - 15th
Just like in Monaco, Mercedes were off the pace in Azerbaijan. Despite this, Sir Hamilton was able to remarkably qualify on the front row and took the lead just three laps in after passing Charles Leclerc.
He was, however, unable to pull away from the chasing pack and after a slow stop, both Red Bulls were able to overcut him. Despite its speed on the straights, the Mercedes struggled to keep up through the twistier middle sector and Sir Hamilton looked certain to finish third.
But then Verstappen's retirement and the red flag offered him a golden opportunity to snatch victory at the death. He seemed poised to take full advantage and retake the lead of the championship. But it all went wrong.
At the restart, he accidentally turned on the 'magic' button which switches the brake bias to the front of the car. As a result, his front wheels locked as he attempted to pass Perez and he fell behind to the back of the grid with just two laps remaining.
This race could prove a pivotal moment in the championship and one that neither Sir Hamilton nor Verstappen will remember fondly.
Nikita Mazepin - 3
Qualifying - 18th
Race - 14th
While he may have a reputation for spinning, Mazepin was actually one of the few drivers not to end up in the wall over the weekend. Commendable for sure, but then, unseen by the cameras, the Russian was involved in an incident with teammate Schumacher.
As the German attempted to overtake on the run-up to the chequered flag, Mazepin aggressively defended, with Schumacher exclaiming on the radio post-race:
"What the f**k was that? Honestly, does he want to kill us?"
Not good at all.
Mick Schumacher - 4
Qualifying - 17th
Race - 13th
By contrast, Schumacher's afternoon was incident stricken from the get-go. After making contact with Stroll at the start, his front left tyre was not probably fitted during his second pit-stop. Fortunately, his crew stopped him before he left the pits before any real damage was done.
And while the two Haas drivers were involved in that aforementioned incident, both still managed to achieve their best finishes of the seasons, albeit quite some distance off those ahead.
Valtteri Bottas - 1
Qualifying - 10th
Race - 12th
While Sir Hamilton fought for the lead, his teammate Bottas never got going. He labored on the fringes of the points, never threatening any of the drivers ahead.
Things somehow got worse when a second pit-stop for fresh tyres had the reverse-desired effect and the Finn just fell further behind the front runners.
All in all a disastrous Grand Prix for Mercedes who failed to score and have fallen further behind Red Bull in the Constructors table.
Antonio Giovinazzi - 6
Qualifying - 20th
Race - 11th
After netting his first point of the season last time out, Giovinazzi nearly made it back-to-back top 10 finishes in Azerbaijan, something unthinkable after a heavy crash in qualifying meant he lined up in the last place on the grid.
A brilliant start saw him climb five places before he spent the bulk of the race holding up Carlos Sainz Jr. after the Ferrari driver made a mistake at the castle section. He eventually overtook Bottas on Lap 39 to get into the points but the red flag undid his good work.
Contact with Daniel Riccardo at the restart allowed teammate Kimi Raikkonen to sneak through, leaving the Italian gutted.
Kimi Raikkonen - 7
Qualifying - 14th
Race - 10th
Unlike his Alfa Romeo teammate, Raikkonen's weekend was pretty quiet. On a tough street circuit like Baku, a cool, experienced head is needed to stay out of trouble and the Iceman lived up to his reputation, keeping calm and consistent while everyone else was panicking.
The result? Late overtakes on fellow Finn Bottas, as well as Giovinazzi, earned him his first point of 2021.
Daniel Ricciardo - 6
Qualifying - 13th
Race - 9th
It was an emotional day down in the paddock, even prior to lights out. Not only was the F1 community paying tribute to the late former FIA President Max Mosley, but on Sunday morning the news broke that long-time McLaren shareholder Mansour Ojjeh, had passed away aged 68.
The Woking-based team was keen to honor Ojjeh with a great performance, and they delivered somewhat, with both cars finishing in the points. Ricciardo had been one of the qualifying crashers, but he recovered well enough to finish P9
Carlos Sainz Jr. - 5
Qualifying - 5th
Race - 8th
This rating may seem harsh on Sainz but among all the commotion it is easy to overlook how poor the Spaniard's Sunday was. Qualifying P5 was fantastic, even if he did have an off at the end of Q3.
But during the race, a double lock up saw him head down the escape road at the castle. He managed to return to the track, nearly colliding with Giovinazzi in the process, but with valuable time lost and his tires ruined, he got stuck behind the inferior Alfa Romeo for what felt like an eternity.
Still, he finished P8. Not bad, but compared to teammate Leclerc claiming pole and nearly a podium, not good either.
Yuki Tsunoda - 7
Qualifying - 7th
Race - 7th
Tsunoda's F1 career has gotten off to a strange start. The Japanese rookie has appeared woefully off the pace since scoring points on his debut in Bahrain. Yet, he found his rhythm again this weekend.
A crash at the climax of Q3 couldn't prevent him from starting P7 on the grid and some quick driving saw him overtake Fernando Alonso in a nice move. The restart wasn't so nice, however, easily losing two places to Alonso and Lando Norris to end up finishing where he started.
Fernando Alonso - 7
Qualifying - 8th
Race - 6th
This is a strange one. After qualifying a decent P8, Alonso's Alpine just went backward. Norris, Ricciardo, Sainz, and Tsunoda passed with ease and the veteran Spaniard found himself well out of the points.
Thanks largely to the final laps flurry, however, the two-time world champion was all of sudden back in contention and came home to finish P6, his best result since Australia 2018.
Lando Norris - 8
Qualifying - 9th
Race - 5th
Impressive performances and two podiums in the opening five rounds of the championship had led some to believe that Norris was an outside bet for victory in Baku.
Hopes of that were dashed before lights out however when the Brit was handed a three-place grid penalty for ignoring red flags in qualifying. And things got even worse when he lost four places at the start including one to his teammate Ricciardo.
After that, Norris put his head down and drove fantastically, pulling off a beautiful overtake around the outside of Alonso, en-route to P5. The result may have seen him drop behind Perez in the battle for third in the standings, but he is still very much in the hunt for the best of the rest.
Charles Leclerc - 7
Qualifying - 1st
Race - 4th
Saturday felt like redemption for Leclerc. At the 2019 Azerbaijan Grand Prix, he binned it in qualifying when he was certain to take pole, infamously remarking:
"I am stupid."
And two weeks ago in Monaco, he should have been the polesitter but was unable to start thanks to damage received to his car after another Saturday crash. This time though, Leclerc made no mistake putting his Ferrari on pole.
Come race day, his car was no match for the Red Bulls and Sir Hamilton, so finishing off the podium would have been no disgrace. However, given what happened to Verstappen and Sir Hamilton, one can't help but feel this race was a missed opportunity for the Monegasque driver to claim his first podium of 2021.
After nearly colliding with Vettel at both restarts, Leclerc dueled with Gasly for third and at one stage even got the job done. Alas, his advantage didn't last and he had to settle for his third fourth-place of the season.
Pierre Gasly - 10
Qualifying - 4th
Race - 3rd
Gasly was already getting a high mark just for his monumental qualifying effort that got him onto the second row on the grid. But he managed to go one step further, finishing on the podium after an awesome drive and some heroic defending to fend off Leclerc.
Questions have been asked over the Frenchman's true abilities. How is Gasly, who was so poor when driving for the frontrunners Red Bull, so much faster with the inferior AlphaTauri team?
But races like these and his win last year in Italy prove that Gasly, with the right machinery underneath him and the right support and personal around him, has the potential to be a top, top driver.
He and the Red Bull higher-ups have a huge call to make in the near future.
Sebastian Vettel - 10
Qualifying - 11th
Race - 2nd
Did anyone see this coming? Ricciardo's red flag prevented Vettel from setting another time in Q2, meaning he could only qualify P11. This was a blessing in disguise though, with Aston martin now able to start him on fresh tyres. The German was the last driver to pit, spearheading up the grid to the lead the race for several laps.
When he did eventually stop, he came out a respectable P7 and then began to progress up the order again. Two outstanding overtakes on Leclerc and Gasly straight after the Safety Car restart got him up to P4 and an outside shot at a miraculous podium.
And the stars perfectly aligned with Vettel claiming second after the red flag, to great jubilation from the newly rebranded Aston Martin team. Nothing but respect for the undisputed Driver of the Day.
Sergio Perez - 10
Qualifying - 6th
Race - 1st
Since Ricciardo's departure in 2018, Red Bull has tried and failed to find a driver to serve as Verstappen's No. 2. Gasly and Alex Albon were promising talents, but not yet ready (nor properly supported) to play that role. In Perez, they have finally got what they were after.
A scintillating overtake around the outside of Gasly on the opening lap, preceded a heroic drive to hold off Sir Hamilton for many laps. Red Bull were all set for a one-two finish (their first since Malaysia 2016) but after Verstappen's crash, it was all down to Perez to hold his nerve and come away with the win.
It must be said, he nearly blew it. A sluggish restart saw Sir Hamilton pull alongside momentarily before the Brit's mistake allowed Perez to pull away into the sunset.
His confidence now sky-high, more wins this year cannot be ruled out for the Mexican wonder.