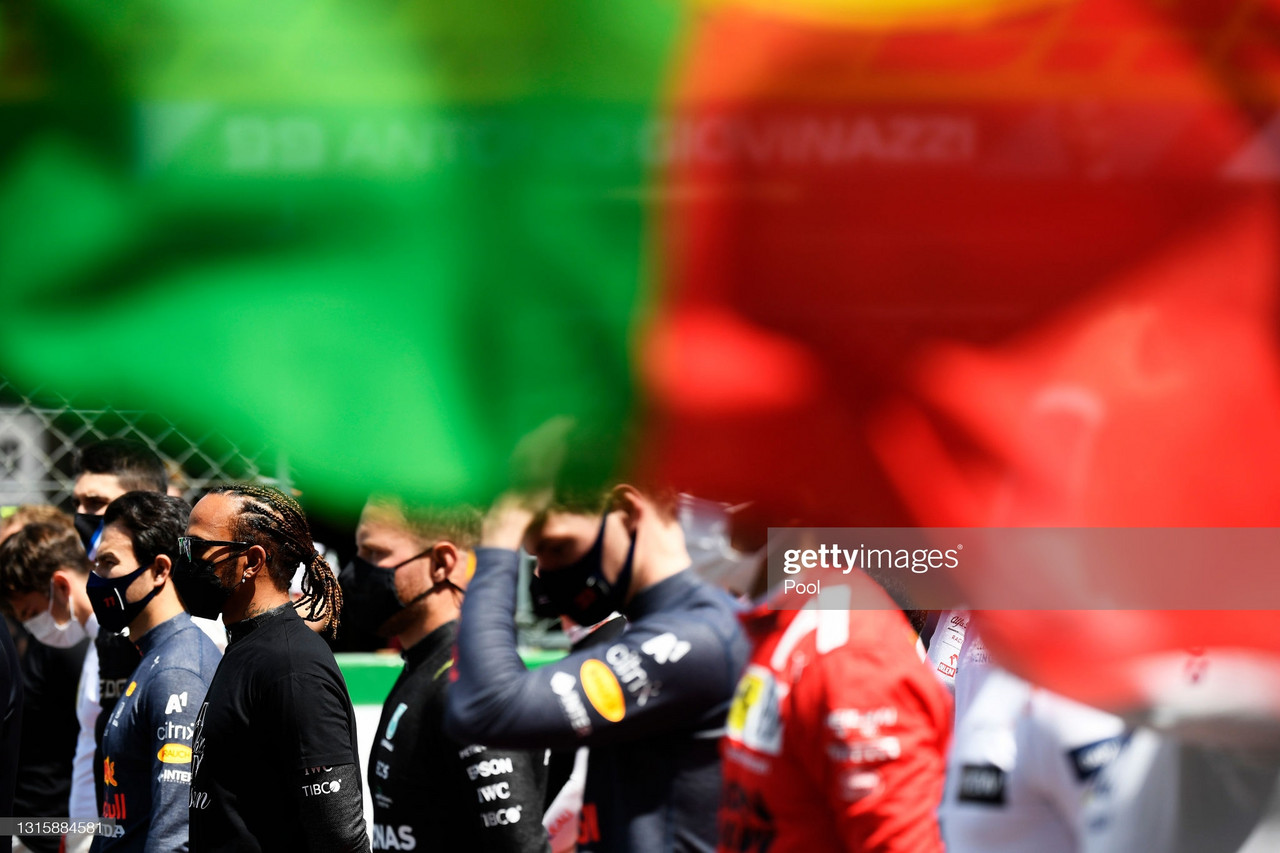 1. Mercedes back in front?
It was back to normal in Portugal as Mercedes locked out the front row in qualifying and returned to the top step of the podium.
On a Saturday dominated by windy conditions on track, Valtteri Bottas stormed to his 17th career pole, after Max Verstappen lost a time that would've been good enough for pole due to a track limit violation.
Lewis Hamilton missed out on career pole 100, but started second alongside his team-mate, with Verstappen behind.
Bottas led away well and maintained his lead whilst Hamilton and Verstappen traded positions behind him following an early safety car.
However, with Hamilton in P2 and closing the gap lap-by-lap, there came a time where Bottas and Hamilton would fight for the lead. This came on lap 20, when Hamilton swooped around the outside of Bottas with a perfectly judged move to take the race lead.
From here on out Hamilton faced no real challenge for the lead, only losing it when he pitted before retaking it on lap 52 from Sergio Perez who had yet to stop.
Bottas would slip back further however, a perfectly executed strategy from Red Bull helped Max Verstappen secured the undercut on Bottas to snatch P2.
Despite this, the silver lining for Bottas is that he had the pace to catch Verstappen, but suffered an exhaust issue that cost him time and the opportunity for a second. He would, however, pit late on a secure the fastest lap, once again following a track limits violation for Verstappen.
2. Aston Martin continue to struggle
Following last season, it was widely expected that Aston Martin would challenge at the front of the midfield this season, however, this has not been the case.
They've struggled so far, picking up only a handful of points through Lance Stroll but seem to have lacked race pace, whilst Sebastian Vettel has struggled to adapt to the AMR-21.
Portimao saw a reversal of fortunes for both drivers. Lance Stroll suffered a Q1 exit after qualifying 17th, despite upgrades that were touted to make Aston Martin 'Half a second quicker'. Whereas Sebastian Vettel saw a reversal in fortunes, out-qualifying his team-mate for the first time, as he reached Q3 and qualified tenth.
However, Vettel would fall back in the race due to the AMR-21's lack of race pace, the German would finish 13th with team-mate Stroll in 14th as the Silverstone-based team continues to struggle.
A tough weekend for the team.
3. Resurgent Alpine
Another team that battled at the front of last season's midfield, like Renault, but who had struggled at the start of this season is Alpine.
However, unlike Aston Martin, it seems as though Alpine has turned their fortunes around after a successful updates package.
During FP1 and FP2 the Alpine's showed they had found pace, enough pace to worry McLaren's Lando Norris, and this pace was confirmed in qualifying.
Fernando Alonso, who had been strong all weekend had a poor Saturday as he qualified 13th, but team-mate Esteban Ocon put in an excellent performance, putting his Alpine sixth on the grid, just behind Carlos Sainz in the Ferrari at the top of the midfield.
On race-day, the car showed good pace, with Ocon holding his own in the midfield on his way to seventh place, with a brilliant recovery drive from Alonso landing him eighth. Double points for Alpine for the second consecutive weekend.
The midfield battle is hotting up.
4. George Russell's race struggles
A weekend with so much promise turned sour for Russell.
After his high-profile Imola crash with unlikely rival Valtteri Bottas, Russell needed a good weekend to remind everyone why he is in the conversation for a 2022 Mercedes seat.
This was the case for two out of the three days.
In FP1, Russell ended up seventh in the timing sheets in an excellent performance in the Williams, whilst also bagging a P13 in FP2, a strong performance in the Williams.
Dubbed 'Mr. Saturday' following his excellent F1 qualifying record, Russell out-qualified a Williams Team-mate for the 40th time, in 40 races as he secured 11th in the timing sheets, just over half a tenth off Pierre Gasly's 10th place Q2 time, with 11th being Russell's best ever Williams qualifying result.
However, the race was a struggle for Russell, initially, he held his position off the line, but following the safety car restart on lap 7 Russell began to tumble backward.
Subsequently, Russell described the race as one of his worst experiences in a Williams since his 2019 debut, as the Williams lived up to its reputation of having an unpredictable car for 2021.
A tough race for Russell but an excellent qualifying shouldn't go unmissed.
5. Another top five for Lando Norris
McLaren's Lando Norris had another excellent weekend.
One of the standout performers so far this year, with a fourth in Bahrain and a third-place finish at Imola, which saw him return to the podium for the second time in his F1 career, Norris has been in excellent form.
Consistently ahead of new team-mate Daniel Ricciardo, pace-wise, this season, he continued this form throughout the weekend at Portimao.
He bested Ricciardo in FP1 and FP3 in what was expected to be a close weekend in the midfield with the fast Ferrari and recovering Alpine, Norris qualified seventh, a strong position for the race start on soft tires.
At the start, Norris battled Ocon for the duration of the opening lap, with an excellent move around turn 11 securing sixth for Norris after the pair had traded places throughout the lap.
A mistake from Carlos Sainz dropped the Spaniard to sixth, promoting Norris to fifth, before a move into turn five snatched P4 from Red Bull's Sergio Perez. However, on Lap 16 Perez would retake to place with a move into turn one and Norris returned to fifth.
Norris would hold this position for the remainder of the race, despite Charles Leclerc closing the gap to him from sixth.
A strong haul of points keeps Norris third in the driver's championship as he continues his impressive early-season form.
Featured image credit: (Photo by Gabriel Bouys - Pool/Getty Images)