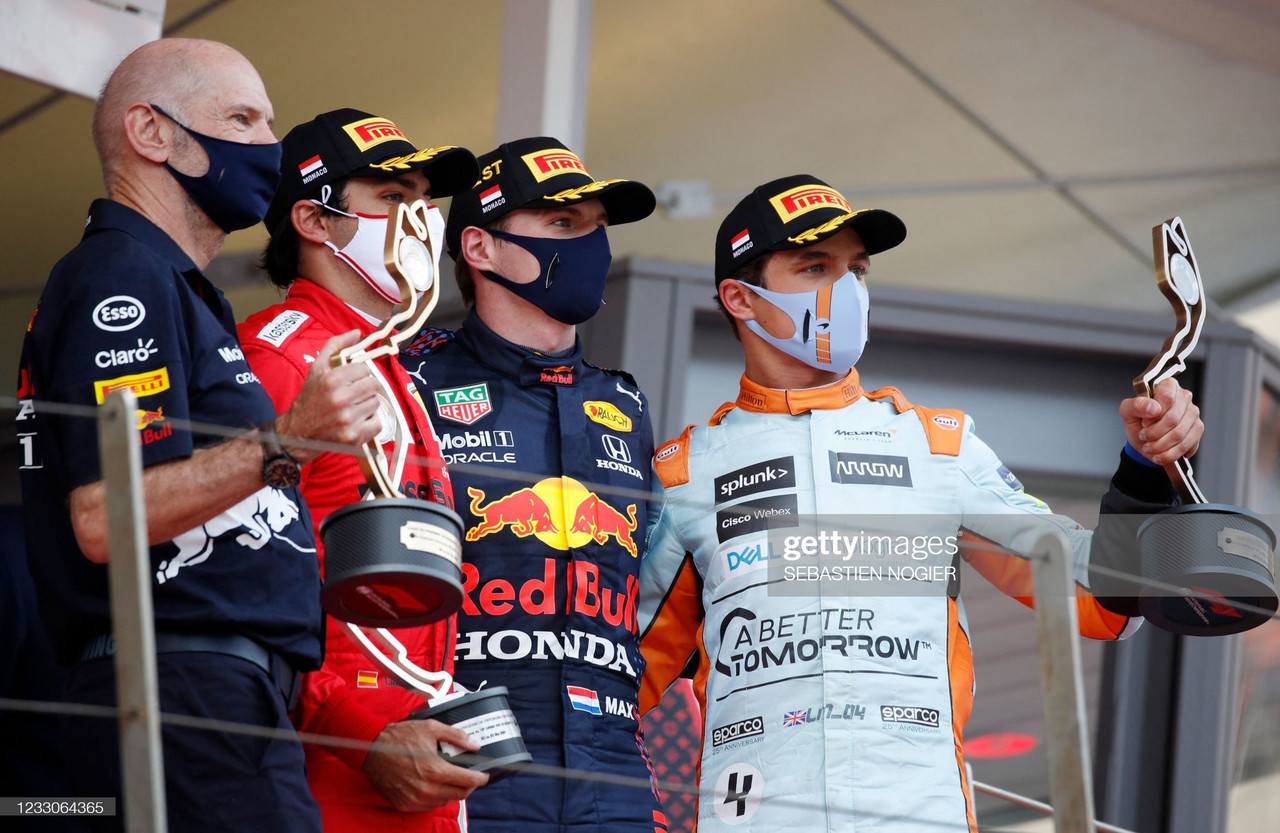 After last year's race was called off due to the coronavirus pandemic, Formula One returned to the iconic streets of Monaco. In line with the more recent races held at the principality, the 2021 Grand Prix was not a classic by any stretch of the imagination.
Yet, it did produce an unusual podium, with Max Verstappen taking his second victory of the season, ahead of Carlos Sainz Jr., scoring his first podium for Ferrari, with McLaren's Lando Norris finishing third.
It was a great weekend for Verstappen and Red Bull, who moved to the top of the Drivers and Constructors standings respectively, but who topped our driver ratings for the weekend:
Charles Leclerc - 5
Qualifying - 1st
Race - DNS
Grab your tissues now. Ferrari has improved greatly from last year and after a strong performance in the practice sessions, there was a hope that the Scuderia could get a podium finish in Monaco. Perhaps even win.
And that dream started coming true when Leclerc took provisional pole. But then it all unraveled. During the final moments of qualifying, Leclerc went into the barriers, inadvertently securing the pole but also heavily damaging his car.
Ferrari was confident that they could repair his car, without having to take any penalties and had seemingly pulled the feat off in time for the race. But as Leclerc drove to the grid, he reported issues and headed back to the garage. Unable to fix the problems in time, Leclerc was initially demoted to a pit-lane start but ultimately he wouldn't even start the race.
A huge missed opportunity.
Valtteri Bottas - 5
Qualifying - 3rd
Race - DNF
Nothing ever seems to go Bottas' way does it? The Finn out-qualified teammate Sir Lewis Hamilton by some way and looked nailed on to finish on the podium.
Alas, when Bottas came into the pits, the right front wheel gun failed and he was left stranded in his box and his pit crew furiously worked to remove the tire. They failed and the Finn retired on the spot. A weekend to forget for Mercedes.
Mick Schumacher - 2
Qualifying - 20th
Race - 18th
Michael Schumacher was a legend at the Monaco Grand Prix, having won at the principality five times. His son, Mick, on the contrary, had an awful debut weekend at the street circuit.
After crashing during FP2, the German wrecked his Haas again in Saturday's practice session and as a result, was unable to take part in qualifying. Starting at the back at Monaco is a nightmare and while he managed to pass Nikita Mazepin at the hairpin on the opening lap, he would ultimately finish behind his teammate and dead last, come the chequered flag.
Nikita Mazepin - 3
Qualifying - 19th
Race - 17th
To the surprise of everyone, Mazepin managed to avoid spinning his Haas into the barriers, as has been par for the course this season. The Russian had as good a race as he could have expected, beating his teammate for the first time but still finishing way behind the rest of the pack.
Yuki Tsunoda - 4
Qualifying - 16th
Race - 16th
Tsunoda hasn't looked the same since impressing on his debut in Bahrain. That said, he is only a rookie and will need time to find his rhythm in F1.
The Japanese driver did have a moment of fun towards the end though. AlphaTauri didn't pit him until there were just 12 laps to go, holding out for a Safety car that never came. The late stop gave him the fresh tires to briefly set not only the fastest lap of the race but also break the lap record.
Nicholas Latifi - 5
Qualifying - 18th
Race - 15th
Monaco has often provided weaker teams the chance to score points, thanks to the slower nature of the circuit and the emphasis on qualifying over overtaking.
Williams was unable to take advantage of this factor, however, with both drivers finishing way off the top 10 and having a completely uneventful Grand Prix.
George Russell - 5
Qualifying - 15th
Race - 14th
Same as teammate Latifi, Russell was largely anonymous all weekend, with Mr. Saturday unable to produce his usual qualifying magic.
Fernando Alonso - 5
Qualifying - 17th
Race - 13th
A two-time Monaco Grand Prix winner, Alonso's return to F1 hasn't lived up to the hype, although that has been more down to Alpine's lack of performance.
Starting P17 was awful, but the Spaniard gained four places, which is no a small feat at this track. Other than that a dull day all around.
Daniel Ricciardo - 4
Qualifying - 12th
Race - 12th
It's still unclear as to why Ricciardo is struggling at McLaren. the car is certainly quick enough, Norris has shown that. But the Aussie can't quite seem to get to grips with it. It is not that he is just slower than his teammate, it is that he is much, much slower than the young Brit.
A poor Saturday, was followed by a dismal start to the race, from which he never recovered, eventually getting lapped by Norris. At least his car looked awesome, with McLaren sporting a beautiful one-off livery, inspired by the iconic blue and orange Gulf Oil colours. Embed from Getty Images
Kimi Raikkonen - 6
Qualifying - 14th
Race - 11th
Alfa Romeo has been edging closer to a points finish with every passing race and in Monaco, they finally scored. It wasn't the experienced Raikkonen, however. A previous winner at this Grand Prix, the Finn couldn't quite cross the threshold this time out, and he is now one of only five drivers to remain pointless in 2021.
Antonio Giovinazzi - 7
Qualifying - 10th
Race - 10th
Giovinazzi is quickly and quietly becoming the most underrated driver on the grid. The car isn't quick, yet he was able to reach Q3 on Saturday and held on during the race to claim his and Alfa Romeo's first point of the season.
Now in his third year in F1, the Italian is finally finding a decent consistency but he must improve and score more if he is to make a real impact in the sport.
Esteban Ocon - 7
Qualifying - 11th
Race - 9th
A rather quiet race for Ocon in the end but the Frenchman still managed to climb into the top 10. Two points keep Alpine practically neck-and-neck with AlphaTauri and Aston Martin in the constructor's standings but otherwise, they were barely noticeable.
Lance Stroll - 8
Qualifying - 13th
Race - 8th
To move up the grid by even a place at Monaco is a minor miracle, so to jump up five places is quite something. Stroll took advantage of good strategy and a sudden turn of pace for Aston Martin to score some valuable points.
Whether this is just a fluke or a sign of things to come, remains to be seen.
Sir Lewis Hamilton - 5
Qualifying - 7th
Race - 7th
Who saw this coming? A three-time Monaco winner, Sir Hamilton just could not get going this weekend. A dismal qualifying saw the reigning champion P7 on the grid and with a lot of work to do.
Come race day, Mercedes attempted the undercut by boxing Sir Hamilton before anyone else. It was a call that should have worked in theory, however, he was caught behind Pierre Gasly after the stop and the hold up allowed both Sebastian Vettel and Sergio Perez to over-cut the Mercedes. One small consolation was the fastest lap bonus point, which he earned after a second late stop for fresh tires.
A rare off day for the Silver Arrows, who relinquish the lead of the Constructors standings to Red Bull, and for the first time this season, Sir Hamilton finds himself behind rival Verstappen in the Drivers table.
Pierre Gasly - 8
Qualifying - 6th
Race - 6th
An extremely strong Saturday saw Gasly start a remarkable P6 on the grid and a fine drive saw him fend of Sir Hamilton to hold the position. The Frenchman continues to show that with the right amount of time and a car not built just to serve Verstappen's needs, a young driver can develop into quite the racer.
Gasly has the potential to win World Championships in the future and he is way too good to be driving for AlphaTauri and he won't want to serve as Verstappen's wingman again. Where his future therefore lies is anyone's guess.
Sebastian Vettel - 9
Qualifying - 8th
Race - 5th
It has taken what feels like ages but at last, Vettel has claimed his first points for Aston Martin. And in some style too.
Breaking through into Q3 was great in itself and getting the jump on old foe Sir Hamilton was key to his race success. A fine overtake on Gasly as he exited the pit lane rounded off a brilliant weekend.
It's unclear whether Aston Martin's upturn in performance is down purely to Monaco or actual R&D, but in the meantime, the German can be extremely proud of a top-five finish.
Sergio Perez - 9
Qualifying - 9th
Race - 4th
The Driver of the Day, Perez easily had the best race of his Red Bull career thus far. Qualifying ninth was not ideal and with his teammate on the front row, the inevitable questions about the Mexican's abilities were raised.
Perez silenced the doubters, however, over-cutting Sir Hamilton, Gasly, and Vettel to get into fourth. He then spent the remainder of the Grand Prix hunting down a struggling Norris and on any other circuit he would have undoubtedly got past to finish on the podium. Alas, it was not to be.
Still, he made up five places at Monaco, a feat matched only by Stroll this year. Keep up the good work Sergio.
Lando Norris - 9
Qualifying - 5th
Race - 3rd
A second third-place finish of the year for Norris sees the young Brit retake P3 in the standings from Bottas. He looked to set up for an easy podium following Leclerc and Bottas' retirements, but with 20 laps to go, he reported that he was having trouble with his tires, and the gap to Perez behind narrowed to less than a second.
He held on and it was delightful to see Norris reunited with his former teammate Sainz on the podium.
Carlos Sainz Jr. - 9
Qualifying - 4th
Race - 2nd
While we were robbed of what could have been a brilliant Sainz/Bottas duel, it was still amazing to see Sainz pick up his first podium with Ferrari. The Scuderia only reached the podium three times in 2020, but their considerable improvement this season suggests that they will comfortably beat that and may even nab a win or two.
In fact, it did look for a moment like Sainz could snatch victory from Verstappen. After the Spaniard's sit stop, he began pursuing the Dutchman at a vast rate of knots, with the gap dissipating from 6s to less than 3s in only a handful of laps.
Promising times indeed.
Max Verstappen - 9
Qualifying - 2nd
Race - 1st
Everyone was gutted on Sunday when it was revealed that Leclerc would not be able to start his home race from the pole. Well, everyone except Verstappen, who took full advantage of this turn of fortune.
The Dutchman did not mince his words when qualifying ended abruptly and he was forced to start from P2 on the grid but lady luck smiled down upon him and he became the de-facto pole-sitter come Sunday. In all fairness, Verstappen was lightning quick all throughout the weekend and after aggressively, but fairly, covering off Bottas at the start, he led without much trouble for the remainder of the race.
His win, combined with Sir Hamilton's poor finish, means for the first time in his career, Verstappen leads the World Championship. The fight is well and truly on.