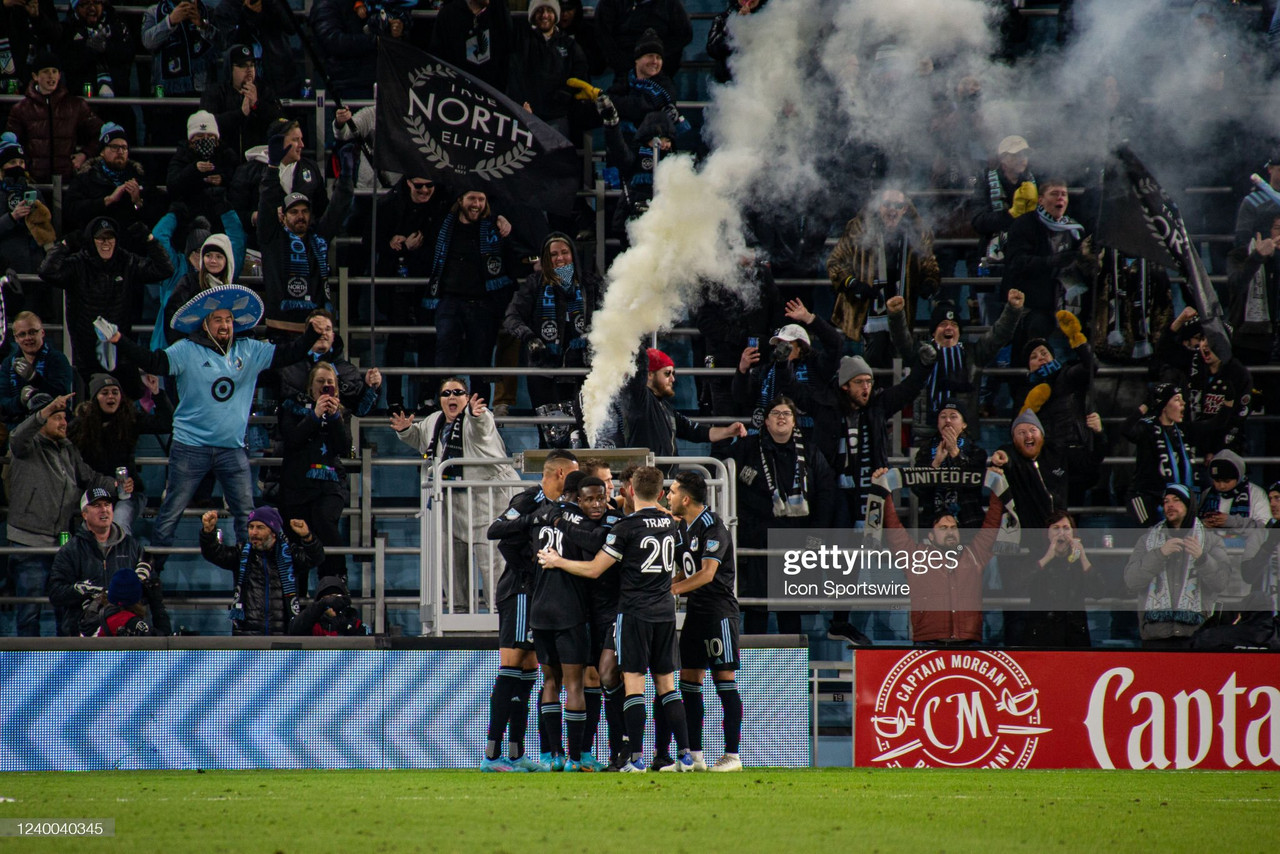 This weekend in MLS serves up a potentially tasty interconference clash as Minnesota United hosts the Chicago Fire at Allianz Field on Saturday afternoon.
Both sides were involved in U.S. Open Cup action during the week, with differing results.
Minnesota took care of business, going on the road and beating USL1 outfit Forward Madison. After a scoreless first half, the visitors took the lead from a corner when Adrien Hunou headed home from close range. They then put the contest to bed with about 10 minutes to go via another corner, with Brent Kallman getting on the end of this one.
Chicago, meanwhile, went out in pretty embarrassing fashion, losing at home to Union Omaha, also of USL1. The Fire opened the scoring following a Rafael Czichos penalty kick, but a stunning strike from Noe Meza tied things up. That forced overtime, and another Czichos spot-kick seemed to put Chicago through. They couldn't hold on, though, and they gave up a goal in the final moments to send the tie to penalties. In the end, it was Omaha who held their nerve, winning the shootout 5-4 after both teams had six attempts.
Will those results have any impact on these sides going into this contest? Only time will tell.
Team news
Minnesota will be without two players for the contest, as Romain Métanire is dealing with a thigh problem while Patrick Weah is still nursing a knee issue that has ruled him out for the rest of the campaign.
It's the same old story for Chicago on the injury front, as Xherdan Shaqiri and Fabian Herbers are both still listed as questionable.
Predicted lineups
Minnesota United: St. Clair, Dotson, Boxall, Dibassy, Lawrence, Arriaga, Trapp, Lod, Reynoso, Fragapane, Danladi
Chicago Fire: Slonina, Sekulić, Omsberg, Czichos, M. Navarro, Pineda, F. Navarro, Espinoza, Giménez, Ivanov, Przybyłko
Ones to watch
Emanuel Reynoso
Someone who Fire fans will know very well once said, "There's a current trend that the only way to [sign] a successful No. 10 is to go to Argentina and find the No. 10 fairy tree."
Well, no such tree exists, but it does kind of seem like that's where Minnesota United found Emanuel Reynoso.
They actually found him at Argentine powerhouse Boca Juniors, and they ended up signing him to a Designated Player contract near the end of the 2020 season. After taking some time to get going, Reynoso exploded during the final stretch of the campaign. He dished out four assists in the team's last three regular season games, and even scored a goal as well.
The attacking midfielder had plenty of confidence going into the playoffs as a result, and he was even better in those games. He had two assists versus the Colorado Rapids, three assists versus Sporting Kansas City, and then a goal and an assist versus the Seattle Sounders.
It seemed like the Loons had just signed one of the best players in all of MLS. However, Reynoso slowed down dramatically the following season, picking up just nine goal contributions in 30 appearances. Things haven't been much better this time around either, as he's just got a goal and an assist so far.
That assist did come in Minnesota's most recent league game, though, and it came via some magic from the Argentine. Could that be the spark that leads to another great run of form? The player is certainly incredibly talented, so it might just be a matter of time until he's back to his best once again.
That might start here.
Rafael Czichos
This could be Rafael Czichos' toughest test yet.
The center back has simply been immense since coming to Chicago in the offseason. He's brought calmness and stability to a previously woeful defense, and he's been a big reason why they've only conceded twice all year (not counting the Open Cup). Even though he missed a few games due to health and safety protocols, he came back and was just as brilliant.
Czichos was especially good during the week, but that may end becoming a problem. See, he was supposed to be rested for the Fire's aforementioned U.S. Open Cup fixture, but an injury to Carlos Terán in warm ups meant that Czichos had to step in at the last moment.
The Saudi-born German was obviously the best player out on the pitch, and he even grabbed two goals on the night, although they both came from the penalty spot. He couldn't be blamed for the team's loss when all was said and done, but the issue was the fact that he was on the field at all. To quote a former Fire writer, "He wasn't even supposed to be there!"
On his day off, Czichos played 120+ minutes. That's not ideal, and now the player will come into this weekend's contest at less than full strength. He'll almost certainly still start, of course, but there could be a chance that his tired legs lead to a lesser performance.
Knowing the defender, he'll probably be even better than before. However, if he is human after all, then Minnesota might have a chance to pounce while he's a bit tired.
Last time out
The last meeting between these two sides came near the very end of the 2020 campaign.
Despite being famously awful on the road, Chicago took a 2-0 lead in Minnesota. The first came after some lovely work from Przemysław Frankowski, who created space on the wing before picking out Robert Berić, and he finished off the move with a quality header from inside the area. The second was much uglier, as a poor clearance fell right to Mauricio Pineda, who made the most of the loose ball by slotting it home with a first-time shot.
This was still the Fire on the road, though. Minnesota pulled one back a little after the hour mark from a set-piece, with José Aja redirecting Emanuel Reynoso's cross towards the back post. The comeback would be completed with 10 minutes to go thanks to Robin Lod, who found the bottom corner with a glancing header.
That would be the end of the scoring in an admittedly fun contest.
How to watch
The match kicks off at 4:00 p.m. CDT, and it will be nationally televised, with those in the United States able to watch the action unfold on ESPN.