 For the first time in European history, the two most successful teams in English football will go head-to-head. Liverpool against Manchester United. Fans will have goosebumps just thinking about it.
Certainly, the Europa League will be delighted with the draw, providing their competition with a tie unmatched in gravitas and prestige when compared to what they have had previously.
Throw in Borussia Dortmund versus Tottenham Hotspur, and it may be the greatest night ever for UEFA's second European competition, without doubt for the last 16 stage.
Yet, both Liverpool and their bitter rivals have been flagging behind their illustrious history in recent times.
The Reds have only won trophies sporadically for the last 25 years – the 2005 Champions League triumph being the biggest highlight – and they've only claimed one major trophy in the last decade, with the 2013/14 title challenge glorious and, simultaneously, exceptionally painful.
Meanwhile, the Red Devils have dominated the Premier League era, but since the departure of Sir Alex Ferguson they have struggled immensely to return to former glories (perhaps serving as a reminder to Arsenal when assessing Arsene Wenger's future), with David Moyes and now Louis Van Gaal battling to even secure a consistent top-four status for a team ranked as the third richest in the world, such has been their commercial gain from modern success.
Conversely, it says everything about Liverpool and their continuing allure that they remain in the top 10 of that list despite their fairly barren period since the 1990s.
So both teams have the pedigree, but are looking to find themselves once again.
Big game for both sides as Klopp looks for revenge
Liverpool's immediate future arguably looks brighter than United's, despite the considerable wealth on offer in Manchester. With Jürgen Klopp at the helm, the Reds have a manager that knows how to build up a team over time to challenge for titles and trophies, and on a lower budget to other rivals.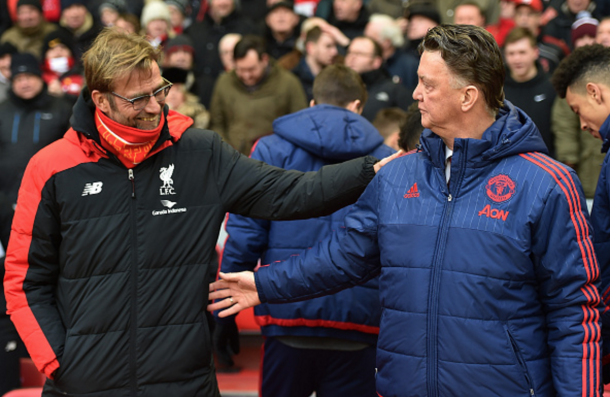 His task will be even harder at Anfield compared to Borussia Dortmund, given the competition on offer in the Premier League, but Liverpool fans are unquestionably optimistic about life under the German.
For Louis Van Gaal, his outlook appears bleak.
With constant speculation over Jose Mourinho potentially arriving in the summer, the feeling surrounding Van Gaal concerns the Dutchman simply having to win games to stay in his job.
Even with their finances, it would be a monumental blow if United did not qualify for the Champions League, in terms of attracting players, maintaining sponsors and even their supposed chase of Mourinho.
Despite the faltering form of Manchester City and Arsenal, either team finishing outside the top-four would remain a major surprise. Even if they did, West Ham United would probably fancy their chances of finishing above Van Gaal's side, while Liverpool cannot yet be completely ruled out either.
United do have the FA Cup still to consider, but they would have to get past West Ham first, never mind potentially facing the likes of Arsenal, Chelsea and Everton at Wembley.
However, the likelihood facing the two giants of English football is that the Europa League represents their best shot for silverware and a return into the Champions League.
The Europa League has greater importance attached for both sides, not only for its path to Europe's top table, but also the momentum either team would gain if they were to knock out their fiercest rival for the first time in a European competition.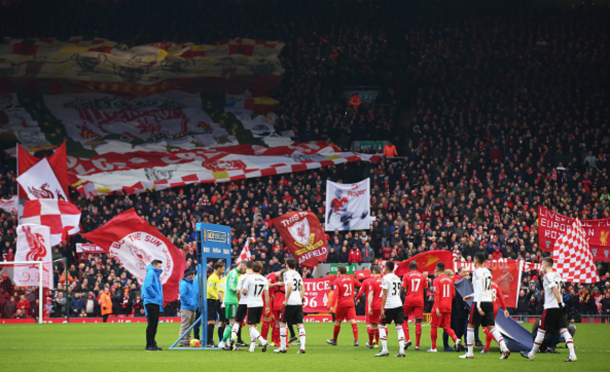 The game to refuel the hatred between the two?
This could be the fixture to reignite such a passionate rivalry that, whilst has its edge leading up to kick-off and in the early stages of matches, calms and settles down when both sets of fans witness the lack of quality on offer.
Moreover, playing matches at night carries a special edge. Anfield has always been known for its famous European nights and their atmosphere, but usually they carry such reputation when a big name comes to town, such as Chelsea in those 2005 and 2007 Champions League semi-finals – with all due respect, it is less likely to happen when playing FC Sion or Ludogorets.
Liverpool clashes with United have rarely been at night because of security concerns, but a return to later conditions may provide that extra incentive and ferocity to a fixture not known for lacking in that department, but needing a lift given both club's recent struggles.
If they can rediscover themselves again in future years, Liverpool and United fans may indeed point to this inaugural European clash which set them on their respective roads to recovery.
People may forget it's a Europa League tie and not a Champions League fixture, should the match play to its full potential, both on and off the pitch. That their very first European clash will not arrive alongside fixtures involving Barcelona, Real Madrid and Bayern Munich sums up the current predicament of United and Liverpool.
Yet whoever makes the quarter-finals have a real and great opportunity to win this trophy, especially given one of Tottenham or Dortmund will be also eliminated.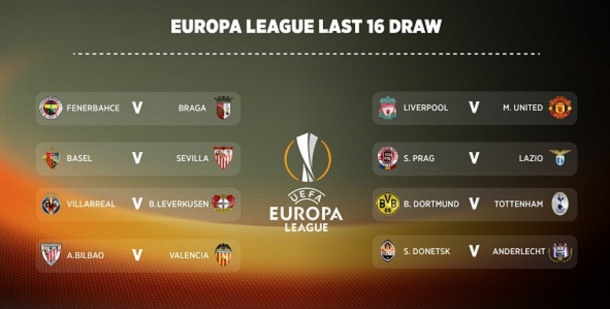 The success both Liverpool and Manchester United have carved out for themselves have made them a target for each other, helping intensify this great rivalry. It is a shame that there will be few local lads playing for either side, although United's injury problems may change that outlook.
Sadly Liverpool's Jon Flanagan was surprisingly left out of their Europa League squad, so it is extremely unlikely that any Scousers will start on Thursday.
Characters such as Steven Gerrard, Gary Neville, Jamie Carragher and Paul Scholes helped make this rivalry what it is, and that missing ingredient has not helped in trying to maintain the allure of this fantastic fixture.
Neither like each other winning anything, from matches to trophies. United have always plagued Liverpool, from when the Reds were dominant in the 1970s and 80s to Ferguson at Old Trafford. Even now, a poor Van Gaal team has completed the league double over Liverpool for each of the last two seasons.
This needs to be reversed, and Thursday would be a great place to start for Klopp's men, as one of the biggest games in world football writes a new European chapter in its combative history.